---
By Nazanine Nouri
---
Forty years after the Revolution that dramatically altered the role of women in Iranian society, "My Iran: Six Women Photographers," a new exhibition at the Arthur M. Sackler Gallery, presents the work of some of the country's most talented female photographers: Gohar Dashti, Shadi Ghadirian, Hengameh Golestan, Malekeh Nayiny, Mitra Tabrizian and Newsha Tavakolian.
There are depictions of street scenes, of longlost memories, and of life both inside and outside the homeland. The pictures address issues of exile and alienation, yet also  convey a sense of underlying optimism.
Exploring their relationship to their homeland, the photographs — be they reportage, or staged and manipulated images — respond to the personal, cultural, and political realities that have marked Iran over the last 40 years.
Kayhan Life asked the show's chief curator, Massumeh Farhad, how the idea of the exhibition first came about.
"Our curator of Asian contemporary Art Carol Huh has been focusing on collecting contemporary photography from Iran for the Freer and Sackler, the national museum of Asian Art, for the last 10 years to complement our rich 19-century collection of Qajar photography," she replied. "As these works have not been on view, Ms. Huh and Ms. Amelia Meyer decided to organize an exhibition highlighting the tremendous work of Iranian women photographers."
The works are mainly drawn from the museum's permanent collection, and many images  have been acquired since 2011.
Golestan's eight black-and-white shots of women protesting in the streets of Tehran following the 1979 Iranian Revolution capture the spirit and force of a social and political movement that transformed the status of women. They are the only set of purely documentary photographs in this exhibition, taken during a protest against the introduction of Iran's mandatory hijab law on March 8, 1979, which, as it turned out, was the last day that women in Iran were allowed to appear in public uncovered.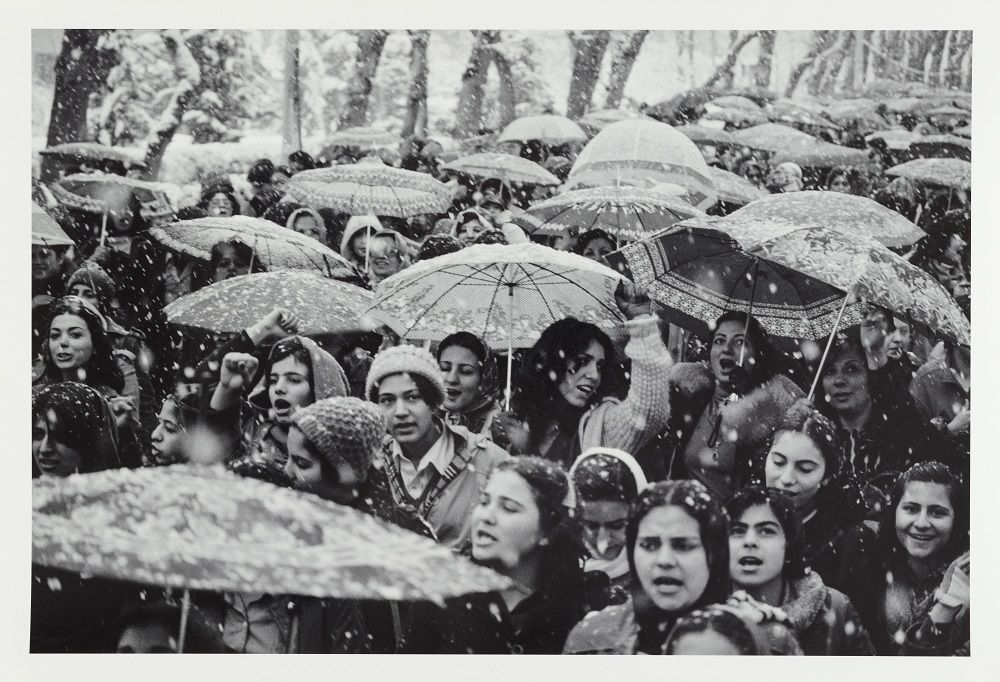 ---
For Massumeh Farhad, the restrictions have meant that female Iranian photographers have abandoned a purely documentary approach in favor of carefully staged, cinematic photography, largely inspired by Iran's new-wave photography of the '90s.
"While they may evoke some of the 'realities' of contemporary life in Iran," said Farhad, "they are artistic interpretations and evocations, much like the films of Kiarostami."
"What is so striking about the images is the artists' richly nuanced interpretations," she added.  "We believe it would be a disservice to the photographers to reduce their work to simple reflections of Iran's everyday reality."
"My Iran" opens with "Somayeh," a 5 ½ minute video (the only video work on view) by Newsha Tavakolian. It's the story of a teacher at a girl's school who waited seven years for permission to divorce her husband.
Tavakolian, a Magnum nominee since 2015, is a self-taught photographer who was born in Tehran in 1981 and began working at the women's daily Zan at the age of 16.  At 18, she was the youngest photographer to cover the 1999 student uprising.
After her photojournalism was temporarily interrupted during Iran's 2009 presidential elections, she began working on still and moving-image projects combining social documentary with portraiture.
Tavakolian has been denied a press permit to work since February, as has her husband, the New York Times Tehran correspondent Thomas Erdbrink.
Gohar Dasthi's work draws on her memories of growing up during the Iran-Iraq War (1980-1988) and centers on Iranians' relationship today with the country's cultural and political history.
Shadi Ghadirian's photography focuses on the complex, contradictory world in which young women live in post-revolutionary Iran. She subverts traditional portraiture to make these paradoxes visible in creative, often humorous ways.
Malekeh Nayiny frequently uses digital manipulation to re-invent photographs from her own family album, "blending the past with the modern day and bringing to life cherished memories." as the Sackler describes it. She studied photography and cinematography in the US and France and has been living and working in Paris since the Iranian revolution.  Unable to return to Iran and cut off from her home and family, she turned to old family photographs to reconnect with her roots.
As a photographer and filmmaker who explores themes of migration and social fragmentation, much of the work of Mitra Tabrizian critiques corporate culture, the urban landscape and the concept of the homeland.  Her photographs of Iranian émigrés, in particular, focus on a sense of alienation and a longing to return. Tabrizian was born in Tehran and lives in London.
Golestan is considered a pioneer among Iranian women photographers, having honed her skills alongside her husband, the renowned photojournalist Kaveh Golestan.  She was among the few documentary photographers who captured the street protests in Tehran, focusing especially on women during the advent of the 1979 Islamic Revolution.  After being denied the possibility of going to the front lines of the Iran-Iraq War, she turned to village life in Kurdistan and other rural areas.
"My Iran" honors the legacy of Dr. Jahangir Amuzegar (1920-2018).  The exhibition is supported by the Mohammad Afkhami Foundation, Contemporary Asian Art Endowment; Eleanor and Jahangir Amuzegar Fund for Contemporary Iranian Art; Mehr Foundation; and UAS Asset Management.
"My Iran: Six Women Photographers" opened on August 10th at the Freer| Sackler in Washington, DC, and ends on February 9, 2020. The Freer | Sackler is the Smithsonian's museums of Asian art located on the National Mall.  It cares for one of the world's most important collections of Asian art, with more than 40,000 objects from China, Japan, Korea, South and Southeast Asia, the ancient Near East, and the Islamic world.
---