---
The art of crafting and playing the kamantcheh, a bowed string instrument that has existed for over 1,000 years, has been inscribed by UNESCO on its coveted world heritage list and identified as being part of the Intangible Cultural Heritage of Iran and Azerbaijan.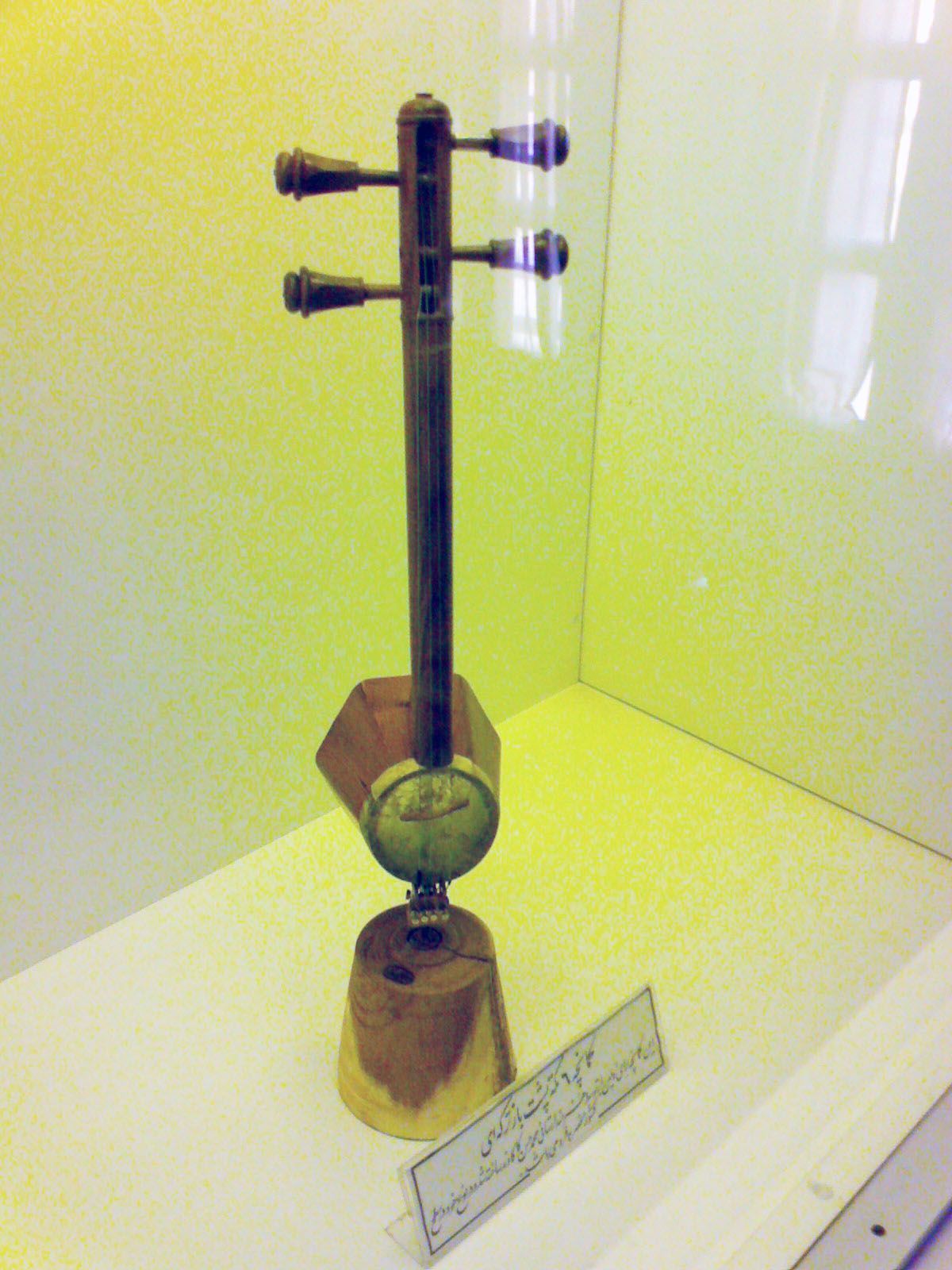 For UNESCO, the kamantcheh is a major element of classical and folkloric music in both countries, and performances occupy a central place in a wide number of social and cultural gatherings.
"Kamantcheh/Kamancha is an essential part of musical culture in both countries," writes UNESCO, "and while crafting the instrument represents a direct source of earning a living, craftspeople also perceive the art as a strong part of the intangible cultural heritage of their communities."
"Today, knowledge of performing and crafting Kamantcheh/Kamancha is transmitted both within families and in state-sponsored musical institutions and schools."
The kamantcheh was one of the most important instruments used in celebrations during the Safavid and Qajar periods.  A wall fresco at the Chehel Sotoun Palace in Esfahan dating back to the Safavid era depicts a kamantcheh player among a group of court musicians at the royal court.  The instrument's players, often female, are also depicted in many court paintings, including a wall painting at the Hasht Behesht Palace in Esfahan.
The kamantcheh is a Persian stringed instrument of the fiddle family. The word kamantcheh means little bow in Persian.  It is believed to have originated in northern Persia and is still common in the Middle East, Central Asia, northern India, and Southeast Asia.  Featuring in Iranian classical and folk music, the kamantcheh is also widely used in the music of Azerbaijan, Armenia, Turkey, Uzbekistan, Turkmenistan and the Kurdistan regions.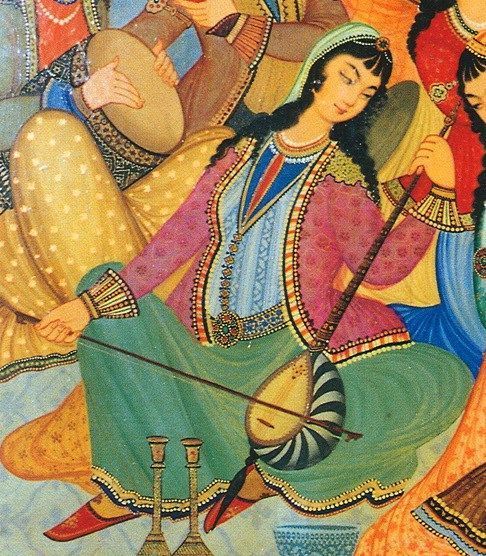 Though the Turkish and Armenian kamancha have a similar name borrowed from Persian, they differ significantly in structure and sound from the Persian kamantcheh.   In Central Asia, Turkey, northern India and Southeast Asia, spike fiddles closely resembling the kamantcheh are common under the name "rehab."
The kamantcheh is a spike fiddle — meaning that its small, round or cylindrical body then forms a "foot" on which the instrument rests when played. The musician who plays while seated rests the foot of the instrument on his knee.  Measuring about 30 inches (76 cm) from neck to foot, it has a lower bowl-shaped resonating chamber that is covered with a membrane made of lambskin or goatskin.  Traditional kamantchehs had three silk strings, whereas modern ones have four metal strings, tuned like a standard violin.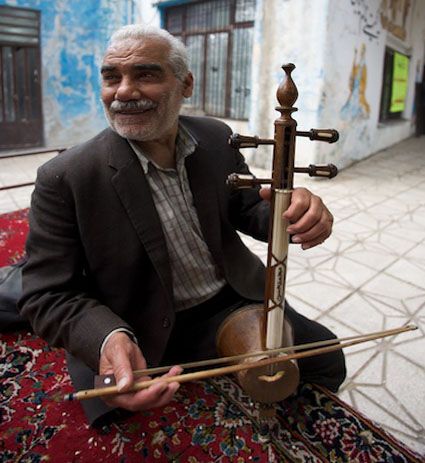 Kamantcheh is played by soloists as well as in ensembles.  Famous Iranian kamantcheh players include Ali-Asghar Bahari, Ardeshir Kamkar, Saeed Farajpouri, and Kayhan Kalhor.  Three-time Grammy nominee Kayhan Kalhor is an internationally acclaimed virtuoso of the kamantcheh and a founding member of the Silk Road project led by the virtuoso cellist Yo-Yo Ma.  He has composed works for and played alongside the renowned Iranian vocalists Mohammad Reza Shajarian and Shahram Nazeri.
UNESCO (United Nations Educational, Social and Cultural Organization) set up the Representative List of the Intangible Cultural Heritage of Humanity in 2009 to raise awareness of the importance of cultural practices and expressions, and to recognize the traditions and know-how of communities it identifies as repositories of cultural diversity.
---