---
By Tara Biglari
---
Canadian-born Leila Mozun is a marketing guru by day and a chef by night. Late last month, on the Sunday after Norouz (the Persian New Year), she debuted her 'Caspian Kitchen Supper Club' for the benefit of dozens of attendees. The event took place at Benk + Bo, an open, light-filled space in east London.
Supported by a loyal team of helpers — including her own mother, who had flown across the Atlantic for the occasion — Leila whipped up some of her favorite dishes and "ubiquitous comfort foods."
Leila decided in the last year to turn her culinary passions into reality. Her aim is to spread the word about Persian cooking, a source of much confusion among her peers, and take Londoners on a flavor-filled adventure through her culinary heritage.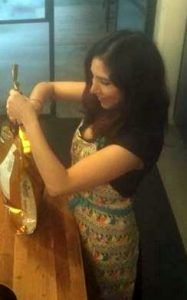 Kayhan Life caught up with her for a wide-ranging conversation.
You recently put on your first Supper Club event. How did it go?
It went so well – I couldn't have hoped for a better launch! I got so much love and feedback from friends and family. It was a great feeling to be surrounded by so much happiness, and everyone enjoying the food and ambience. I cooked everything, a pretty big task that I had underestimated — but I enjoyed every minute. It's something I'm doing out of passion for Persian food and wanting to share it with others. I had the dream team helping in the most perfect setting.
I cooked chelo kabab (of course), with the juicy, delicious oven-roasted tomato; joojeh kabob with the customary somagh; the crunchy tahdig which is my favorite – actually, probably all of our favorites. As a child, I remember hosting non-Iranians for dinner and shoving tahdig their way, only to get looks of confusion, like: 'Why are you giving me all the burnt rice?' Actually, it's a sign of affection to be offered the best part!
I also included kookoo sabzi for the vegetarians, which happened to be most people's favorite, along with a vegetarian gheimeh. Apart from the mains, I also served kashke bademjoon, salade olivier, and mast o khiar for starters — as well as a rose water cardamom pistachio cake for dessert with Persian tea, of course!
When did you decide you wanted to bring your idea to action?
Last November, I decided I really wanted to do this. For years, I've been cooking for friends and throwing dinner parties, introducing Persian food to different people. I've always loved cooking. I was maybe 5 years old when I made my first dish.
Living in London, I noticed that there's a scene popping up, an opportunity and a platform to create an alternative dining experience outside of your normal restaurant-going [routine]. I thought I needed to get involved, that I'd delayed it for too long, and I knew I could do it. So I just decided to take the plunge!
What was the turnout like? Were there non-Iranians who hadn't tasted Iranian food before?
There were three Iranians, and the rest were a mix! There were Italians, Finns, Swedes, British, Chinese. Apart from the Iranians and friends I'd cooked for in the past, nobody had actually tried Persian food.
I had a lot of people asking me beforehand what the food would be like – 'Is it like Moroccan food?' – which is a question I get quite a bit. People have a misconception about what it is. They don't know if it's spicy or not, what the flavors are like. So I had to explain the fragrant, aromatic spices involved in Persian cooking, because it's subtle, but also very flavorful.
Can you tell us a little bit about your background? Where did you grow up, and did you always have a connection with Iranian food?
Both my parents are Iranian, and I was born and raised in Canada. I was always immersed in Persian culture inside the home. We always spoke Farsi, and my mom made a point of making sure I could speak the language growing up.
I was raised with the most delicious food prepared by my grandmother, who was renowned in our family as being the best cook. That really ignited an excitement and interest in Persian food. I always wanted to cook alongside them, to be involved in what was happening in the kitchen.
When I moved from home, I craved and missed my Persian upbringing and the food and traditions, so I made a point of creating that in my own life and introducing it to my friends.
Will you be putting on another event in the near future, and do you have any long-term aims with the Supper Club?
I actually will be! I already have one set in motion for May, and word of mouth has spread: new people have jumped on board and asked if they could get tickets. It'll be happening somewhere new – I like the idea of shaking it up a bit, changing the venues and popping up in different places in London. I have every intention of it becoming a long-term thing and hopefully building it into whatever it builds up to. I've enjoyed it so much and the launch brought me so much joy. All the positive feedback has encouraged me to continue, so I can't stop now!
Do you have any tips for those aspiring to do something similar?
I would say, go into it with a positive attitude and a dishwasher! I'm telling you, the dishes pile up! Apart from that, find yourself a good supportive team, because otherwise it could be a bit overwhelming, with all the duties.