---
By Nazanine Nouri
---
The first known oil painting of an African figure in Persian art sold at the Bonhams auction house in London for 375,250 pounds ($515,000), more than double its top estimate, on March 30th..
The painting is a rare Safavid portrait of an African soldier, and was executed in Isfahan between 1680 and 1690 by an anonymous Persian artist. It is believed to be the first portrait of an African figure in Persian oil painting, and one of the earliest artistic records of the African community, whose descendants continue to reside in the Persian Gulf region.
"This rare, perhaps unique portrayal of an African in the Safavid army is of great art historical and sociological importance," said Oliver White, Bonhams Head of Islamic and Indian Art. "I am not surprised that it attracted such keen bidding, nor achieved such a high price."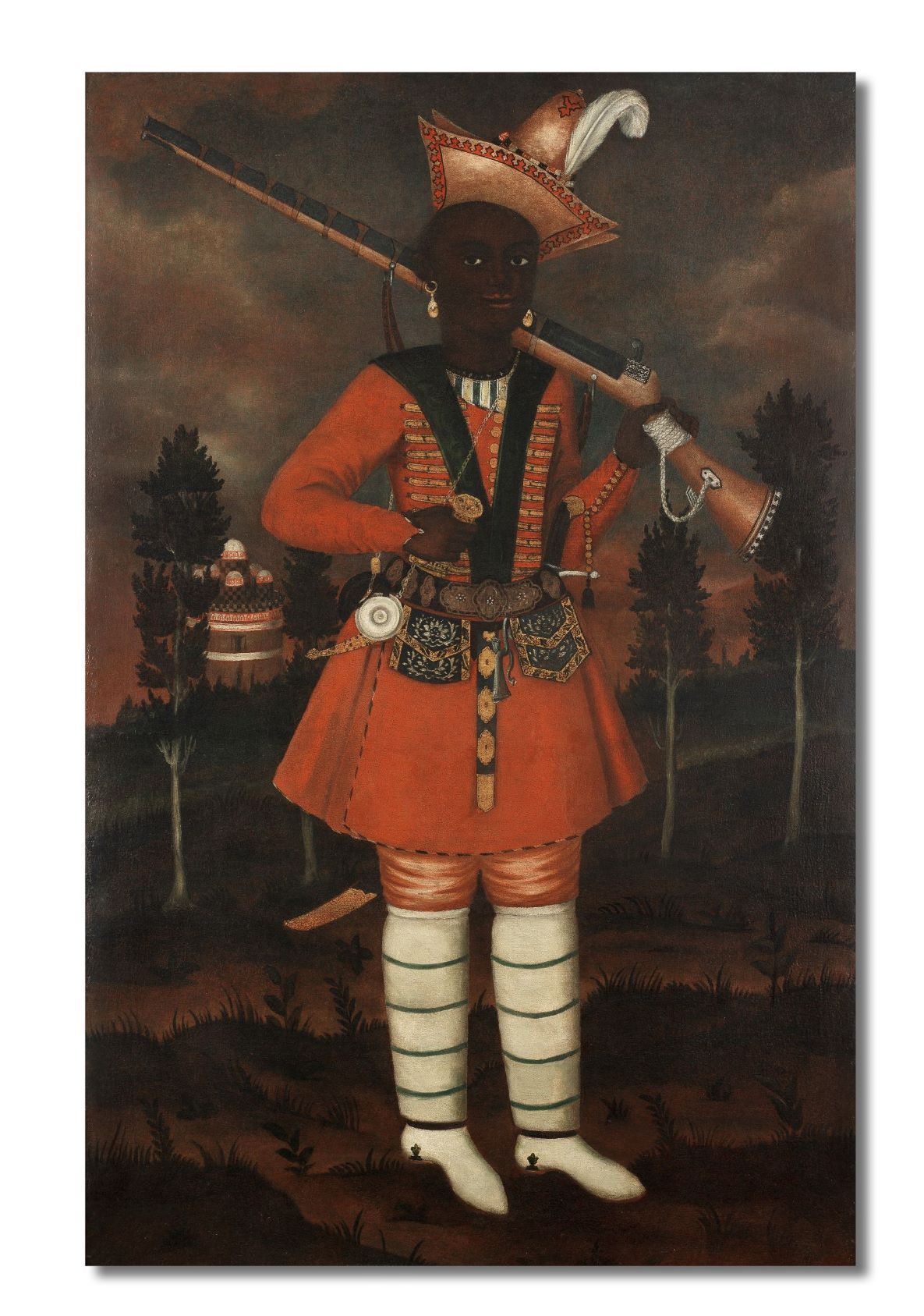 The painting comes from a private English aristocratic collection in London and was acquired by the vendor's mother in Jaipur during a visit to the court of Maharaja Man Singh II in the mid-1960s.
Depicting a young African man dressed as a soldier, the painting is rich in detail, with typically Persian weapons and accessories, and a European-influenced uniform and hat.  The sitter is likely to have been a real-life soldier, a musketeer or tofangchi, a division of the Persian army primarily composed of foreign mercenaries.
Bonhams said the identity of the sitter was not clear.
"Whether he was a slave who had come to Persia via the Arab trade from East Africa and the Indian Ocean into the Persian Gulf (whose descendants to this day form an Afro-Iranian community in the south of the country);  whether he had been freed as a condition of service in the Persian army; whether he was a free man who had ended up in the melting-pot of 17th Century Isfahan; or whether he is strictly a 'type', perhaps made African to cater to an existing European interest in blackamoors, and other signifiers of 'the exotic' – we will doubtless never know," the auctioneer said.
According to the art historian and Islamic art expert Eleanor Sims, paintings such as this "were almost surely commissioned by Europeans in the cosmopolitan mélange of peoples visiting Safavid Isfahan in that century."
"Struck by the 'exotic' inhabitants they saw, many wanted images to take with them, when they returned to their own countries," wrote Sims in her essay "An African Youth."
"English travelers seem to have been especially desirous of owning these 'exotic' personages, especially when they could be executed on a scale not unlike the oil-painted portraits already hanging on their walls," she added.
According to Sims, many of these portraits come from houses or families in Wiltshire and Northamptonshire, and three are known to have been in English royal possession since the middle of the 17th century. "But that this youth is black makes him an especially exotic figure, even for 17-century Isfahan," she said.
---