By Tara Biglari
The drab existence of a Turkish guest worker in Germany is the subject of the late Iranian director Sohrab Shahid Saless's film "Far From Home," which was screened at the Institute of Contemporary Arts (ICA) in London earlier this month as part of a three-month tribute to Saless.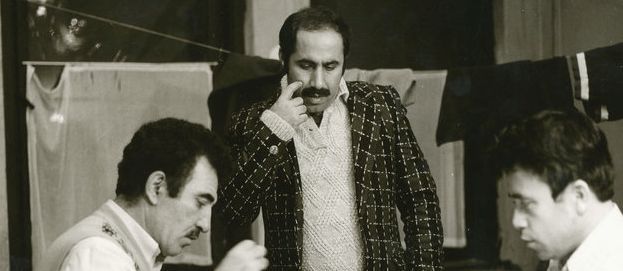 Shot in a mere 13 days with a cast recruited from the streets of Kreuzberg, the 1975 documentary follows the everyday reality of Husseyn: his commute, repetitive factory work, and dull home life. Living in a communal space with other guest workers, Husseyn repeatedly tries and fails to connect with his peers.
"Saless looks at the dark side of the living experience," said curator Azadeh Fatehrad in an interview at the ICA screening. "His work is very much to do with marginalized people who aren't normally focused on."
Director of photography Ramin Reza Molai (1939-2009) expertly captures the soulless routine of the guest worker through long shots of seemingly endless streets. The slow-moving and sometimes tedious pace of the film underlines the subject's feeling of alienation.
Sohrab Shahid Saless (1944–1998) was born in Tehran, studied film in Vienna and produced two feature films for the Ministry of Culture and Arts in Iran. A celebrated figure of the Iranian New Wave, he settled in West Germany in 1974 and produced dozens of films and documentaries.
Saless tackled themes relevant to his own experience, as he never managed to be integrated into mainstream German society, and developed a deep sense of estrangement during his years away from Iran.
"Homelessness and displacement were concrete material conditions of his own practice, but he viewed them as more general conditions of capitalist modernity," said curator Nikolaus Perneczky.
Fatehrad and Perneczky insisted that mainstream audiences should see Saless's films, and pointed to recent retrospectives in Tehran, Brussels and Munich which they said were giving his works new meaning.
"This is a rare opportunity to get to know him. He's been passed around German cinephiles as a secret tip, but now he's finally being given his due," said Perneczky.
The program is a partnership with the Goethe-Institut in London and with the Munich Film Museum. It has also received support from the Visual and Material Cultural Research Centre at Kingston University, the Iran Heritage Foundation, and Arts Council England. It is the first of its kind in the U.K. and will be running until January 19, 2018.
For more information about the program, click here.
#sohrabshahidsaless #iranianfilmmaker #iraniancinema #moviedirector ##ica#london #moviefestival #posthumoushonor #kayhanlife