By Julie Ershadi 
Abbas Kiarostami isn't the only Iranian who received praise in Cannes this year. Arsalan (Arsi) Nami, an Iranian-born artist, music therapist, and actor, is the star of "Love is Blind," a short film that won the Jury Prize at the Entr'2 Marches International Festival in Cannes.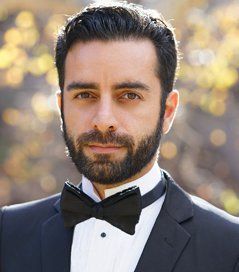 The five-day festival, held in May to coincide with the Cannes Film Festival, showcases short films that focus on stories of people with disabilities. In "Love is Blind," Nami plays Giovanni, a man who is losing his vision. The story centers on a moment in the relationship between Giovanni and Marcy (April Lam) as they adjust to this tragic change.
Nami, who started acting only shortly before appearing in the film, says he came across a casting call for it one day while flipping through a newspaper. Having previously worked with the visually impaired as a music therapist, he immediately clicked with the role. "I wrote to them and said, 'This is my character. I want to do it,'" he said.
Nami got the part and threw himself into it. "This was my first time even reading a script, but it felt like it was mine," he said. "I was so devoted to the script that I fell in love with it. When we were working on set, it just felt like drinking water to me."
Years of working with the disabled inspired Nami's approach to the role. He says he rehearsed with Lam (the female lead) with his eyes closed so that he could understand how it felt to be visually impaired, as some of his patients had been. "I had a very emotional response to that," he said. Losing one of his senses, he added, "made it exciting but also terrifying at the same time."
Some of the inspiration for portraying Giovanni's struggle also came from personal experience. In 2015, Nami suffered a spinal injury in a car accident. In addition to the welfare of his clients and disabled patients, Nami now had his own health to worry about. What's worse, he was then diagnosed with anxiety and depression disorders resulting from the injury. All of this helped him portray a man who pushes to preserve his relationship and his life when ill health gets in the way.
Nami's journey to Los Angeles, where he currently resides, began during the Iran-Iraq war. Nami was four years old, and his and his brother's lives depended on the protection and care that his mother could provide. As warplanes flew over their home in Shiraz, Nami and his family would take refuge in the basement, his mother singing songs to soothe and distract the two young boys. Eventually, she applied for asylum, and the three of them emigrated to Sweden.
Today, some of his geriatric patients are elderly Iranians who themselves lived through the war. He uses traditional songs and music, such as Javad Maroufi's Khabha-ye Tala'i (Golden Dreams), to help them, just as his mother's singing helped him during the war.
These experiences are enough to destroy a person, but Nami says he has drawn courage from what he saw his mother do for him and his brother. "Every time I fall down, I think of the strength of my mother," he says. "That gives me the strength I need. If there's a challenge, I know I can always overcome it, because I saw my mom do it."
#arsinami #loveisblind #cannesfilmfestival #iranianactor #musictherapist #abbaskiarostami #shortfilm #awardwinningmovie #juryaward #iran #irancinema