---
By Tim Cornwell
---
The artist Mohammad Barrangi's tiny apartment lies at the heart of London's Bloomsbury: From a window, the Shard tower rises through the fog, a couple of miles away.    We're a stone's throw from the British Museum, in a part of the city famous for nurturing the Bloomsbury group of writers and artists in the early 20th century.
Barrangi is 31, and his international career as an illustrator and print-maker has begun to take off,  with exhibitions and awards in Europe and Asia.  This month, he leads two events at the British Museum, including making a mural piece in the Great Court, the first stop for the museum's millions of annual visitors.   The museum has acquired two works for its collection of contemporary Middle Eastern art and hopes to add another.
"I'm just writing and making and drawing in my life," he says in an interview at his home.  "Anyone in Iran seeing my work understands me, my feelings.  My best friend is my drawing.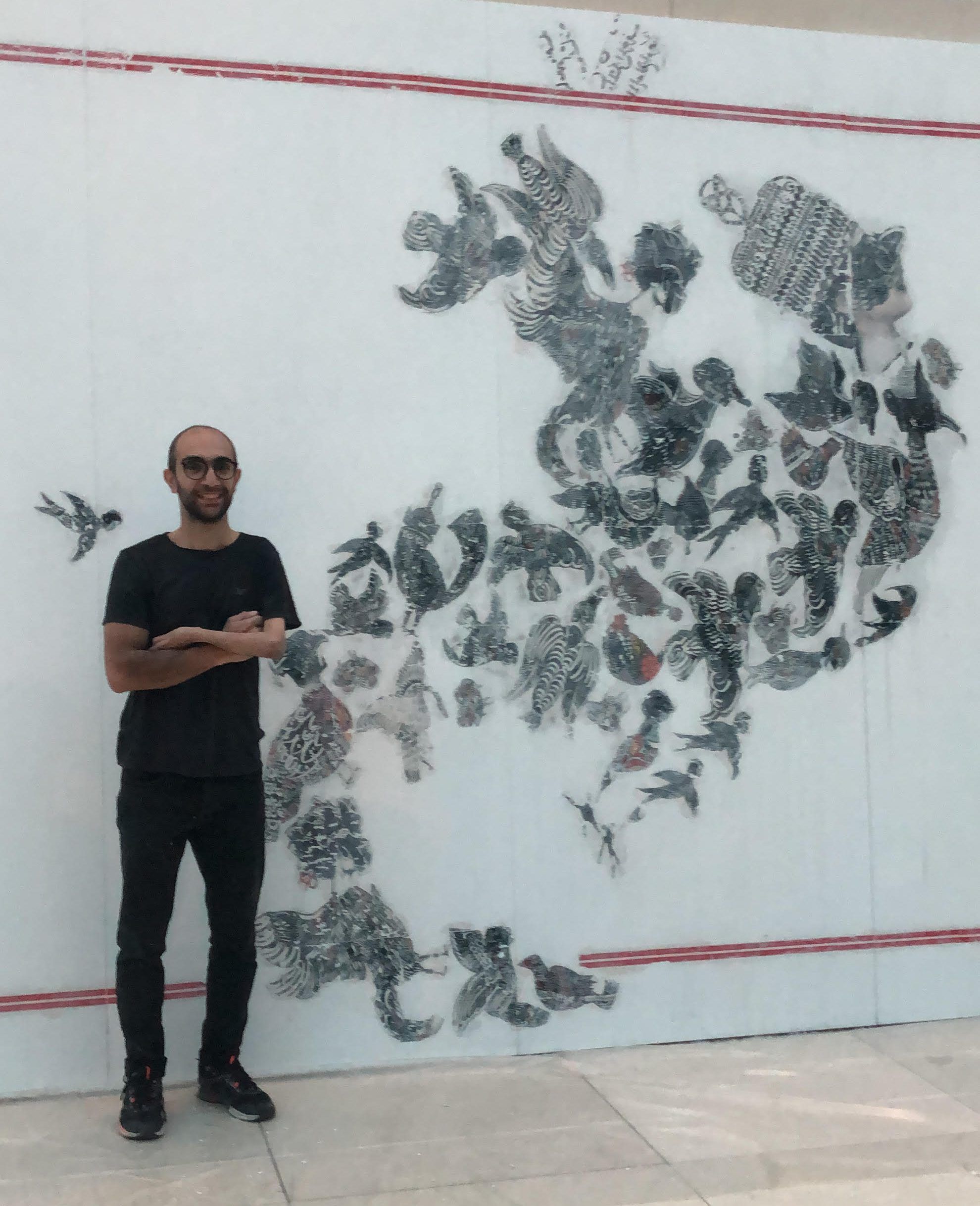 Channelling influences of both East and West, he wants people, he says, "to travel to Iran in their minds."
One of the works purchased by the British Museum is "Rescue," referencing the story of Jonah and the Whale, though it's actually the artist's mother in the whale's mouth. The other piece, "My Dream," features Queen Soraya, wife of the late Shah of Iran, riding on a camel.
In his mural for the museum, Barrangi is drawing on his work around The Conference of the Birds, the 12th-century Persian Sufi masterpiece by Attar of Nishapur, where the birds take a journey led by the wise hoopoe bird to reach Sufi enlightenment.
"He likes redemption narratives, the experience of circumstances, those who have experienced a downfall with recovery or relief," notes Natasha Morris, the British Museum's project curator for Middle Eastern and Contemporary Art.  "There's the  aesthetic heritage of miniature painting, subverted and played around with, deliberately obscuring the text and faces."
Barrangi moves around his kitchen, using just his right arm to reach for ingredients in cupboards, then cooks up the best ghormeh sabzi I will ever taste, with mint essence on the side.
The apartment has a period feel. There's an old record player, a vintage portable typewriter in a check-patterned case,   a steel lamp, and two framed pictures of Frida Kahlo, the iconic Mexican painter.
Two years ago, Barrangi found his way from Iran to Wakefield, a northern British town in Yorkshire, and moved into an art center with facilities to help newly arrived foreign artists — as well as access for those with particular physical challenges.  It's called "Studio Sanctuary."
Barrangi pulls out pieces that he's working on, to show me, as he cooks.   His one-off prints, on hand-made paper, merge calligraphic designs, Iranian folk imagery, the faces of iconic women, peacocks and wolves and other curious creatures, as well as carpet motifs.
But there's also a plastic bag of gold medals on the table, spilling out, from para-athletic championships in Tunisia and Iran.
Barrangi grew up in Rasht. The symbols over city doorways, welcoming guests as they enter, would later inform his art work.  His parents ruled out sport, and his mother, a huge influence in Barrangi's world view,  sent him to private painting classes instead.  But at 19, he started running.   After a year he joined the Iranian national team.
His best time in the 100-meter sprint, he noted proudly, was a formidable 10.72 seconds.
No one likes labels, artists least of all.  In Britain, Barrangi said, he loves it that he is recognized as an artist, not a disabled person, particularly in the UK.
Yet the figures and animals in his art pieces often lack one limb;  there's a sense of stories, journeys, and challenges overcome.
Born without the use of his left hand, Barrangi uses his foot to steady work when he's cutting and printing.
It's not every day you meet an artist, and athlete, with the thin frame of a runner.
"Exercise has a major role in my life, because I think running and being a champion is like living one day and potentially not the next — you live in that moment of competition," he said.   "I have four world medals in running and exercise helps me to focus more on art.
"Running as a solo sport helps me to understand and know more about life. It is a form of meditation," he explains. "I always think running and competing is like a metaphor for life itself…You train day in and day out to become a hero."
He won his first gold medal in Tunisia, in his first international competition, bursting with stress and excitement.
Now he's come to London, finding his feet in a new city, to study at the Royal Drawing School,  on its fully funded "drawing year".    The school was founded by Prince Charles, with its focus on more traditional, hard-earned artistic skills and craftsmanship.
"When I was in Iran my mother helped me with anything, every time," he said.     "After arriving here I really missed my mother."
He incorporates her image in his artworks, along with celebrated women from the Iranian artist Shirin Neshat, to the British-Irish catwalk model Erin O'Connor, to Princess Fawzia Fuad of Egypt, the first wife of Mohammed Reza Pahlavi.  These women acquire a cult-like status in the pieces, melded to the bodies of birds or animals, sometimes with faces in elaborate masks.
The British-Iranian art curator Sara Makari writes of Barrangi's work as a "fairy-tale journey"  through a "wonderland."
The process of making is both traditional and modern. Using repetitive strokes of a traditional Iranian calligraphic pen and ink, Barrangi draws his animals and designs, photocopies them, and using a solvent transfers images to his hand-made paper.  Lines of calligraphic text become reversed,  nonsensical.
In his imaginative artworks with their shape-shifting beasts, Makari writes, "we see birds with human faces and in reverse, human bodies ride cockerels and hobby horses."
Humorous and playful, they feature trees, often present in Zoroastrian and Qur'anic art, but also owls, traditionally viewed as dark and gloomy creatures.
Western influences creep in too: in one series  Barrangi samples the image of a famous British explorer from Yorkshire, who claimed to have ridden a cayman crocodile through the sea.
The birds in Barrangi's work stand for many things:  freedom, movement, companionship. and particularly migration, including his own.
A bird's migration depends on the seasons, and celestial cues from the sun and stars; it's often a difficult and dangerous journey at risk from predators, says Makari.
"In Barrangi's 'Wonderland,' it can be read that the artist is like the bird, having relocated; migration is necessary in order to survive both for birds and sometimes for people."
Barrangi is represented in the US and his global sales by Advocartsy, based in Los Angeles, with about 14 Iranian artists on its books.  "He creates a realm and invites the viewer to experience the very mystical and magical realms of his art and creation," said founder Roshi Rahanama.  "He has a unique way of bringing elements from the East, and the past, forward into the present.  People connect with his work, not only love his work but him as an individual and his story."
"He seems to be a very old soul in that he is very comfortable with bringing various topics and visuals together in a very balanced and unique way.  At times playful but also exceptionally strong and respectful of history."
Mohammad Barrangi joins an "access event" with an introduction to Persian calligraphy and design at the British Museum on November 9th.    He will install a mural in the Great Court from 14-17 November.
---
Link to British Museum, 'Conference of the Birds'.
---