The Warhol Museum in Pittsburgh, Pennsylvania has just opened the first solo museum exhibition by Farhad Moshiri, one of Iran's best-known living artists.
"Farhad Moshiri: Go West" brings together several bodies of work created over the decades that have never been displayed together. Many are traveling to the U.S. for the first time.
"It is important that The Warhol continue cultural exchanges with artists from diverse backgrounds," says José Carlos Diaz, the museum's chief curator. "This exhibition introduces Farhad Moshiri to new audiences, and presents him as one of the most important contemporary artists based in Iran."
Go West addresses contemporary Iran's traditions and its isolationism, while acknowledging the powerful appeal and influence of Western culture. Moshiri's paintings and sculptures explore the intersection of Eastern and Western popular culture, the tensions between traditional craft and contemporary art practices, and the ambivalent nature of identity. Using source images that reference both American and Iranian pop culture, Moshiri takes a complex look at how we define ourselves culturally.
"Although the works appear whimsical and cheerful," notes Diaz, "many are loaded with subliminal or ambiguous imagery that might relate to political, class or other social issues."
Many of Moshiri's images are pulled from cartoons, films, children's books and advertisements. Phrases from classical poetry, soap operas and pop songs blur the lines between art and cliché.
Go West highlights Moshiri's artistic techniques and the subtle transformations in his work. He turns mundane materials such as plastic pearls, glass beads, acrylic paint, crystals, knives, key chains and machine-made Persian rugs into intricate works of art.
In Tranquility, the word is spelled out using 215 knives, ranging from antique pieces to mass-produced kitchenware, with the blades inserted into the museum wall. The work is "violent, humorous, disturbing," notes Diaz.
In Mountains & Rivers, kitschy key holders represent a mountain chain and the word "rivers" written in cursive.
Moshiri was born in Shiraz, Iran in 1963, and spent his childhood and adolescence in that city, where his father owned a chain of movie theaters. He moved to the U.S. in the 1980s and studied art and filmmaking at the California Institute of Arts, before returning to his homeland in 1991.
At first, he made design objects – chairs, tables, household items – which he sold. Then he started to paint again. His early paintings were "really bad," he said in an interview with Kayhan Life last year. He was convinced that filmmaking was his true calling. But with time, he discovered the joys of his new discipline: "I could paint with nobody looking over my shoulder."
After producing paintings of jars, calligraphy and numbers, which were hugely popular with collectors, he decided to come up with his own version of Iranian Pop Art.
"Something was happening in society that was very fascinating: the nouveau riche aesthetic," he said. "Petrodollars were starting to trickle down, people were building, stuff was happening." So he started to represent that over-the-top aesthetic in his art.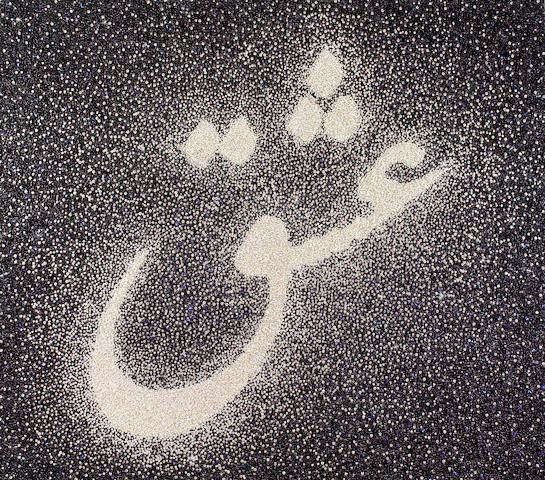 Moshiri made international headlines in March 2008 when he became the first Middle Eastern artist to have a contemporary work auctioned for more than $1 million. Eshgh (2007) consisted of a large black canvas with the Persian word for love embroidered on it with Swarovski crystals.
Remembering the framed embroideries that were found in so many Iranian homes, he made embroidery his new medium, working with professional embroiderers, all of whom were women. "I liked the fact that I was being soft and feminine," he said.
Today, Moshiri's work has been acquired by The British Museum, Doha's Mathaf Arab Museum of Modern Art, the Guggenheim Abu Dhabi, the Virginia Museum of Fine Arts, and the Francois Pinault Foundation in Venice.
From November 5 to December 23, New York's Perrotin will also be displaying Moshiri's works in Snow Forest, a solo exhibition.
Farhad Moshiri: Go West runs at the Andy Warhol Museum through January 14.