Photo portraits of migrants shortly after being plucked from the Mediterranean Sea on board their rescue ship Iuventa.
By Tara Biglari
---
The Spanish-Iranian photojournalist César Dezfuli is this year's winner of the prestigious Taylor Wessing Photographic Portrait Prize. His photographs are on display at the National Portrait Gallery in London through February 8.
The 26-year-old news photographer and reporter has covered a wide range of global stories, from the horrors of Bataclan, Paris, to underwater homes in Uruguay and the electricity crisis in Spain. Earlier this year, he spent three weeks aboard the sea rescue ship Iuventa, a vessel operated by the German NGO Jugend Rettet.
In his second week aboard, Dezfuli shot a series of portraits tilted "Passengers," which pictured migrants just minutes after they had been dramatically rescued from boats in the Mediterranean Sea. The winning shot featured a young Malian man named Amadou Sumaila, now living in a refugee center in Sicily, Italy.
Helped by his photographs, Dezfuli is taking an active role in bringing attention to the migrant crisis. He has recently presented a petition to the European Parliament in Brussels for the defense of migrants' human rights in Libya; the petition includes his portrait of Sumaila.
Kayhan Life spoke to Dezfuli about the award, his journey as a photojournalist and future projects.
You've recently won the Taylor Wessing award. What does this award mean to you and how do you think it might help your career?
It's one of the most important photo portrait awards in the world, and it really helps, as I work as a freelancer. It's a constant struggle with the media, trying to publish your story and getting your reportage out there. Most importantly, it will definitely help to spread the story which this portrait is a part of.
Before the award, the media wasn't interested in publishing this series of portraits. After the award, this work has started to get out there, and people are beginning to connect with the idea. Hopefully it will bring attention to the petition. Now, I have a chance to let the media know this is going to happen, so it means many things to me, and I'm very happy.
Can you describe the person in the winning photo and tell the story of when and how that photo was taken?
I was on board with the Iuventa doing a story about the NGO that was performing these rescues. The NGO was created [in Berlin in 2015 by Jakob Schoen and Lena Waldhoff] who crowdfunded a company to buy a vessel and save migrants stranded at sea.
This is part of a series, so the photo was one of 118. The idea was to emphasize the fact that they were humans with individual stories – that's why I photographed them one by one. At the beginning, some weren't sure, because they were afraid. When they saw others [being photographed], they felt comfortable and posed for the pictures. Finally, all of them accepted to be photographed.
The first rescues were very complicated because of the physical and emotional situations of the people on board – some people were dead inside, and it was really difficult to organize. This rescue was relatively easy. as it was early in the morning. Everyone was safe on board and singing when we arrived. There was no captain on this boat, and engine failure happens all the time. It's really surreal.
How do you think your image will increase awareness of current global issues?
I hope that it increases awareness of the migrant crisis, and that people will start to connect more with these personal stories. We cannot keep speaking about numbers, about this general idea of hundreds arriving to the coasts of Europe, because then we don't deal with the situation in a proper way. People start to [get] an idea of this as something dangerous, and it shouldn't be that way, because it's human beings struggling for their lives.
We don't know if in the future, we're the ones who will need to be rescued. It's happened in the past, when boats full of Europeans landed in other parts of the world from different situations. This is what's happening to them, and it's false that they're all coming from their countries of origin. For example, people who came to Libya for work are trapped in this smuggler network, and the only way to escape is through the Mediterranean. According to official numbers, there are over half a million migrants trapped in Libya right now, meaning that [in actual fact], there are many more. Hopefully these photos will humanize them, and help Europe deal with the situation in a humanitarian way.
You are of Iranian descent. Can you tell us about your background – where you grew up and what your connections with Iran are today?
My mother is Spanish, and my father is Iranian; he came to Spain when he was 20 years old. I have never been to Iran, and I don't have the citizenship. I grew up around Spanish families in Madrid and my father was the only Iranian, so my connection wasn't really with Iran, but it is still there. My house is full of Iranian things, and while I only speak a few words in Farsi, somehow I still feel connected. And of course, I love Iranian food – my favorite is ghormeh sabzi.
When and how did you decide to pursue photography professionally?
I studied journalism. I used to just write stories. There was a point when I started putting photographs and texts together, as I was in places where I felt it was important to include photographs. I was already taking photos by myself when travelling, so it was easy to apply the personal knowledge I developed with my writing. I started to take courses on photojournalism and how to create a story with pictures. I also learned from a lot of photographers when I was in Buenos Aires in 2014. The Latin American world of photojournalism is very strong and different to the European one.
When I came back to Europe, I carried all that knowledge with me. In the past two years, I decided to focus more on it, and work mainly on photo essays and documentary photography. This year was the one when everything started to work – I started to publish all over the world which led me to this award.
What's the most memorable experience you've had in your career thus far?
This summer sticks out the most – the sea was the strongest. The whole three weeks I was there left a really powerful impact on me.
I also covered the Kenyan elections in August, which was completely new for me. as I'd never been beyond sub-Saharan Africa. Kenya is a big country, and politically it is very interesting. When I arrived it was quite stable, but then everything jumped because of the elections and I couldn't believe all the protests that were happening. It was quite shocking but a great learning experience.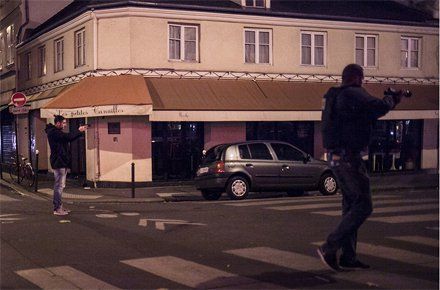 Another memorable experience was being in Paris during the 2015 Bataclan attacks. I was attending a photo conference at the time, and I covered the aftermath on the night, since I was around that area with my camera. People were still in the Bataclan, so it was a really heavy experience.
What are your next projects?
I'm preparing a story in Latin America over the next few months. I'm hoping to apply for some scholarships once I build the idea and take some initial shots, as it will take many months. My recent series was more of an artistic approach, but these will be investigative with more of an emphasis on writing. I'm also planning on visiting Sicily soon to visit Amadou and follow his story.
More information about César Dezfuli and his work is available on his website.
#cesardeszfuli #spanishiranian #photographer #taylorwessing#photoprize #nationalportraitgallery #artgallery #photojournalist#portraits #kayhanlondon #refugees #passengers
---