---
A new exhibition featuring the collaborative work of the renowned Dubai-based Iranian artists, Ramin Haerizadeh, Rokni Haerizadeh and Hesam Rahmanian has just opened at the Frye Art Museum in Seattle.
In "The Rain Doesn't Know Friends from Foes," the Haerizadeh brothers and Hesam Rahmanian have created installations, paintings on paper and stop-motion animations that transform found materials in a critique of contemporary reality.
---
---
The artists create their work by painting over stills sourced from online videos and television newscasts — on everything from the 2009 Iranian election protests to the wedding of Prince William and Kate Middleton.
"By detaching news imagery from its original context, this body of work estranges and opens up its encoded meanings while interrogating the entertainment value of reportage and the voyeuristic role of the spectator as a passive consumer of mass media spectacle," the Frye museum explains.
Emphasizing the importance of reporting on the times we live in, the artists wish to draw attention to pressing issues such as culture, gender fluidity, and power mechanisms.
Ramin Haerizadeh (b. 1975, Tehran, Iran), Rokni Haerizadeh (b. 1978, Tehran, Iran) and Hesam Rahmanian (b. 1980, Knoxville, Tennessee) have lived and worked together in Dubai since 2009.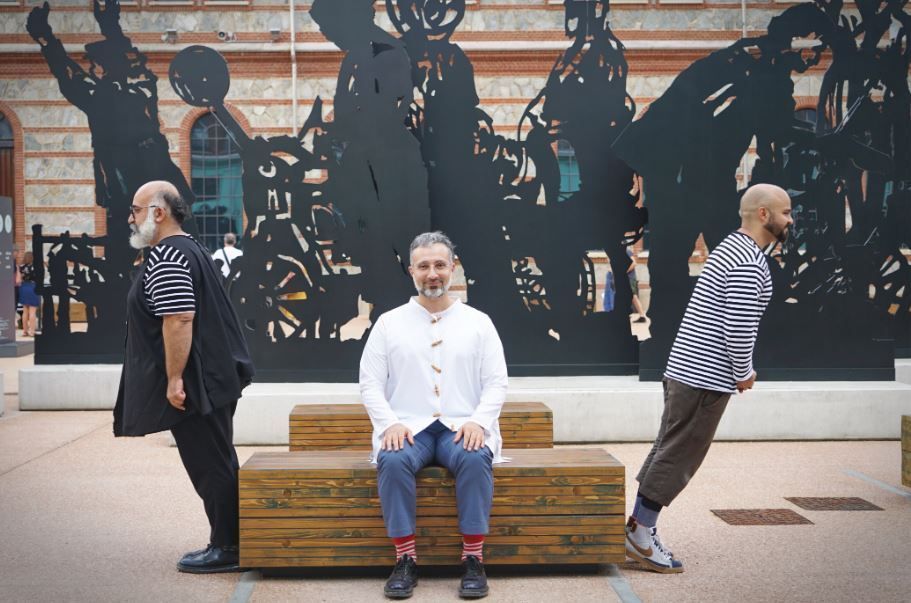 In a 2014 article in ArtAsiaPacific.com, Rokni described their working and living conditions as a case of "true equality," and sang the praises of their artistic collaboration, saying: "It's about finding a new idea, a new arrangement…if we as human beings can deal with our ego, and if we can erase the question of money and spend time together, then we can move beyond the ego."
The Haerizadeh brothers arrived in Dubai in 2009, after the critical nature of one of their works caught the attention of the Iranian regime in Saatchi Gallery's exhibition "Unveiled: New Art from the Middle East" in London.  Their childhood friend, Hesam, joined them six months later. The three had received private tutoring from the renowned Iranian figurative artist Ahmad Amin Nazar.
Surveying the animation works made by the artists to date, the Frye museum exhibition includes "From Sea to Dawn" (2016-17) and "Macht Schon" (2016) — reflections on the global migration crisis.  It also features such works as "Big Rock Candy Mountain" (2015) in which artifacts toppled by ISIS militants thwart their censors by mutating into fanciful mythic beasts; "Letter!" (2014), which amplifies the performative, media-induced hysteria of a protest by the Ukrainian radical feminist activist group Femen; "Reign of Winter" (2012-13), a grotesque adaptation of the coverage of Prince William and Kate Middleton's wedding that underscores the arcane, densely coded nature of ceremonial spectacles; and "Just What Is It That Makes Today's Homes So Different, So Appealing?" (2010-11) in which media imagery from the 2009 Iranian demonstrations is transformed into a sordid pageant of monstrous animalistic humanoids.
The artist collective has presented solo exhibitions at Officine Grandi Riparazioni, Turin (2018), MACBA, Barcelona (2017), Institute of Contemporary Art, Boston (2015), and Kunsthalle Zurich (2015).  Mousse Publishing published a monograph of their work entitled Ramin Haerizadeh Rokni Haerizadeh Hesam Rahmanian in 2015.
The Frye Art Museum first opened its doors in 1952 as the legacy of Charles and Emma Frye, prominent early-20th-century Seattle business leaders and art collectors.  Charles Frye was the son of German immigrants who had moved to America to farm in Iowa.  Frye moved to Seattle where he established a successful business.  He and his wife Emma became avid collectors and patrons of the arts.  Their collection of primarily late-19th- and early-20th-century German art became the founding collection of the Frye Art Museum.
"The Rain Doesn't Know Friends from Foes" will run through April 28, 2019.
---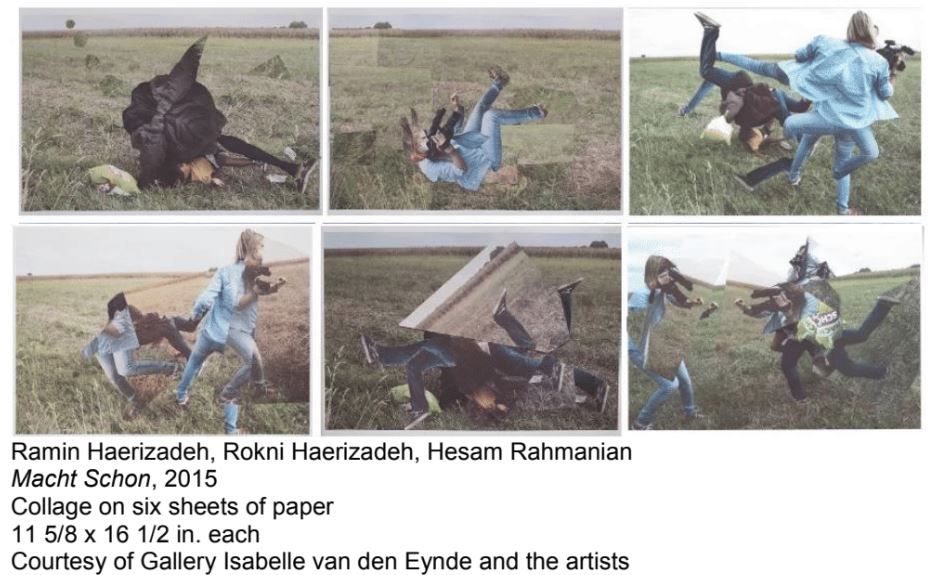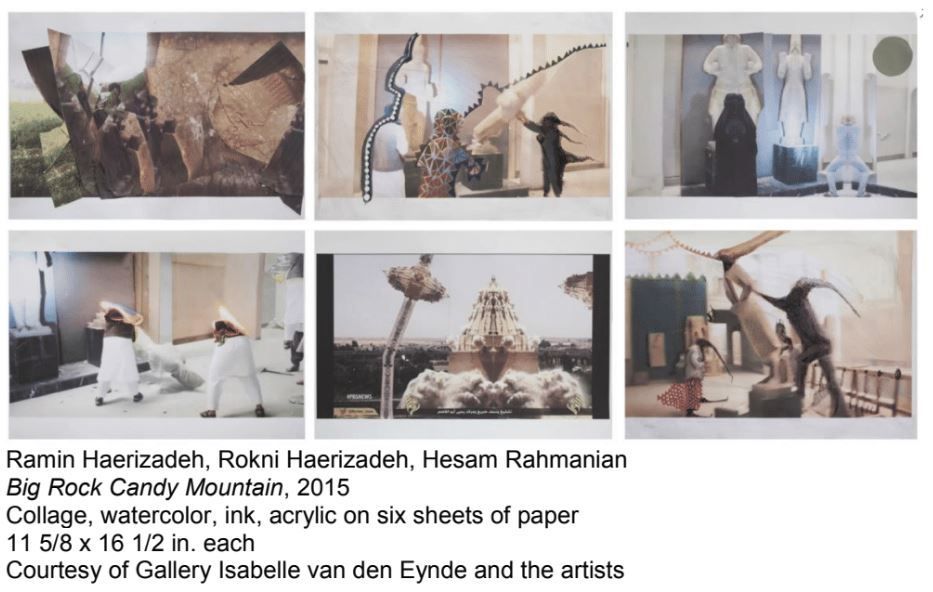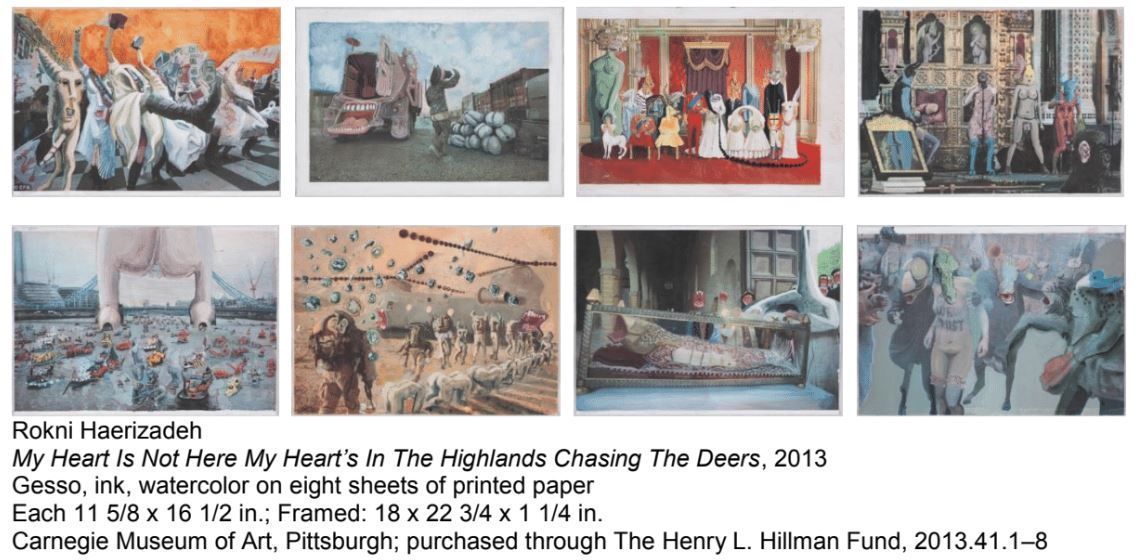 ---