---
By Tara Biglari
---
Fatemeh Takht Keshian is an Iranian-born artist living in the U.K. Her latest series is currently on display at the Alexandria Library in Manchester, the U.K.
Takht Keshian's work aims to shed light on the idea of Iranian identity in the middle of the 20th century. She does so by using a multitude of media including  collage, painting, photography and text.
Her latest project — titled 'Me, Myself and I: Relocate the Multi-Layered Identity' — involves drawing into recycled, second-hand books, and producing large paintings that combine old photographs with traditional symbols. Weaving together images and visual elements from Iran's recent past, a powerful story is told.
Kayhan Life caught up with the artist for a discussion about her work and background.
---
Q: Your exhibition has been on display at the Alexandria Library in Manchester for a few weeks now. Can you tell us what works you have on display?
A: The works exhibited in the Alexandria Library are the result of my Ph.D. research. In my thesis, I focused on how artists — in particular Iranian artists of the middle of the 20th century — represented their national identity in their art practice.
My work introduces a cultural understanding of Iranian identity in the middle of the twentieth century. Emphasis is put on the Tehran Biennials (1958-1966) and the way the Iranian state used this cultural event to change the image of Iran outside the country. I introduce an original constellation of art practices and archival research on the Tehran Biennials and on the concept of Iranian identity within Persian culture, tradition and history.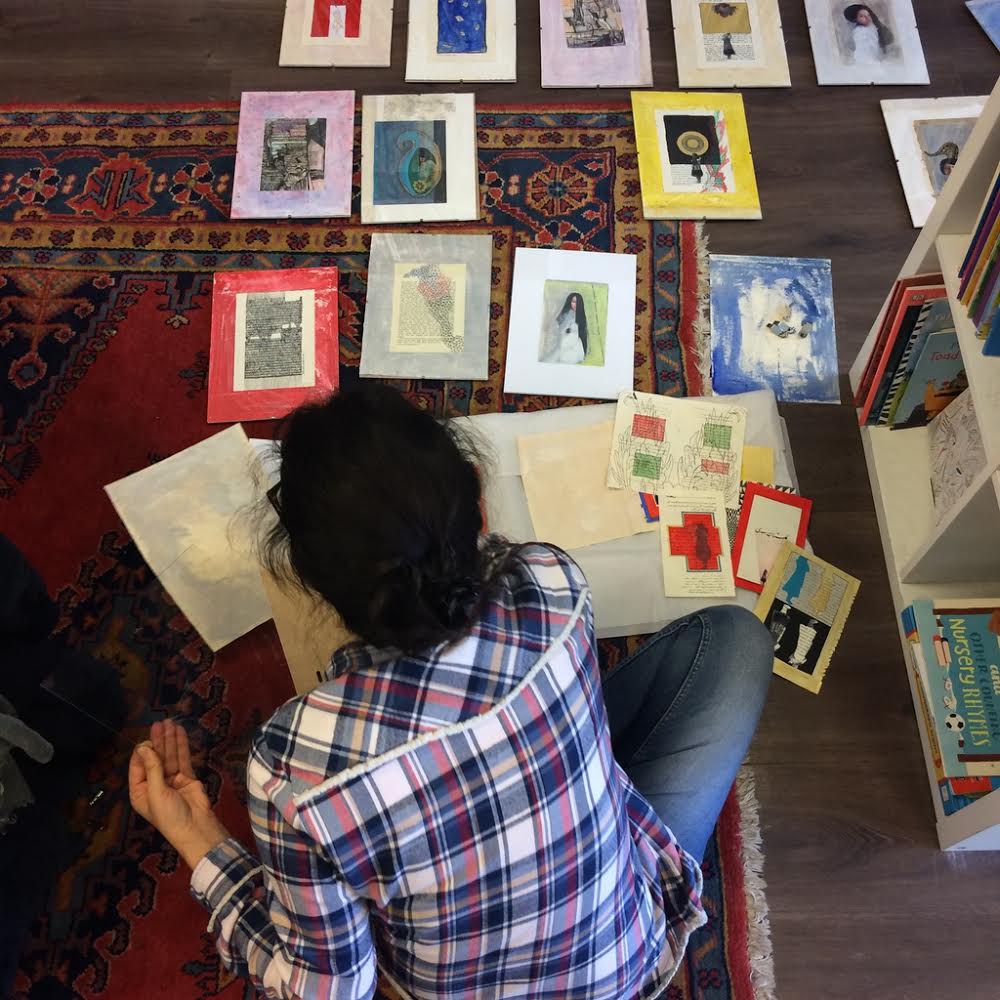 Q: What inspired you to use second-hand books for this project?
A: Using second-hand books and photos metaphorically represents the idea of collection—a collection of elements of tradition. Iranian culture is a collection of different traditions of various civilizations. Artworks from each historical phase show the influence of other cultures on Iranian culture.
That's why I decided to use second-hand books (in English and Persian letters) as a medium for this series. These books belonged to another person and were filled with the previous owner's dreams and ideas—a metaphor for a cultural heritage that belonged to previous generations. Cultural heritage is written into our subconscious, and becomes part of our character. We can cover up or highlight our cultural heritage, but it will always influence us.
Q: And the larger paintings?
A: In the larger paintings old photos, symbols and traditional motifs are combined to make layered portraits of identity. The pieces in this series complete each other, like different sides of the same form.
Images and visual elements are woven together. Sketch books combine with films and pictures recorded in Iran and Britain. These images, elements, pictures and films are superposed as semi-transparent layers. They cover or uncover and appear or disappear within each other. They are a mixture of different themes, dreams and imaginary places and states which have elements of secrecy and disclosure.
Q: Can you tell us a bit about yourself, and your background?
A: I am originally from Iran. I hold a practice-based PhD in Art from Lancaster University, and a BA and MA in Painting from Iran. Moving from Iran to the U.K. has led to dramatic changes in different aspects of my life. This geographical relocation provides me with different conceptual perspectives on personal and social levels. It has highlighted the role of personal memories and experiences in my work.
Q: Do you gain inspiration from your relationship with Iran, and is this reflected in your works?
A: Yes. I explore the theme of identity by looking deeply at the subtle dialogue between 'I' and 'Eye'; how identity is constructed by self-perception and by others' conceptions. The experiences creating such fertile moments were those that I lived through during my time in the U.K., and they profoundly reshaped my social identity from a local cultural context to a multicultural context. From these observations arose the motivation underlying this research. I have to mention that I use my dreams, memories and experiences to make my works. 
---
For more information on Fatemeh's work, please visit her website below:
Fatemeh Takht Keshian
---