---
By Nazanine Nouri
---
A work by the late artist Monir Farmanfarmaian sold online for 168,813 pounds ($213,000) in an auction of Middle Eastern art held by Bonhams last week.
"The Magnificent Sacred" — a meter-wide nonagon of mirrors and painted glass inlaid in wood, from her landmark "Geometric Installations" series — was sold on June 11 in the Bonhams Modern and Contemporary Middle Eastern Art online auction. It was one of 99 works of Middle Eastern art on offer, including a major piece by Kadhim Hayder –"Divine Horses," from his notable "The Epic of the Martyr" series — which sold for 250,062 pounds.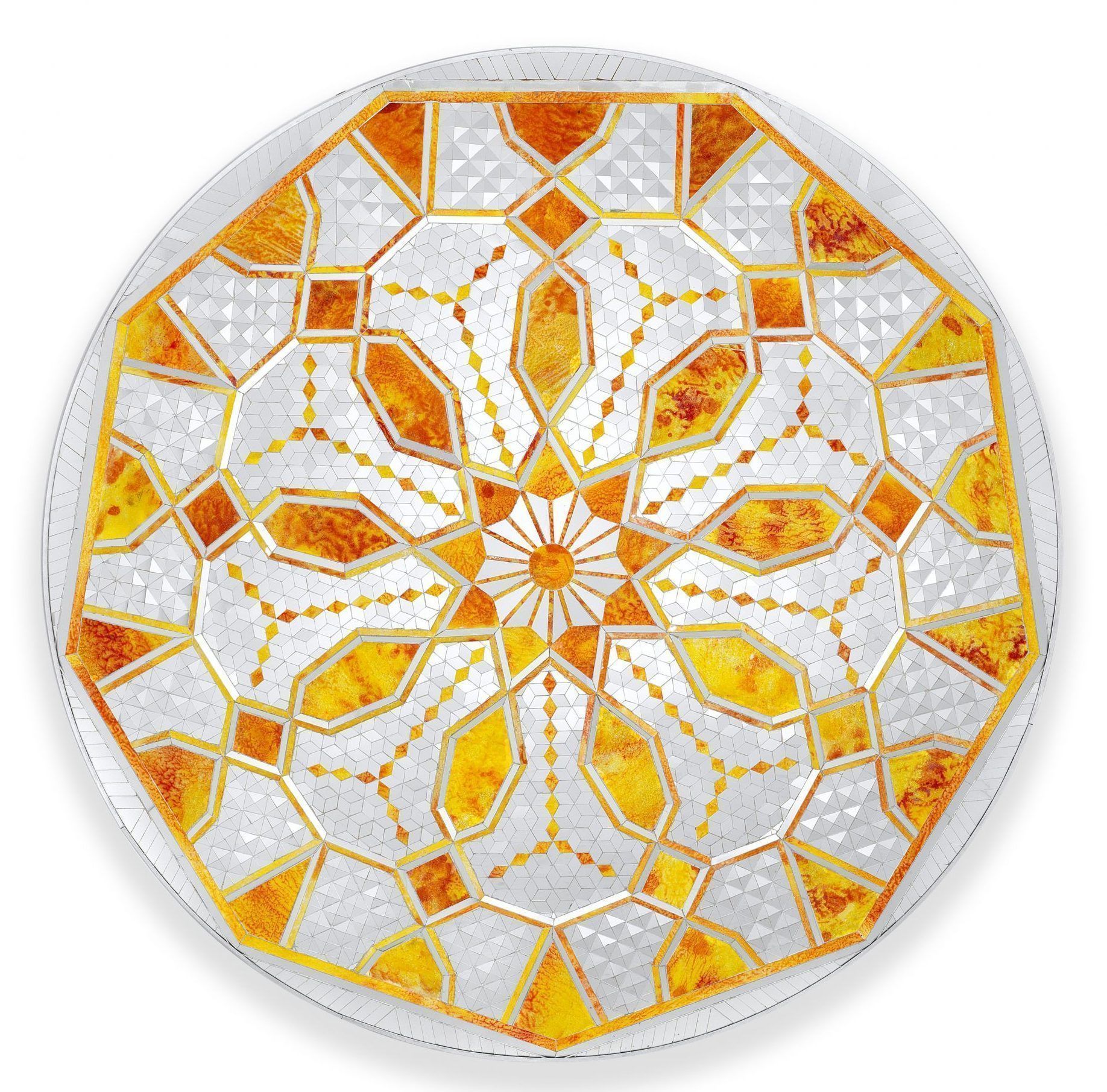 Farmanfarmaian's piece was a technically elaborate example of the spectacular mirror work that was exhibited at her retrospective at the Niavaran Palace in Tehran in 2006, combining her deep understanding of numerology and symbolism with classical Islamic art and post-war abstraction.
"We are really thrilled with the results of this sale," said Nima Sagharchi, Bonhams Head of Modern and Contemporary Middle Eastern Art.  "Hayder and Farmanfarmaian are highly important artists, and these were both exceptional and significant works, from the prime of their individual careers."
"The sale saw a significant upsurge in bidders from the Gulf and from North America," added Sagharchi.
Monir Shahroudy Farmanfarmaian, the charismatic, silver-haired artist who produced stunning mirror works inspired by an ancient Iranian tradition, died in April 2019 at the age of 96. She had received her first career survey at the Guggenheim Museum in New York in 2015.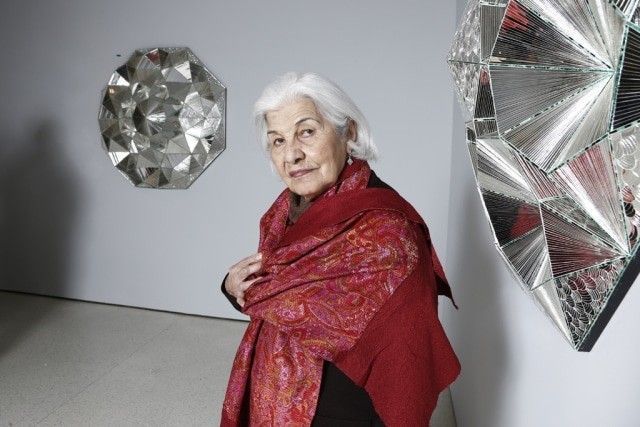 Monir was born in the northwestern Iranian city of Qazvin in 1923 to an aristocratic Ottoman mother and a father who founded Qazvin's first girls' school before being elected to Parliament. After studying fine arts at the University of Tehran, she sailed to India in 1944, then boarded an American warship to Los Angeles.  From there, she travelled across the United States to New York, where she studied fashion illustration at the Parsons School of Design.  It is during that time that she met the artists Willem de Kooning and Jackson Pollock.
In 1950, Monir married fellow Iranian artist Manoucher Yektai, with whom she had a daughter, Nima. The couple divorced in 1953, and the artist took a day job at Bonwit Teller's advertising department, where she worked with Andy Warhol. The two developed a friendship that would last for decades.  She made mirrored disco balls for him and subsequently received one of his Marilyn Monroe portraits.
In 1957, Monir married Abol Bashar Farmanfarmaian, a lawyer and investor. The couple returned to Iran, where she gave birth to her second daughter, Zahra.
For more than 20 years, the Farmanfarmaians entertained in style at their Tehran villa — until the advent of the 1979 Islamic Revolution, when they happened to be in the United States. They were forced to settle in New York, losing everything they had left behind.
According to the American abstract artist Frank Stella, it was Monir's post-revolutionary move to New York that made her the artist she is today.  She was then able to "find herself and find a way of working with the visual culture she came from."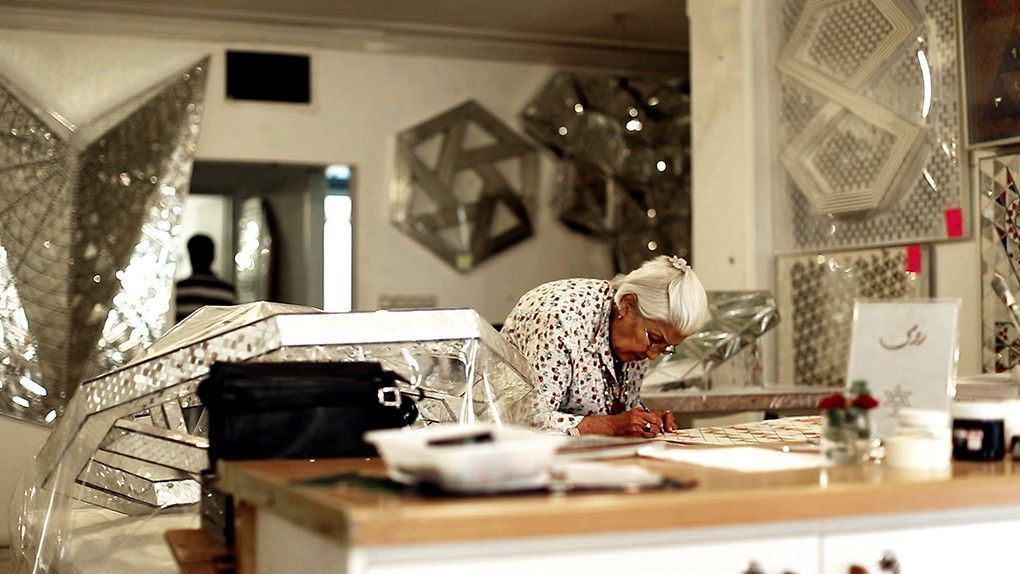 Monir's love of mirror work originated during an early 1970s visit with the American artist Robert Morris to the Shah Cheragh Mosque in Shiraz.  The mosque's interiors were entirely covered with carved mirror fragments that sparkled like diamonds and reflected the hundreds of worshipers gathered there.
Monir secretly wished that she could cut a piece of the mirror work off the wall and take it home for her own private contemplation.  So she decided to make her own, and invented a personal art form in the process.  Her mirror works were stand-alone sculptures based on meticulous geometric designs that she produced herself.
After decades in New York, widowed, Monir returned to Tehran in 2004, in part to be closer to the master craftsmen who helped make her mirror sculptures. In 2014, she was featured in "Monir", a documentary directed by Bahman Kiarostami (son of the late filmmaker Abbas Kiarostami) and produced by the London-based Iranian curator Leyla Fakhr.
In 2017, she saw the opening of the Monir Museum in the historic Negarestan Museum Park Gardens in Tehran, which contains more than 50 pieces from her personal collection.
Though she was gratified by the attention that came her way in recent years, she told the New York Times in 2015 that she knew herself well enough as a nonagenarian to realize that what brought her the greatest pleasure was to be at home alone, in Tehran, drawing.
---