---
By Tim Cornwell
---
Parasol Unit Foundation for Contemporary Art, a respected London exhibition space, celebrates its 15th anniversary this year. In a venue that usually ignores national labels, founder and director Ziba Ardalan has gone back to her roots with a show of nine artists of Iranian origin, living or working in or outside of Iran.  Just don't expect the art to look "Iranian."
"When I organized this exhibition, 'The Spark is You,' I didn't even want to call it [an exhibition of] Iranian artists," Ardalan tells Kayhan Life. "I wanted the whole process to be felt as an experience for people," to let them "make their own minds that these are from Iranian artists."
Ardalan regards poetry as a thread that draws Iranian art — and Iranians as a people — together.  "We have poetry around us from day one," she explains.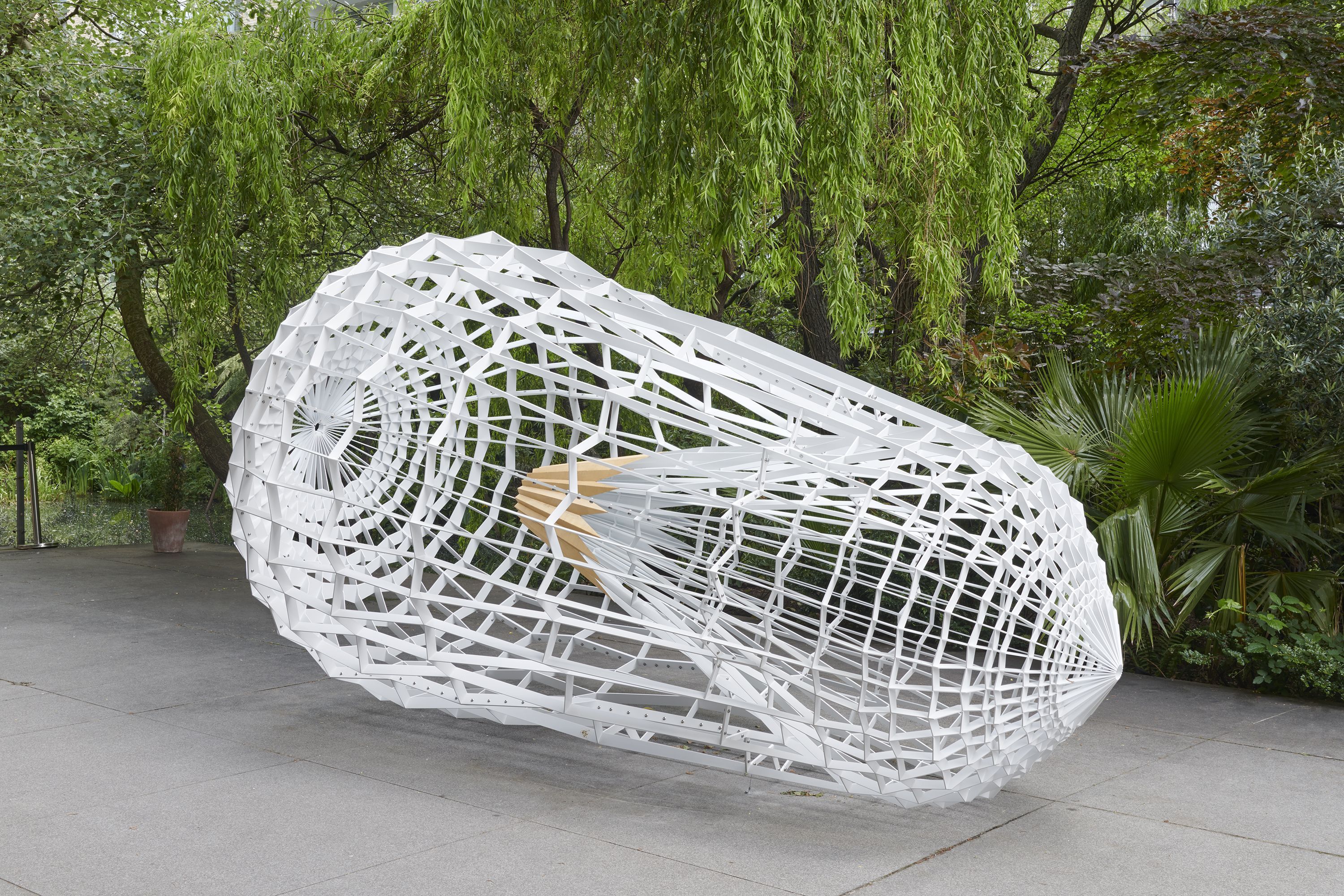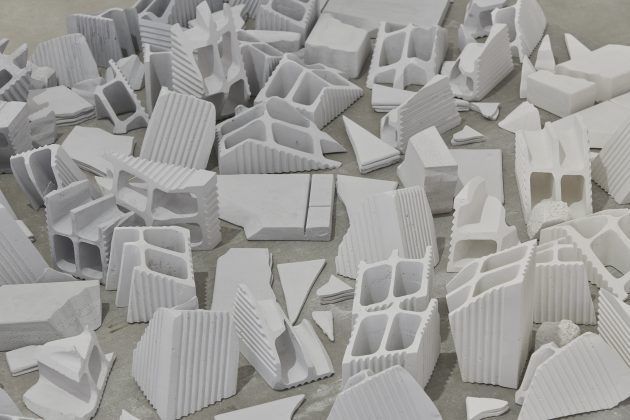 She quotes a poem by the late filmmaker and photographer Abbas Kiarostami:   "When I have nothing in my pocket, I have poetry.  When I have nothing in my fridge, I have poetry. When I have nothing in my heart, I have nothing."
"Nine Iranian artists in London: The Spark is You" runs at Parasol's north London gallery until Sept. 8, with a counterpart exhibition in Venice during the Venice Art Biennale (which ends Nov. 24). The two-part show aims to highlight "the vital importance of open dialogue towards developing greater understanding between all nations."
Several of the works carry subtle references to the culture of Iran. A Persian kilim shrouds a dangling female torso in Koushna Navabi's "Untitled (Tree Trunk)," with a hole where the heart should be. A work by Australia's Hossein Valamanesh features reworked architectural patterns from Isfahan's Masjed-e-Jomeh (Friday mosque).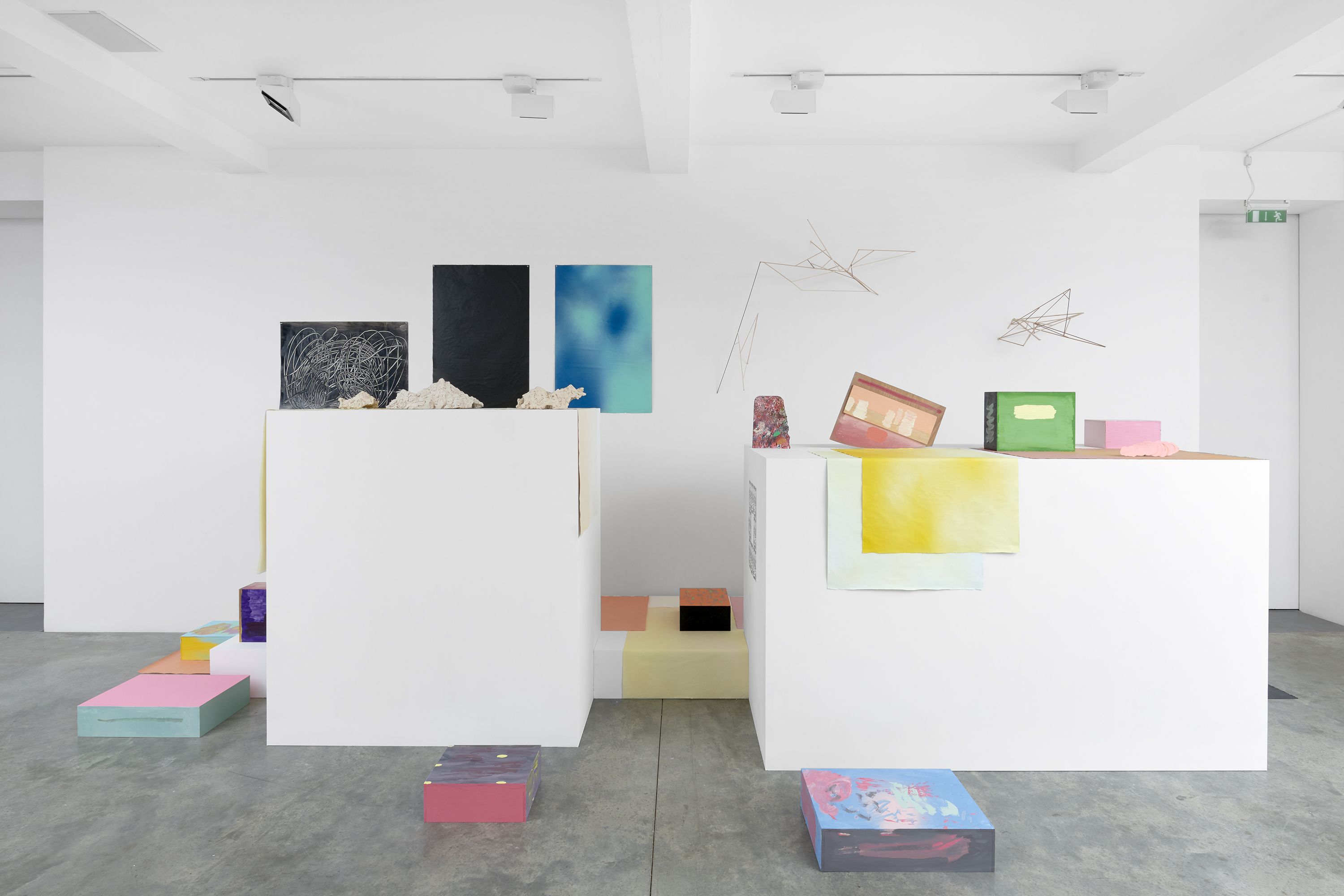 The San Francisco-based artist Hadi Tabatabai is showing "Transitional Spaces," an extraordinary work originally made for Carnegie Mellon University in Pennsylvania.  It has six metal-framed panels, the size of doors, standing vertically in a series. Each has 800 strands of thread running down it, creating the effect of a thin gauze when viewed from the front. Placed together, they produce cascades of changing shades of grey, shifting from dark to light and back again as the viewer walks past. The effect is powerful and contemplative.
Unlike artists such as Jeff Koons, whose giant toys of burnished metal are made by dozens of studio assistants, Tabatabai strung every thread in the piece himself — 11 kilometers of thread in total — and spent more than a year completing the piece. He previously worked for five years as a mechanical engineer before going back to university to study painting. For him, every time-consuming artwork is a learning experience.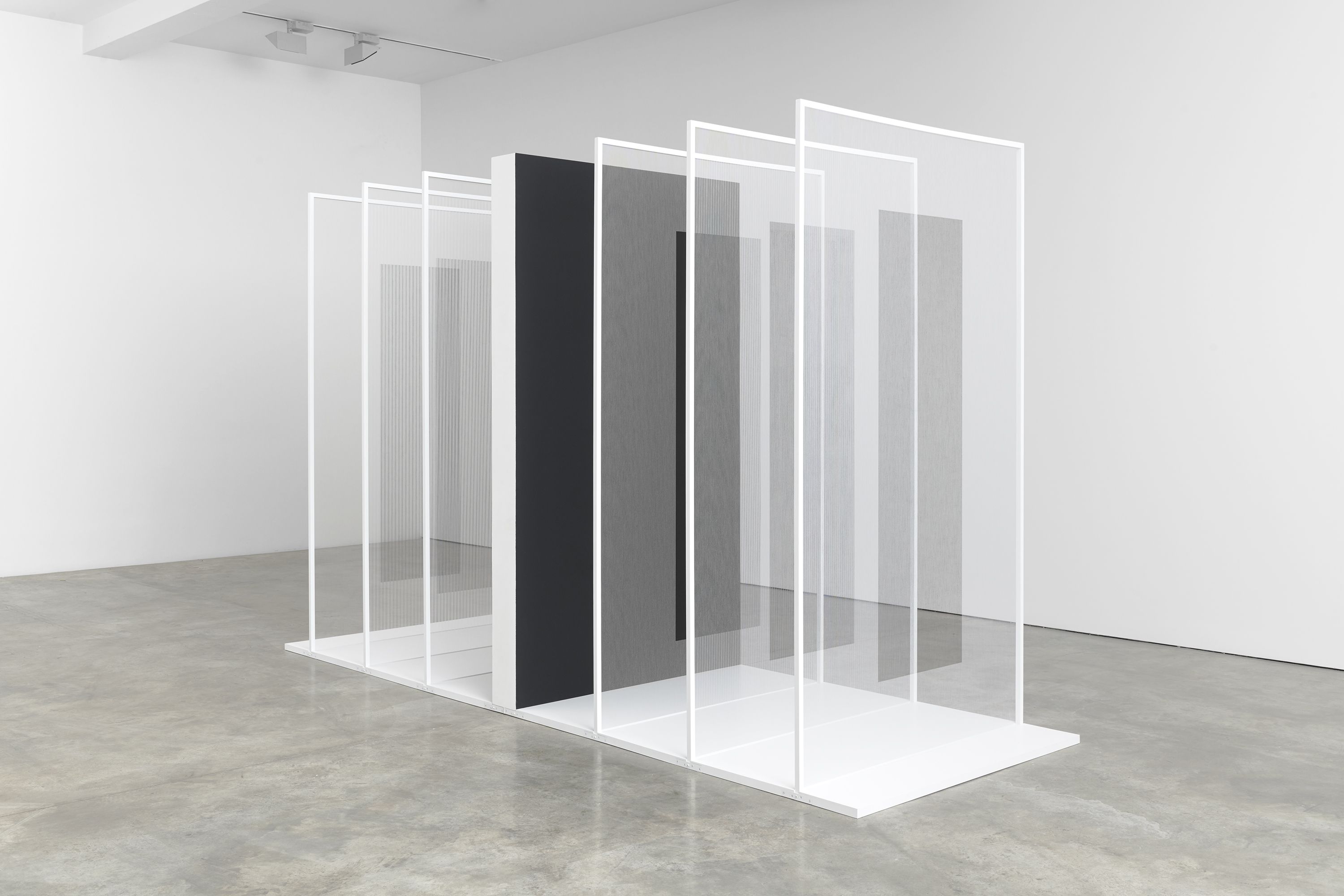 How much does Iran, or its poetry, inform the work of someone who left Iran as a teenager?  "I am Iranian. I lived there for 13 years. There are aspects of the culture that are very dear to me: I live by them," he replies. "So every activity I engage in is a result of that."
Memorizing poetry, for instance, "was something that we all had to do," he recalls. While he has been back just once since leaving the country in 1977, his wife is Iranian, their children speak Persian, and the immigrant experience "crystallizes" a culture that is part of his being.
The Parasol show is "very different from all of the other Iranian exhibitions I have seen," he notes."What stood out to me was that you couldn't tell the identity of any of the artists from the work itself. That was refreshing."
Hossein Valamanesh has lived in Australia since his early 20s.  His widely collected work is notable for fusing his Iranian heritage with that of his long-adopted country.
Valamanesh's piece in the exhibition, "Lotus Vault #2," uses lotus leaves from his home city of Adelaide to create patterns reminiscent of the brick vaults of the Isfahan mosque.
It was created after a visit to Iran where "I found myself looking with an Australian eye through a different lens at the culture," he explains. "In one particular hall containing five different design vaults, I looked up to the ceiling, and was  overwhelmed by a similar feeling as looking at some Australian indigenous art — in regards to pattern making and line recognition and simplicity of the whole structure."
Returning home, he decided to use lotus leaves, commonly used to steam pork and other foods in Chinese cooking, and played with their different shades.
Valamanesh, now 70, arrived in Australia in 1973 as a student and remembers that, under a progressive government, he was made to feel welcome.
In 2013, one of his works, "Longing Belonging," was included in a milestone survey of 200 years of Australian art at the Royal Academy of Arts in London. For his piece "Longing Belonging," which was made in1997, Valamanesh laid a Qashqa'i carpet out in the Australian bush, built a wood fire in the middle, and set it alight, later showing both a photograph and the burned carpet itself.
Valamanesh has returned several times to Iran, both exhibiting and talking to artists and art students. He believes in "starting the conversation between cultures rather than separating ourselves."  A new catalogue of his work is currently being translated into Persian.
He feels that the artists in the London show are "doing their art because of who they are," rather than as "a victim of a refugee, not being able to go back." Those who live and work in Iran are "quite progressive, and in their conceptual core could have been from anywhere.  But of course they have the flavor and the tension of being from the Middle East, particularly from Iran."
The artist Morteza Ahmadvand, who is based in Iran, has two works in the show. "Flight" (2008) is a remarkable and vivid film work featuring nine images of a bird trapped in a square cage, flapping its wings in increasingly desperate attempts to fly out, and leaving a ghostly shadow. One edition of the piece is in the collections of the Pompidou Center in Paris.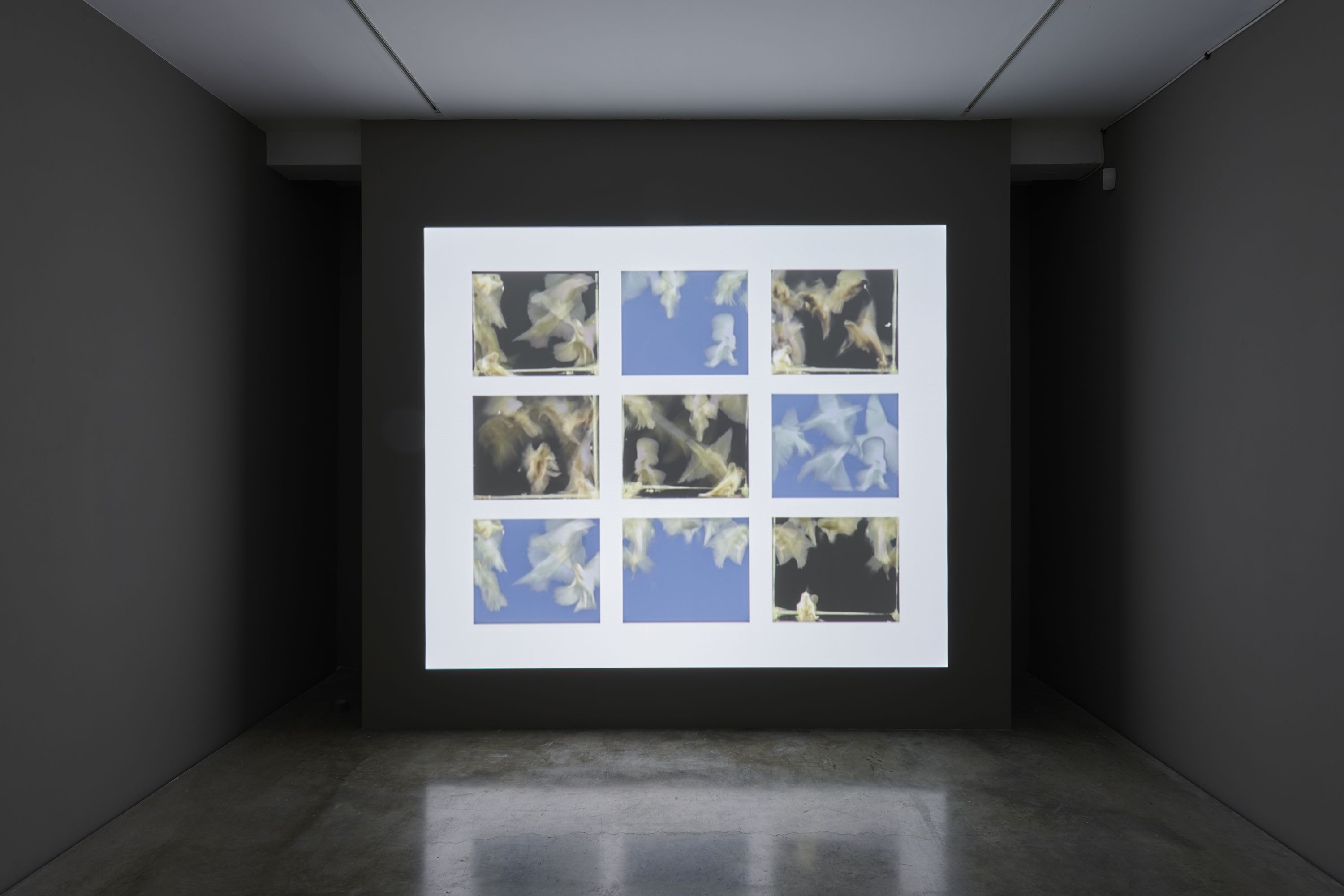 The work explores "the action of flying, the very meaning of flight: birds are my friends from childhood," says Ahmadvand.  The piece has a "good relationship" with the work of the famed 20th-century Iranian poet Forough Farrokhzad, he adds.
His second piece in the exhibition, "The Cradle of Religions," is a giant Newton's cradle with three huge balls on pendulums representing the three religions of Christianity, Judaism and Islam. They were designed to swing against each other, creating enormous sounds, in a clash of faiths. In Parasol's group exhibition, the piece lies against the wall, silent and still.
---
          "Nine Iranian Artists in London: The Spark is You" is at the Parasol Unit Foundation for Contemporary Art until Sept. 8.  It features the works of Morteza Ahmadvand, Nazgol Ansarinia, Ghazaleh Hedayat, Sahand Hesamiyan, Koushna Navabi, Navid Nuur, Sam Samiee, Hadi Tabatabai and Hossein Valamanesh.
---