By Tara Biglari
Living in a world that seems increasingly dominated by radical groups, ideological conflict and hatred, the Iranian artist Manou Marzban is on a mission to convey positivity. An exhibition of his most recent works opens on November 16 at London's Gallery Different in Fitzrovia.
Having grown up in Bangkok and Stockholm, and later lived in the U.K. and U.S., Manou has a truly global outlook. His new creative undertaking, "Diversity Not Fascism," is an installation of 18 war helmets from Nazi Germany that he has delicately painted over.
Describing his works as a way of protesting racism, xenophobia and fascism, Manou communicates an important message: that as humans, we cannot let the spread of hate trump the importance of love and positive energy.
With a professional background in risk management, finance and technology, the artist picked up painting around 2007, adopting a style that can be characterized as hyper-pop. His most prominent series include 'Ping Pop Tables,' installations made of ping-pong tables covered in pop art; and 'Qajar Kings,' colorful paintings of Iranian rulers from the Qajar dynasty. Painting is now his full-time profession, and he resides in the south of France with his wife, two children, and multiple pets.
Kayhan Life recently interviewed the artist about his inspirations, his sense of identity, and his past and future projects.
Can you talk about your new show and where you got the idea to convert these fascist helmets into colourful pieces of art?
Today we are facing ideological clashes that are manifesting themselves in global conflicts. Political, religious, cultural . . . you name it. Conflict is a daily headline. Populist leaders have taken advantage of this situation by emphasizing people's fears. I wanted to underline that history can repeat itself, but that the world has moved on: that we are more aware of the dangers associated with xenophobia.
The question for me was how best to state this key message, and I decided to paint something from the Second World War. Something representing Fascism at its ugliest. What better symbol of xenophobia than the German Third Reich helmet? Designed to save lives, it ended up becoming an object that evoked fear and dread. "Diversity Not Fascism" aims to remind the audience of the past, but also leave you with an optimistic note: that the world has taken giant steps towards integration, that diversity is inevitable.
What message are these helmets supposed to convey? Do you worry they might cause some people offense because of their association with Fascism?
The Third Reich helmet is a powerful symbol. The shape, color and insignia of these helmets are unforgettable. Given the rise in far-right movements, it seemed most appropriate to find authentic Nazi helmets, representing intolerance, and paint them in bright rainbow colours, representing diversity.
The idea was never to take away from the historical context of these helmets, quite the opposite; it was to remind us of their place in history. And that it must not be repeated. I painted all kinds of anti-fascist statements on them, and they may well be provocative. Frankly, if people associate with Fascism and are offended by these helmets, then I did my job. Never again means never again.
Your paintings of Qajar kings and dignitaries are also very popular. Where did that idea come from? And what are you saying in those paintings? Riffing humorously on Iranian history?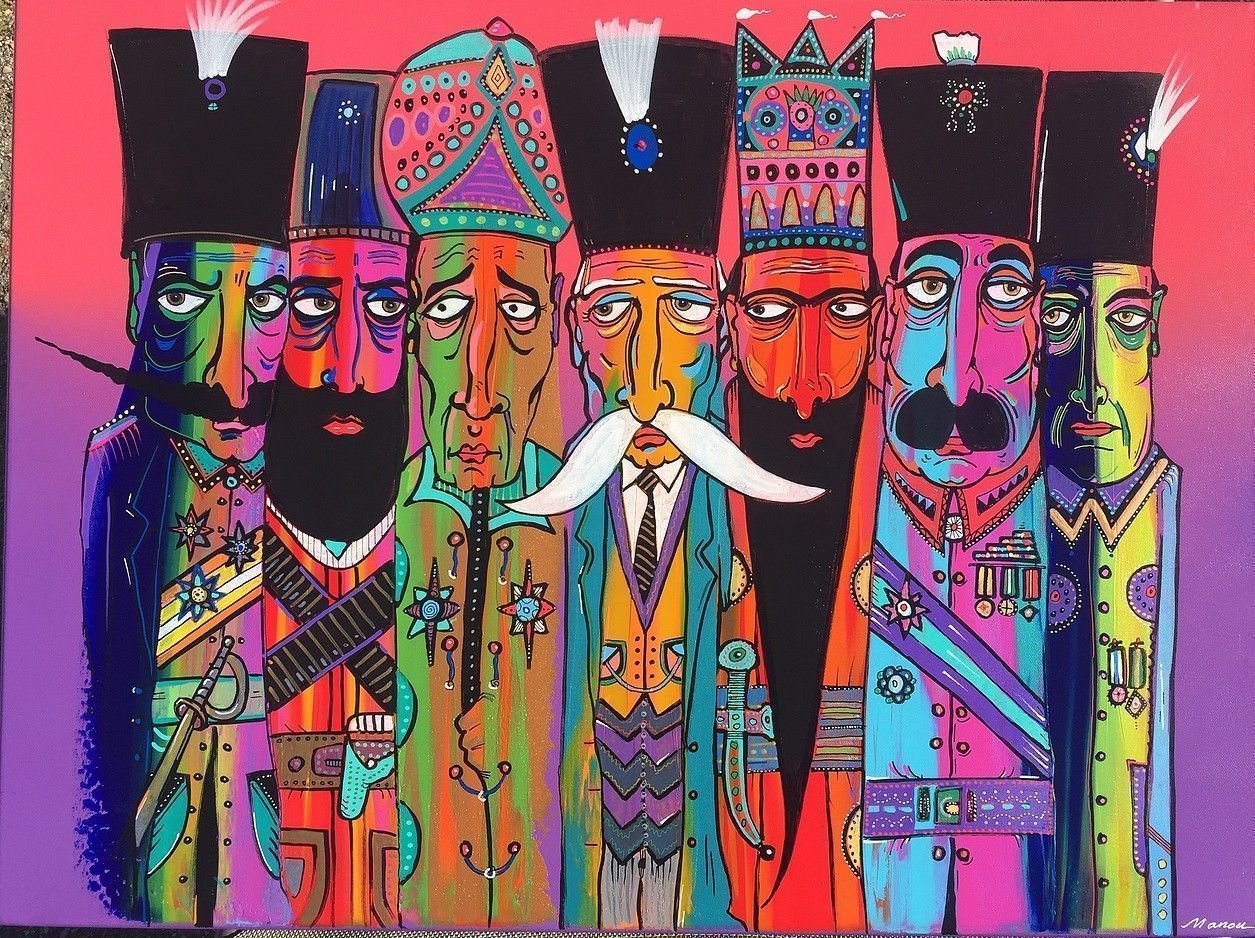 The Qajar paintings, in various styles, are colorful renditions of Iran's historical past. It is only in recent times that we are seeing Pop Art renditions of Qajar kings. [Previously] we saw them in dark colors and shades, in super serious poses. I've tried to inject my paintings with a dose of color and vibrancy.
By blending caricature renditions of the kings with streaks of bright acrylic colours, I have created a more lively and whimsical image of Qajar rulers. I wanted to emphasize their strong facial features, facial hair and extravagant uniforms. I wanted to make them more fun. Like all historical figures, some of these kings were good rulers and some were not. But they are all part of our story as Persians.
Have you taken up painting fulltime? And what was your profession before?
I have been painting seriously since 2010, and have had shows throughout Europe. It has been a wild experience; I get huge energy from the audience. My exhibitions are quite interactive, in that I have a banner on which the audience is encouraged to write or doodle. That banner is what I take away from an event. I refer to the banners constantly, reading people's comments and reviewing their [writings,] and that positive reaction keeps feeding my drive to create art.
But I do have another interest: technology. I was a dot com founder in the 1990s, and then worked for Microsoft for a dozen or so years. Technology remains a passion of mine, and I continue my involvement as a consultant. Education technology is my passion; I believe that education remains the key in solving most of our global problems, and technology can help make that happen.
How important are your Iranian roots to who you are, and to what you produce as an artist?
Being Iranian is what defines me. And here is the twist: I wasn't born or raised in Iran. Although I speak it well enough, I can barely read or write the language. However, wherever I lived, whichever school or university I attended, or whatever job I held, I was always the 'foreigner.' In a strange way, I have perhaps more of a desire to be identified as Iranian. Maybe that is why I have focused on art with Persian motifs, such as the Qajar series, or the Persepolis series. All I know is that when I visit Iran, I feel totally at home . . . which is odd, as I have never lived there. It must be in my DNA.
Does living in the south of France give you any kind of inspiration – the light, the colors?
The colors in the South of France are amazing. Creamy whites, bright blues, and plenty of greens. The sun certainly highlights this bright natural spectrum, but what really has been inspiring is the variety of people living here. The Middle Eastern and Latin influence, the expats, the locals, the tourists . . . they all combine to create a vibrant community. There are plenty of artists taking advantage of these combinations. The sun energizes you, and that means most of the art down here is colorful.
I am lucky to have a wife who is super supportive, and my biggest critic. She deserves the most credit. Every painting I finish, she is the first to review and comment. If I can impress her, I know I have a winner.
What's next in your artistic projects?
I want my next project to focus on the environment. I have been looking for a derelict building, a condemned house perhaps. I would like the local authorities to allow me to paint the building before it is torn down. I want to cover the building in thousands and thousands of multi-colored drawings of semen. Drawings like we see in biology class. An oval shape with a dot in the middle and a tail. These colorful sperms would be coming out of windows and going up drain pipes, they would be coming from the chimney and disappearing into cracks and crevices. The building will suddenly look colorful, but will still be a condemned building. A bit like our planet. The message is simple: unless we change how we produce, consume and waste, no matter how colorful and diverse we think we are, we are slowly dying.