By Farid Khalifi
The word 'harem' refers to domestic quarters reserved for women in a Muslim family that are inaccessible to adult males except close relatives. The idea of secluding women, however, predates Islam, and can be traced back to the Byzantine Empire, ancient Greece and Persia.
The practice of secluding women experienced a sharp decline in the early 20th century as a result of political and economic developments. These days, the only place where we might find a traditional harem is in the digital world.
Marjan Moghaddam's "Glitched Odalisque At The Whitney, Art Hack" is a 3-D computer-graphic animation depicting a stylized, metallic female form which continuously changes shape – simulating the sensuous movements of a harem dancer.
Moghaddam is an Iranian-American artist who works mainly with 3-D computer graphics and digital media to produce prints, video art, performances and installations. She has exhibited her work at the International Siggraph Computer Animation Festival and the Siggraph CG03.
Moghaddam has received grants from prestigious institutions such as The Rockefeller Foundation, the New York Department of Cultural Affairs, the Brooklyn Arts Council, and the Experimental Television Fund. She has also collected numerous awards for her work, and is listed in the Internet 'Pioneer Hall' as one of the first 100 artists to post Gif89a animation (Graphics Interchange Format) on the Internet.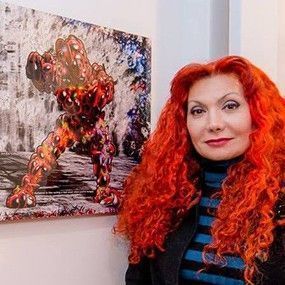 Moghaddam moved to the U.S. in 1979, and studied digital art and computer animation at the New York Institute of Technology. Her work deals with subjects including her recollections of the violence that followed the 1979 Islamic Revolution. Among the best known pieces are "David and Goliath" (2012), "David and Goliath Still Can't Fight" (2014) and "Shot in Iran" (2012).
In a recent interview with Kayhan Life, Moghaddam spoke about "Shot in Iran."
"This work relates to my memory of the Islamic Revolution," she recalled. "I was 17 years old at the time. Our house was on Pahlavi Boulevard, near the Channel 2 TV station."
"Soldiers were marching down the hill. I remember seeing flowers inside the guns of all the tanks. I've depicted that scene in my work. People were standing on both sides of the street applauding."
"Then suddenly we heard gunshots. We were not sure where the shots were coming from. We assumed they were firing from rooftops. They killed all the soldiers. It was a horrible experience. The soldiers were holding flowers, shaking hands with people and smiling. You can just imagine the scene. It still upsets me when I speak about it. It was awful. A brutal and violent act. It was wrong."
"Everyone ran. I went home. My brother, who worked in the Javidian Guard, had just came home to change his clothes and go out to help the injured. I asked him who were the assailants. He said they were Palestinians who were killing people all over the place. I wrote it down. I was upset for years."