---
By Azadeh Karimi and Ali Eshtyagh
---
Five Iranian women artists living in Germany have formed a collective known as Group Seven. The collective was formed in 2008.
The women work in various mediums including painting, sculpture, photography and graphic design. Their work is mainly about women's issues. However, they also deal with social, cultural and political developments in the world, particularly in Iran.
These five women believe that despite their age differences and contrasting artistic styles, their respect and support for each other and desire to learn and grow have enabled them to keep the group together for more than a decade.
Jaleh Pourhang-Ramezani is a painter, a sculptor, and the founder of Gallery Mina, which promoted young and upcoming artists in Iran during the 1970s. Her stable of artists included Abbas Khalilizadeh, Ali Akbar Ebrahiminejad, and Ahmad Imani Payandeh.
---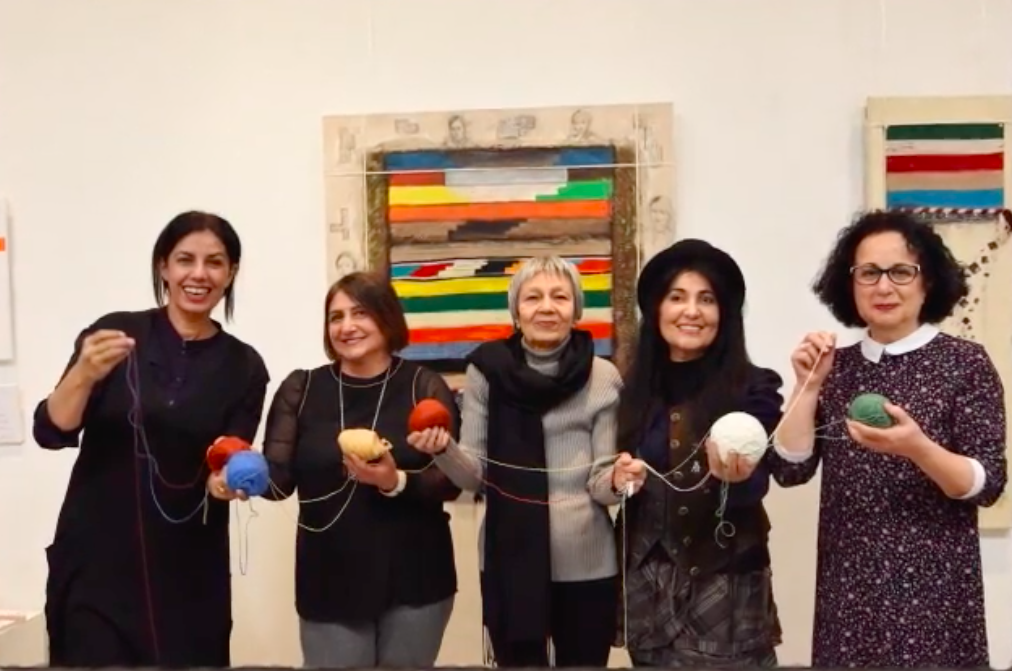 ---
Pourhang says: "There were many groups of women artists in Iran who exhibited their works regularly before the Islamic Revolution in 1979, including a significant group show at Takhte Jamshid, in the southern province of Fars, in the early 1970s."
Kiyanoush Majidi is a painter and a photographer who has been working and exhibiting since 2008. Majidi's work revolves around her inner world and social issues which she expresses through her portraits and paintings of flowers.
She explains: "Many people find these images to be erotic. I completely agree. Flowers are sexual organs of plants. Painting flowers calm me. These floral images encapsulate my inner world."
Akram Aboui studied painting from an early age in Iran. She has exhibited extensively since moving to Germany. Aboui's draws her ideas and subjects from human rights and women's rights issues. She works in mixed media and incorporates various materials in her canvases, ranging from a Persian rug to a reproduction of the Norwegian artist Edvard Munch's 1893 painting "The Scream."
Aboui notes: "Although I live in Germany, I cannot turn a blind eye to the heart-wrenching events taking place around the world, particularly in Iran." That is the reason she has used Munch's famous image, which many believe symbolizes the anxiety of modern man.   
Susan Sohi is a graphic artist and a photographer. She has been working as a visual artist since the age of 18. Sohi's lens captures her shadows, which mingle with other elements of her work to create intriguing and dramatic photographs. These dark and mysterious images symbolize an existential crisis.
Sohi points out: "Art is a conduit through which I express my inner world. These works are pages of my diary. They chronicle my life, witness my struggle, and are my friends. All people experience happiness, sadness, anger, and joy. I try to reach out and connect with other human beings through my work."
Shahla Aghapour is a painter, sculptor, and photographer, and owner of the Benakohell Galley. In her works, she deals with personal thoughts, social issues, and women's rights. She has a large stable of Iranian and European women artists whose works she regularly showcases at her gallery.
Aghapour says: "I feel it is my responsibility to promote women artists. My sculptures represent a call to protest. My paintings tell my life's story. My art is a deliberate and subconscious manifestation of my most inner thoughts, feelings, and experiences." 
---
---
[Translated from Persian by Fardine Hamidi]
---