---
The first UK exhibition dedicated to one of Iran's pioneer modernist painters opened this weekend at London's Mosaic Rooms. The show brings together a selection of masterpieces never seen before in the UK. 
Sadr played a key role in the development of modern art in Iran, and she was first female contemporary painter to be considered on the same level as her male colleagues.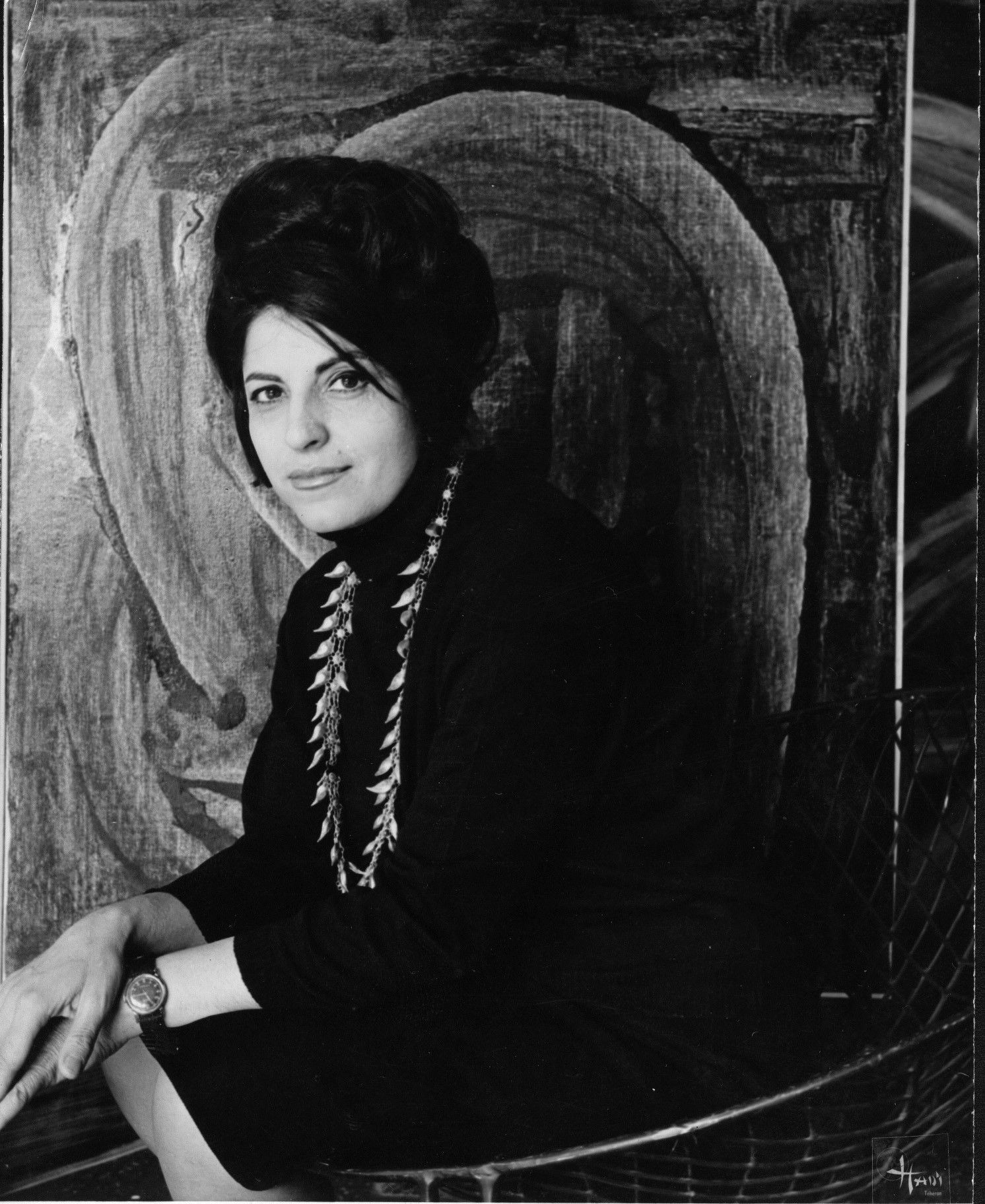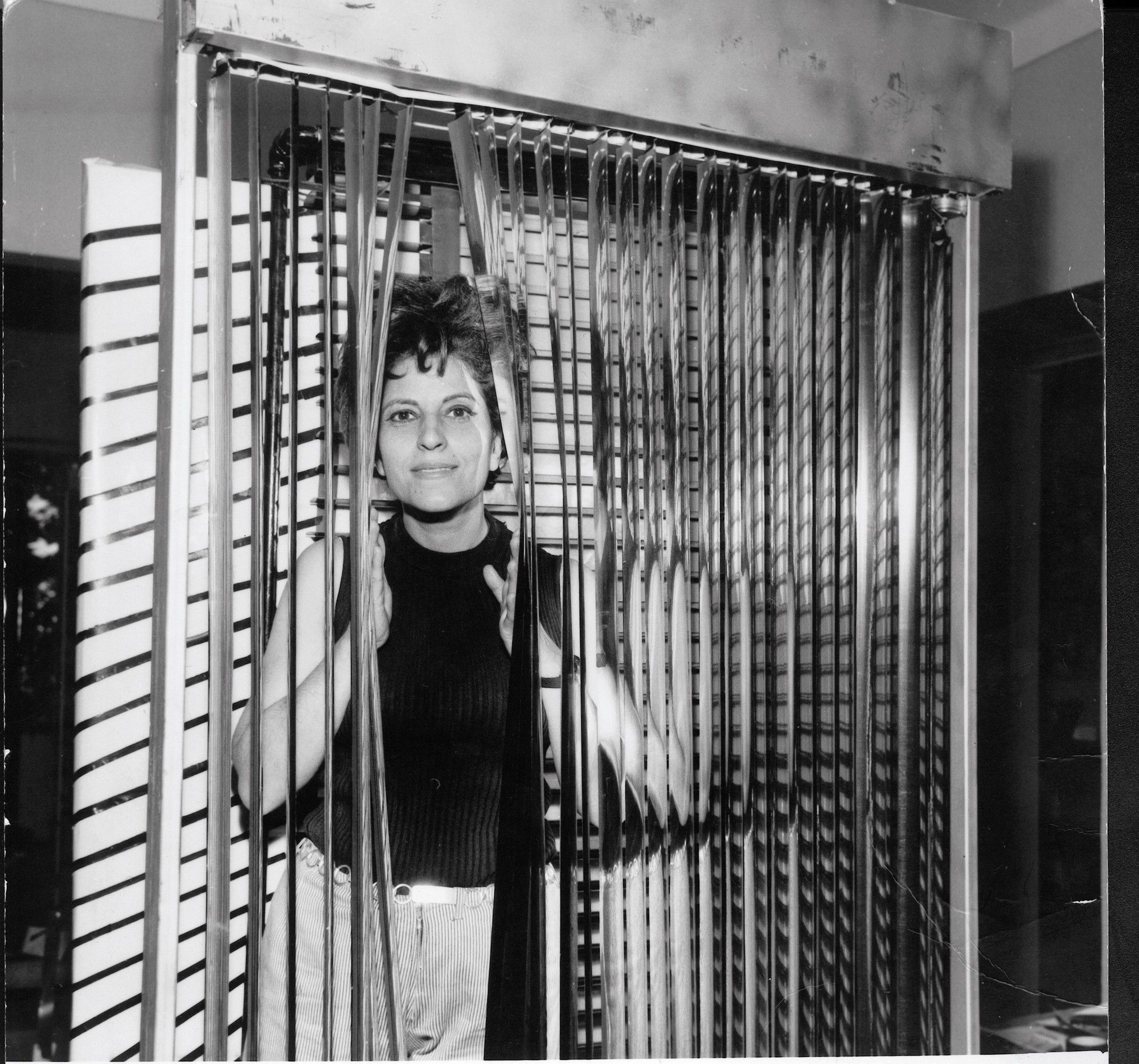 The exhibition "will reveal Sadr's dramatic artistic journey against the backdrop of bitter political events," said the Mosaic Rooms curators, "taking into consideration the lack of acknowledgement of her work during her lifetime and even her death." 
"Revealing her inner struggles as a woman who had to fight a male-dominated art scene," they added, "the exhibition is also a testament to how she paved the way for the emancipation of future generations of Iranian women artists."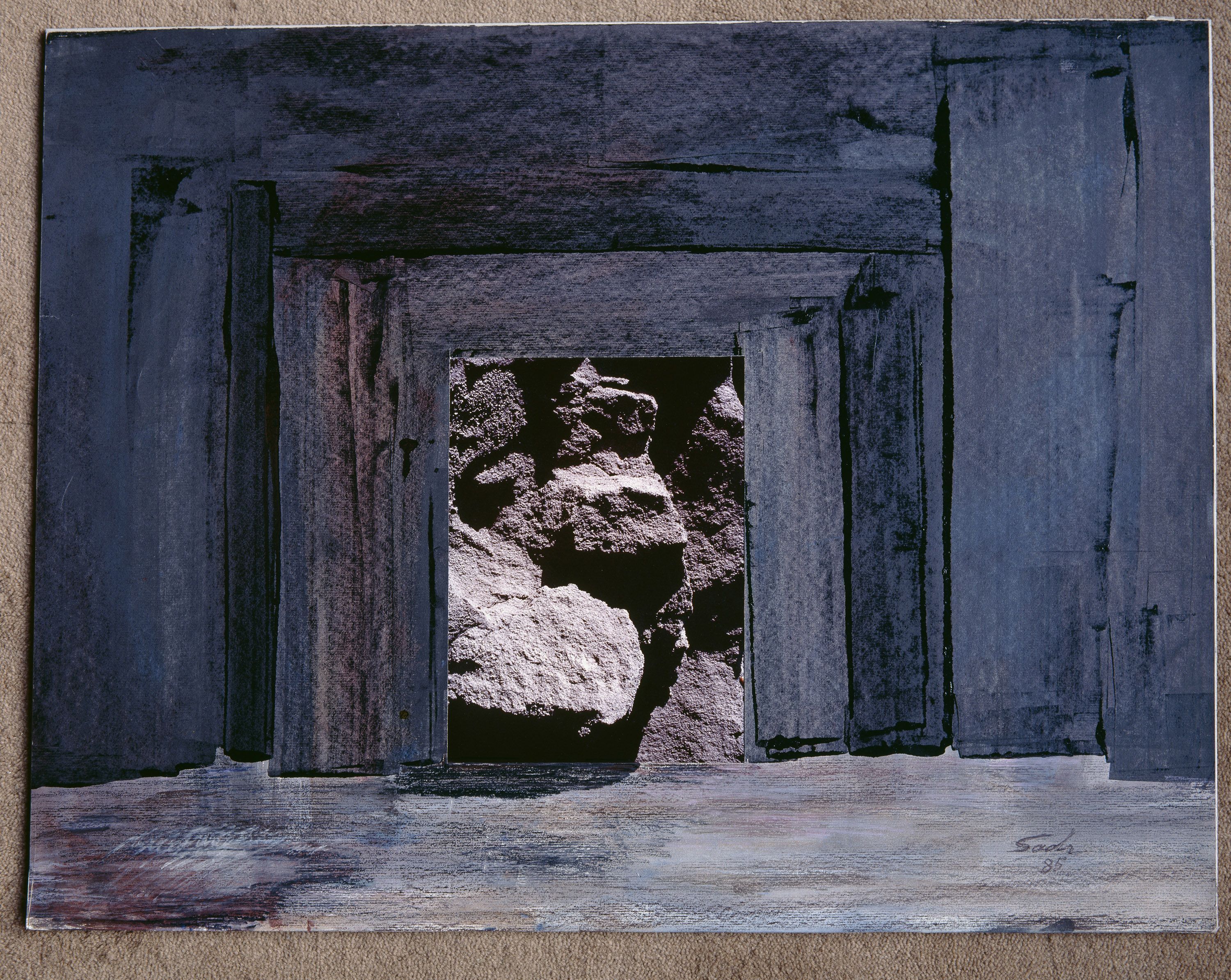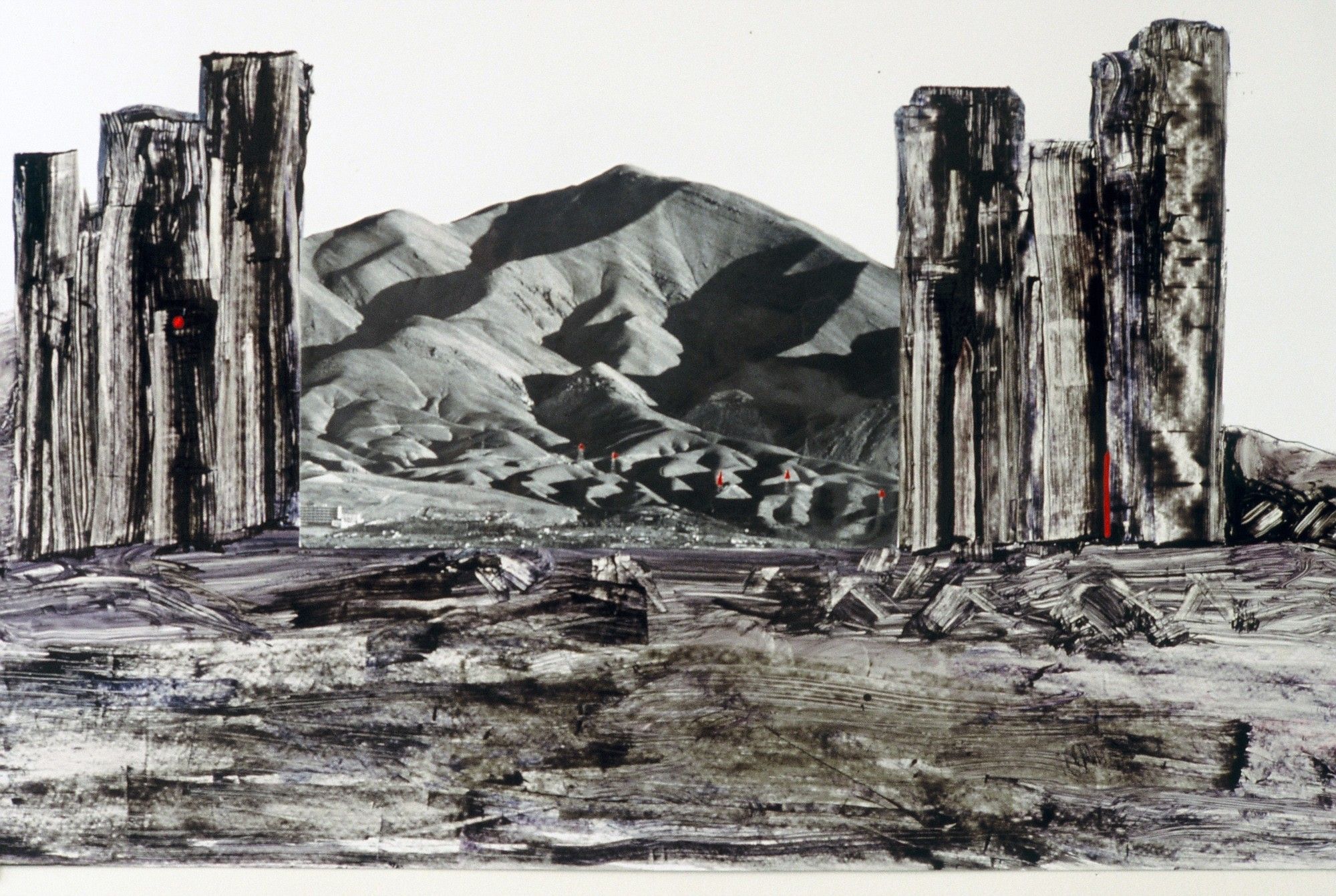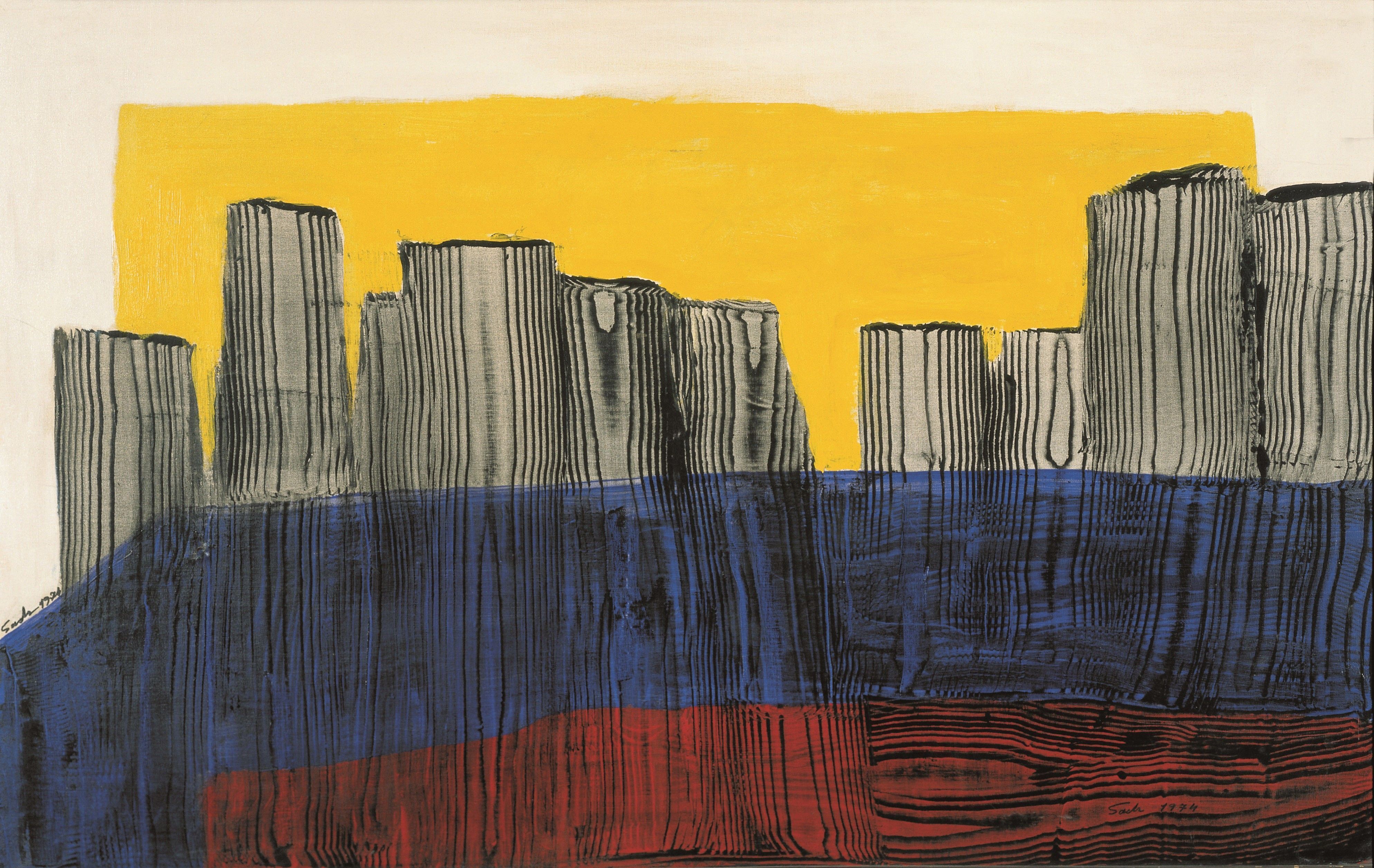 The three gallery spaces at the Mosaic Rooms are each dedicated to one of the three cities that were instrumental in shaping Sadr's practice, namely Tehran, Rome and Paris. The first room focuses on her time in Italy, marking her first encounter with Western modernity.  The main room explores her time in Tehran and focuses on her "remarkable kinetic works and paintings created solely using black paint" and her "dexterity using paint to achieve bold and dazzling results," according to the gallery.
The third room explores the final period in Sadr's artistic life in Paris, during which she developed an introspective experimental practice through collage.  Also on display are numerous personal photographs of her worldwide travels in search of modern and vernacular architecture, as well as her 'atmospheric visual atlas' of landscape photographs she used as cut outs.
The daughter of Mohammad Sadr-e Mahallati and Qamar Amini Sadr, Behjat was born in Arak, Iran in 1924.  Her older brother Nosratollah Amini would later become the mayor of Tehran from 1951 to 1953, during Mohammad Mossadegh's premiership, and the prime minister's personal lawyer through the 1970s.
In 1948, Behjat entered Tehran University's Faculty of Fine Arts, where she met Sohrab Sepehri and many other artists who would later become prominent figures in the Iranian art scene, including Hossein Zendehrudi (b. 1937), Bahman Mohasses (b. 1931), Parviz Tanavoli (b. 1937) and Marcos Grigorian. While attending Tehran University, Behjat married Abu'l Hassan Sadr, whom she divorced in 1952.
---
---
Graduating with honors in 1954, Behjat was awarded a scholarship to study in Italy, and left for Rome where, on Grigorian's recommendation, she met with the Italian painter and sculptor, Roberto Melli (1885-1958) who became her mentor.   After completing her studies at the Accademia di Belle Arti first in Rome and then in Naples, Behjat was introduced to several prominent gallery owners and critics through Melli.  The artist's first major exhibition took place in 1956 when her work was exhibited at the 28th Venice Biennial.
It is during those years that Behjat developed her signature style, working with a palette knife on canvases placed on the floor.  "She had a singular command of her chosen tool," wrote ArtAsiaPacific Magazine in 2009, "generating effects ranging from the robustly geometrical to the optical or poetically impressionistic, from the assertive to the serene." 
"Despite what she called a 'good knowledge' of Persian writing and calligraphy," added the magazine, "Sadr preferred to think of her fluid, graphic mark-making technique as 'capturing moments,' a means of couching emotion within gestural snapshots, moving from 'interior to exterior'."
Behjat married Morteza Hannaneh, a well-known Iranian composer living in Italy, and the couple returned to Iran where she began teaching at the Faculty of Fine Arts. 
In 1962, her works were exhibited at the Venice Biennial, the Sao Paolo Biennial and the 3rd Tehran Painting Biennial, where she received the Royal Grand Prize.  In 1963, she gave birth to her only daughter, Kakuti (Mitra) before separating from her husband.
On a sabbatical in Paris in 1966, Sadr became the assistant to Gustave Singier, a Belgian non-figurative painter and teacher at the Ecole Nationale Supérieure des Beaux Arts.  Returning to Tehran in 1968, she became the Chair of the Department of Visual Arts at Tehran University where she continued teaching until 1979. The artist moved to Paris with her daughter after the Islamic Revolution.  She was diagnosed with breast cancer in the late 1990s, but continued to paint and died of a heart attack in 2009 on the Mediterranean island of Corsica. 
Behjat Sadr's works have been exhibited both in Iran and abroad: Musée d'Art Moderne de la Ville de Paris (1963); Grey Foundation, Saint Paul, Minnesota (1971); Musées Royaux des Beaux-Arts de Belgique, Brussels (1972); Centre d'art Le Noroit, Arras (1985); Grey Art Gallery, New York (2010); Asia Society, New York (2013-2014); Musée d'Art Moderne de la Ville de Paris / MAXXI Rome (2014-2015).  In 2004, a large retrospective was devoted to her, as part of the series of exhibitions on the pioneers of modern art in Iran, at the Tehran Museum of Contemporary Art.

The Mosaic Rooms were founded in 2008 as a non-profit initiative of the A.M. Qattan Foundation, a philanthropic organization working in the fields of culture and education, focusing on children, teachers and young artists. The Mosaic Rooms have become a multidisciplinary space, dedicated to contemporary culture from and about the Middle East and the Arab world, with art exhibitions, film screenings, current affairs talks, book launches, artist residencies and learning and engagement programs. 
This exhibition, part of the Mosaic Rooms 10-Year anniversary program, will run through December 8. 
---