---
---
Jaleh Pourhang-Ramezani was the first woman artist to paint a female nude in Iran. After the 1979 Islamic Revolution, authorities destroyed many of her works, prompting Mrs. Pourhang-Ramezani to leave Iran. She currently lives in Berlin, Germany. An extensive collection of her paintings was recently on display at Inselgalerie's exhibition hall 4 in Berlin (www.inselgalerie-berlin.de).
Pourhang-Ramezani is the product of a progressive intellectual and philosophical movement in 1960s Iran. The country was the center of modern and innovative thinking in the region, with numerous artistic and cultural events taking place.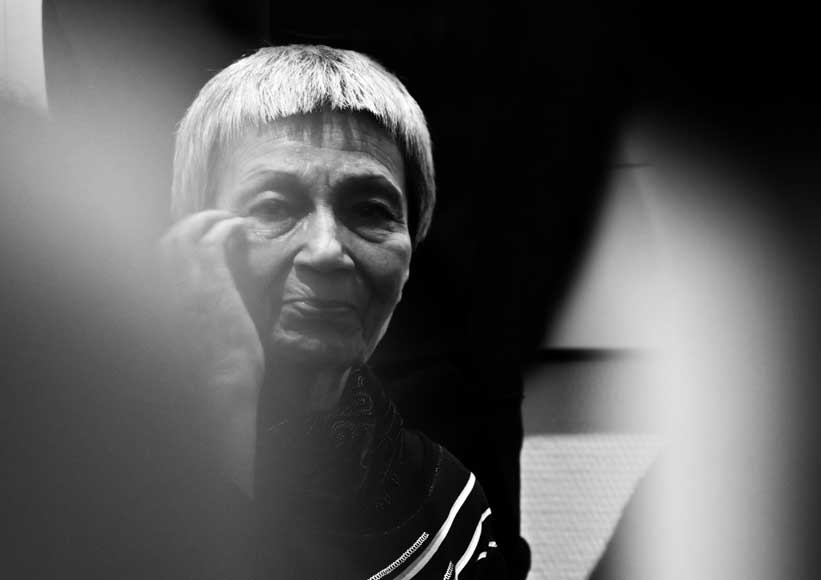 This period of intellectual and artistic revival led to the establishment of numerous cultural institutions, including the Institute for the Intellectual Development of Children and Young Adults (established in 1965), the Shiraz Art Festival (1967-1977), National Iranian Radio and Television (launched in 1966), the Tehran International Film Festival (started in 1972) and Toos Festival (founded by former Empress Farah Pahlavi in 1973.)
Pourhang-Ramezani was born in 1941 in Tehran. She graduated from the Tehran University School of Art in 1968. In the same year, she illustrated "Pariya," a book of poetry for children by the renown Iranian poet Ahmad Shamlou (1925-2000.)
She had her first solo exhibition in April 1972 at the Ghandriz Gallery in Tehran. She also took part in the 1974 Shiraz Art Festival. Pourhang worked as an animator and illustrator for the Iranian National Cinema (formerly known as the National Film Archives, established in 1973). She was also a member of the Institute of Art Tutors.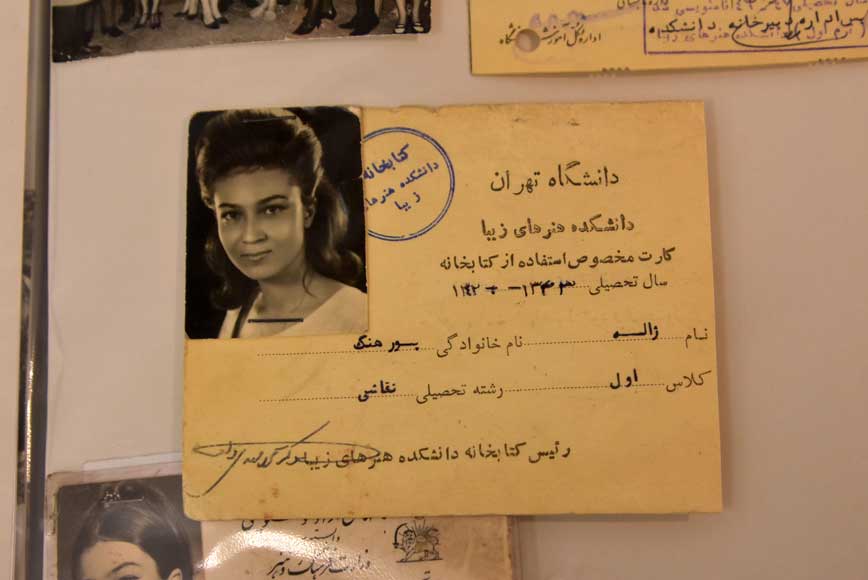 She opened Gallery Mani in 1975 in Tehran, which promoted young and upcoming artists around the country. Her stable of artists included Abbas Khalilizadeh, Ali Akbar Ebrahiminejad, and Ahmad Imani Payandeh.
"I was the first woman artist to paint a female nude. The painting wasn't about sex or a naked woman, but nudity is stigmatized and misunderstood. It is a taboo," Pourhang-Ramezani said.
After the Revolution, the Islamic Republic banned all forms of artistic representations of a female nude. The authorities raided Pourhang-Ramezani's studio, destroying close to 100 of her works. She has, however, been able to recreate 20 of those paintings from memory while living in Germany.
Pourhang-Ramezani said: "I resigned from the Institute of Art Tutors. Shortly afterward, my husband and I left Iran for Germany. I've tried to remain strong and continue painting despite all that has happened."
After studying at the Sigmaringen Fashion Academy (Modefachschule Sigmaringen) in southern Germany, she taught at the same school. She then moved to Berlin in 1988 and joined the International Society of Fine Arts (IGBK). She has also been working closely with Berlinische Galerie since 2011.
"I had to explain to my students here in Germany that female art students were not allowed to attend figure drawing classes in Iran," she recalled.
Pourhang-Ramezani has exhibited her works in solo and group shows around the world. The central motifs of her current show are women and Iran. She uses calligraphy to paint the word "Iran" on faceless and hairless solitary female bodies.
Pourhang-Ramezani had worn a headscarf and a veil on her last day in Iran. After clearing airport security, she threw the headdress in a bin but kept the scarf. More than 39 years later, the headscarf is hanging in a gallery in Berlin.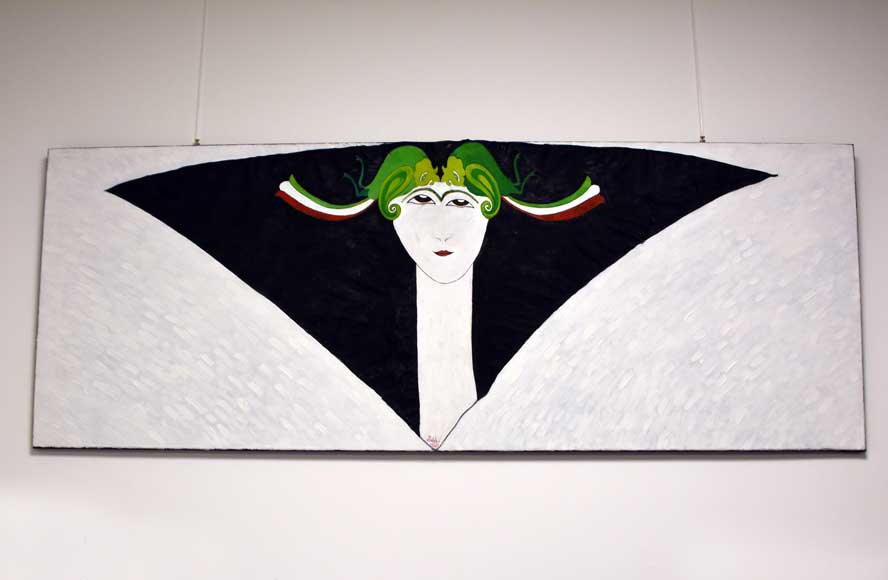 The massive black shape in her painting "Phoenix" symbolizes the headscarf Pourhang-Ramezani wore when she left Iran for good. The central female figure wears a crown made up of stylized images of two Phoenixes facing each with their tails painted in the red, white and green colors of the Iranian flag.
The symbolic meaning of the black headscarf in the painting may not be readily accessible to viewers, but they can immediately grasp the significance of two photographs of the artist placed next to each other, one showing her without a headscarf in 1975 and the other with the Islamic hijab in 1985. The exhibition also includes childhood photographs of Pourhang-Ramezani and those taken when she was a young artist.
Another painting in the exhibition depicts a series of almost identical seated female figures painted in gold color on a black shawl. At first glance, the viewer may think that the images had been rubber-stamped, but Pourhang-Ramezani has created the nudes by using the calligraphic rendering of the word Iran. Each figure is holding a large disc which resembles the moon and a Middle Eastern frame drum called daf.

"My subject matter is 'Iran,' and 'exile' is my medium. I am a bridge between the two," Pourhang-Ramezani said.
The painting "Life and Death" which Pourhang-Ramezani dedicated to her late husband who recently died occupies a special place in her heart.
"I initially called it 'Sun and Life' but renamed it 'Light and Hope' and finally changed it to 'Life and Death' after my husband died. He liked this work very much, and had asked me to hang it in our house," Pourhang-Ramezani explained.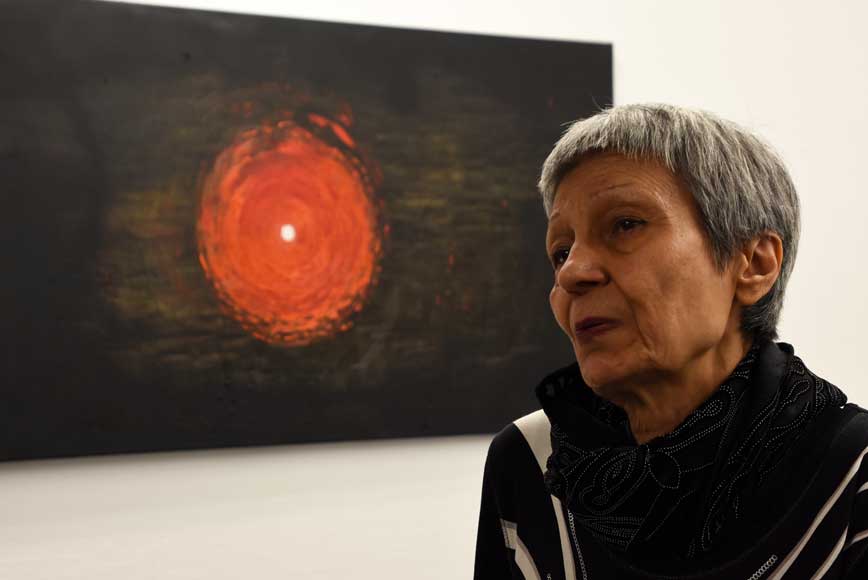 Her other painting "Bride" symbolizes life and hope. Pourhang-Ramezani said: "I'm known as the painter who uses sun and bird motifs. I was inspired by Forough Farrokhzad (poet 1935-1967) who once said 'stay on the path.' In my work, sun and bird symbolize woman and hope, respectively."
---
Translated from Persian by Fardine Hamidi
---