The Iranian-born visual artist Shirin Neshat is very much in the spotlight at this year's Venice Biennale – the world's oldest and most extensive international art fair. She has an exhibition on at the Museo Correr, one of the city's principal museums, located in St. Mark's Square itself.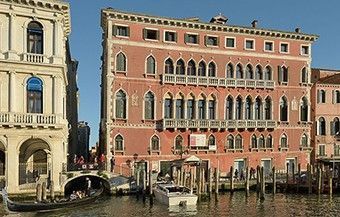 "The Home of My Eyes" is a selection of photographic portraits of people of all ages from Azerbaijan. (The six displayed in the slider above are courtesy of the Written Art Foundation, Frankfurt am Main, Germany.) The Museo Correr is also showing a 2016 video work by Neshat titled "Roja." The works mark something of a new direction for the artist, as she moves away from representing strictly Iranian subjects and themes. At the same time, Azerbaijan was part of Iran until the first half of the 19th century, so there are very strong historical and cultural links between the two countries.
The Azerbaijani subjects – 55 in total – were interviewed by Neshat for a project on cultural identity. They spoke to her about the notions of identity and home, and their responses were inscribed in ink on the photographs.
The series is "a portrait of a country that for so long has been a crossroads of many different ethnicities, religions and languages," Neshat explained.
The series was first exhibited in 2015 at the Yarat Contemporary Art Center in Baku, the capital of Azerbaijan. It was the inaugural exhibition of the 2,000-square-meter Yarat Center, a converted Soviet-era naval building.
Also on show in Venice this year is the work of Masoud Akhavanjam. Of the Iranian-born artists represented at the Venice Biennale, he is the only one still to be living and working in Iran.
His sculpture "Ballerina," which took 18 months to complete and is made of a fusion of stainless steel and bronze, occupies the second floor of the exhibition "Personal Structures: Open Borders" at Venice's Palazzo Bembo.
"Although it has been made of a very hard material, it flows softly," Akhavanjam told Kayhan Life in a Venice interview. "I wanted it to be an expression of our ability to coexist together, whether we have soft or hard personalities, whether we are weak or strong."
Akhavanjam said he had previously shown in Dubai, Iran and the U.S., and was pleased to exhibit his work at the Venice Biennale, "because it is an international setting. For the next six months, people from all over the world will be visiting the city."
Both exhibitions can be seen in Venice through Nov. 26, when the Biennale ends.