By Ahmad Rafat
Iran is among the 85 countries taking part this year in the Venice Biennale, the world's largest and oldest art fair. The 57th Biennale opened on May 13 and runs through November 26.
Iran's debut at the Venice Biennale dates back to 2003, when the country was represented by three Iranian artists: Hossein Khosrojerdi, Behrouz Daresh and Ahmad Nadalian.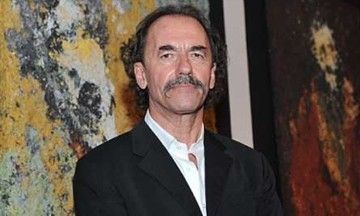 This year, Iran's pavilion is located at the Palazzo Dona dalle Rose, along one of the city's main canals, and showcases the works of Bizhan Bassiri. The exhibition, "Tapesh: The Golden Reserve of Magmatic Thought," is curated by Majid Mollanoroozi, director of Tehran's Museum of Contemporary Art. Bassiri is referred to by the Iranian media as "Iran's artistic ambassador in the world," and many of his works focus on metaphysics.
Bizhan Bassiri left Iran for Rome in 1975 to pursue art studies and currently lives and works in the Italian capital. A graduate of Rome's fine arts academy, the Accademia di Belle Arti, Bassiri is a well-known name in the Italian art world, and has travelled to Iran in the last few years to put on exhibitions. One of his most important shows in Italy to date was a series of golden sculptures titled "La Riserva Aurea del Pensiero Magmatico." To Italian critics, Bassiri's sculptures – which use materials ranging from papier-mâché and bronze to steel and lava – are a fusion of poetry, literature, theatre and music.
This year, Bizhan Bassiri and Majid Mollanoroozi have chosen Chogha Zanbil, an ancient Elamite complex in the Khuzestan province of Iran, to represent Iran. Chogha Zanbil is a temple that was built during the reign of the Elamites, in around 1250 B.C., by King Untash-Napirisha.
It was established as a sacred place in which to worship Inshushinak, the guardian angel of the ancient city of Susa. In the Bakhtiari dialect, Chogha Zanbil means "basket mound." The temple was among the first ancient Iranian sites to be inscribed on UNESCO's World Heritage List in 1979.
Negin Vaziri, an Iranian-Italian artist based in London, is also taking part in this year's Biennale. She is co-curating Empire II, an artist-led satellite project set up at the Riva dei Sette Martiri. Her video "Mind the Gap" is one in a series of 115 imaginative short films programmed to play in a continuous loop, confronting viewers with such themes as climate change and immigration.
A separate exhibition hosted by the European Cultural Center at the Palazzo Bembo is showing works by Masoud Akhavanjam, who studied in Germany and the United States, and whose sculptures are made of stainless steel. That exhibition, "Personal Structures – Open Borders," showcases the works of 200 artists from 40 countries.
In another parallel event, the artist Shirin Neshat is on show at one of Venice's main museums, the Museo Correr. "The Home of My Eyes" is a selection of her recent photographs, as well as a video.