---
By Tim Cornwell
---
An aspiring rap artist who is fascinated by American gang culture.  An Afghan refugee, one of more than two million in the country,  who is a passionate follower of footballer Lionel Messi.   A young man who recites the lyrics of Taylor Swift songs from memory, insisting the American singer could bring  "peace and happiness to the world" if only someone would listen.
"Portraits of Iran" — a London photography exhibition running through April 24 at Bush House Arcade on the Strand — explores the paradoxes of life in contemporary Iran. The photographer is Brian Kavanagh, a lecturer in digital innovation at King's College London, which Bush House Arcade is part of.
Dr. Kavanagh made several long trips to the country between 2016 and 2018. He calls his images "slices of reality, a mosaic of pictures" from a culture too complicated for an outsider to understand.
His exhibition, which consists of some 30 photographs and a short film, aims to  take on clichés and get  underneath the skin of a society that is often little known and barely understood — with portraits that range from a young female tattooist to a woman who begs on the street in a full veil, rare in Iran, because she is too ashamed to show her face.   The work finds the intimate in the everyday.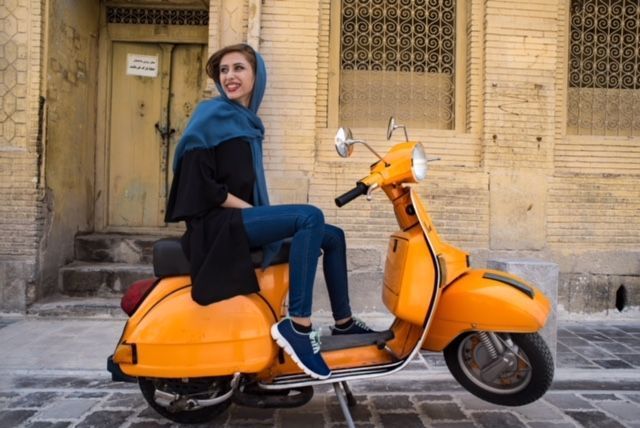 Dr. Kavanagh's subjects  — chosen from some 2,000 images that he took — reflect young Iranians' complicated relationship with the West.
"You have this old traditional idea of a religious people that live with certain rules and reject the West.   And then you have the emergence of all these digital identities that are very much a way, for young people especially,  to connect with Western thought," he said.
"Despite government restrictions, people use Virtual Private Networks (VPNs) to bypass the massive government firewall to access social media platforms such as Instagram, which gives people a voice in an otherwise an otherwise censored world."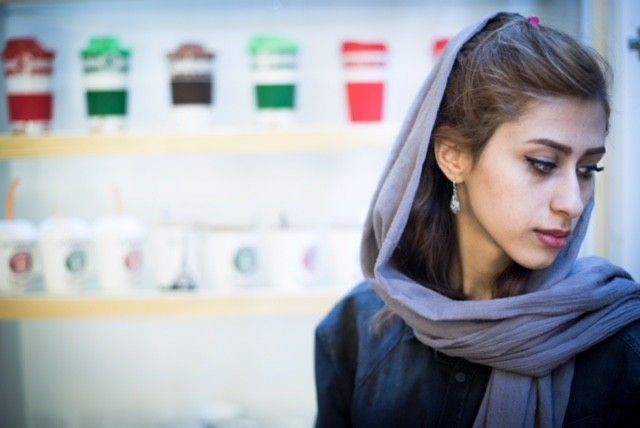 The photographs were taken between 2016 and 2018, in big cities and remote villages alike.   They range from the familiar — a ring seller in the Grand Bazaar, a flower seller in the romantic city of Isfahan — to two schoolgirls who between them have notched up 20,000 followers on Instagram.
Young Iranians' "digital identities" are a way for them " to be part of a more global world, an intellectual world, albeit in a digital way," he said.   "Almost every single person I met with on my journey complained at not being able to travel,  not being part of a global community.   It's very difficult to get visas to most countries outside Iran, it's very expensive to leave."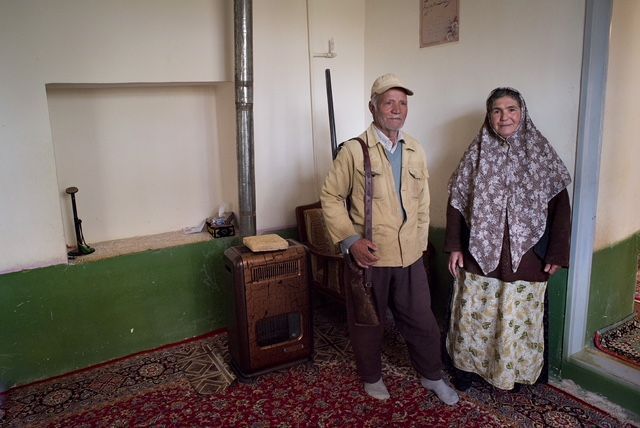 Images on show include people queuing in a poor quarter of Tehran for food handouts, after years of hard-hitting economic sanctions. There are also views of concerts  or prize-giving ceremonies, of a  father and daughter on a lakeside day out,  or of a gay man fearing conscription into Iran's Revolutionary Guards.
Elsewhere, traditional musicians and singers are pictured in the cafes of Isfahan and Shiraz, and  a 92-year-old man is sent out to find work by his 80-year-old wife.
Aside from a substantial academic career in interactive media and digital technology,  Dr. Kavanagh, an Irish citizen, is also is a prize-winning classical guitarist, and has taught at the Royal Irish Academy of Music in Dublin.
He developed a taste for photography 20 years ago when he offered to take pictures for an opera company in Dublin which were then published widely in the Irish and British press.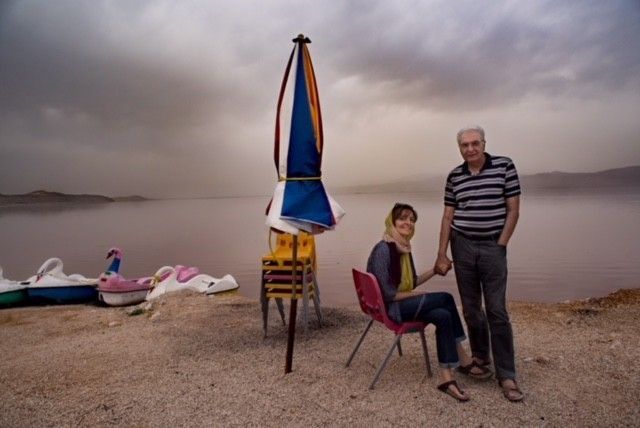 An important influence is American photographer Diane Arbus, whose work is currently on show at London's Hayward Gallery.  Arbus met many of her subjects by chance, walking the streets of New York, and sought out members of marginalized groups as well as celebrities.
The vibrant and almost overpowering tones of William Eggleston's photographs of America have also influenced Dr. Kavanagh's color palette.
Dr. Kavanagh's partner is Atoosa Sepehr, the Iranian cook and author, whose book "From a Persian Kitchen" was published last year and included several of his photographs.     She has described in interviews how she arrived in London in 2007 with an MBA, leaving a successful career behind her in Iran to escape an abusive husband who had threatened to revoke her passport.
"I was struck by how beautiful the country is and yet quite shocked at the level of control the government and especially the religious authorities have over the people," Dr. Kavanagh said.
He was also instantly impressed by how welcoming and generous people were, especially the young. Hassan, for example, ended their encounter by offering his precious hunting rifle as a gift, and insisted that Dr. Kavanagh take it with him.
Dr. Kavanagh was extremely cautious taking photographs of women, but people were consistently friendly, he said.
"People would come to us.   They really wanted to communicate, when they see you are a foreigner.   People would just walk up and say 'Can I practice my English?' and sometimes invite me to their homes."
"Many of the people I met wanted to share their stories. They wanted to feel connected to an outside world that is largely out of reach," he explained. "My photographic series represents an attempt to capture some of these stories and hopefully promote a more authentic view of what is a very complex culture that is sometimes misrepresented in Western media."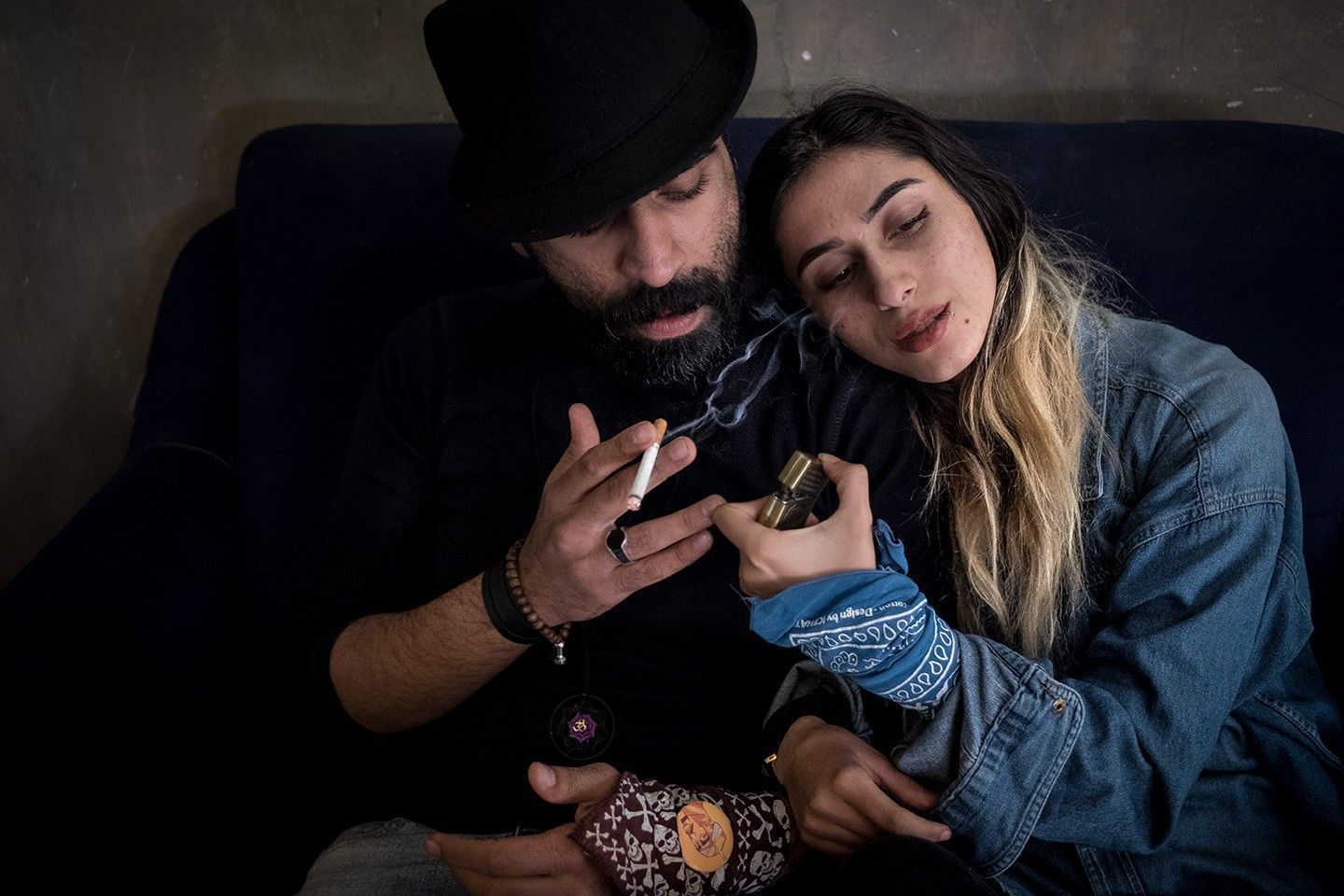 ---