---
By Tara Biglari
---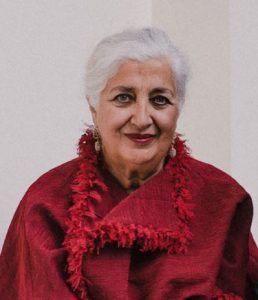 Rose Issa is a renowned curator, writer and producer who, over the last three decades, has helped introduce Middle Eastern art on the London scene. Artists she has championed include Farhad Moshiri and Shadi Ghadirian, to name only a few. She has been at the origin of countless exhibitions, publications and films.
Issa is currently curating the exhibition Masters of Time at the October Gallery in London; displaying the silk creations, ceramics and sculptures of Algerian artist Rachid Koraïchi; and focusing on an unrealized project by the Iranian artist Monir Farmanfarmaian, Khayyam Fountain —  a glass fountain in Bruges, Belgium.
Kayhan Life caught up with Rose for a discussion about her career and role as a curator and connoisseur of Middle Eastern art.
---
Q: When did you first come to London?
I came to London in 1986 to launch the KUFA gallery, the first gallery specializing exclusively in Middle Eastern art.
Q: What was the first exhibition you put on?
The first exhibition included book covers from the Arab world. I was based next to the only good bookshop specializingin the Middle Eastern world, called Saqi Books (it's still there!) We thought this would bring designers, writers and readers to the gallery. At the time, nothing was for sale.
Q: Was Iranian modern and contemporary art completely unknown when you got here, or was it being shown in some places?
In the late eighties, Iran was very much under the radar. The only thing that came out of Iran was cinema, with Amir Naderi, Abbas Kiarostami, Mohsen Makhmalbaf and Rakhshan Bani Etemad, from 1988 onwards. This actually resulted in a 1999 publication I did for the National Film Theatre, on the new Iranian cinema.
I then worked with the National Film Theatre and the British Film Institute as their advisor on Iranian and Arab films.
Then, slowly, in the late nineties, Iranian contemporary art started to take off. Back then, nobody was promoting Iranian artists. I gave the first shows of Zenderoudi, Khosrow Hassan Zadeh, and Shadi Ghadirian, and many group shows, before doing the Iranian Contemporary Art exhibition at the Barbican, which represented 20 years before and after the revolution, from the collections of the Museum of Contemporary Art.  Then came solo shows for Farhad Moshiri, and a major exhibition in Berlin, "Far Near Distance" in 2003 … the rest is history!
Q: Do you like the Iranian art you're seeing, or is the quality sometimes inadequate? What about the art market and the prices that some artists e.g. Mohasses and Farhad Moshiri are fetching?
I am only interested in the art that I like. Others can do their own selection. It has to do with relevance, talent, hard work, and originality.
For more on Rose Issa, see her website below: