---
A monumental portrait of Fath-Ali Shah Qajar, who reigned in Persia from 1797 to 1834 and was the second ruler of the Qajar dynasty, will star in Bonhams' upcoming sale, "Islamic and Indian Art Including the Lion and the Sun: Art From Qajar Persia" on April 30 in London. The oil painting is estimated at 500,000 pounds ($650,000).
"Fath-Ali Shah Qajar Seated Against A Jeweled Bolster on a Palace Balcony", an oil painting from 1835-36 that has been held in a private Swiss collection in London since the 1960s, is being offered at auction for the first time. It is one of only 18 documented portraits of the king, seven of which are in major museum collections.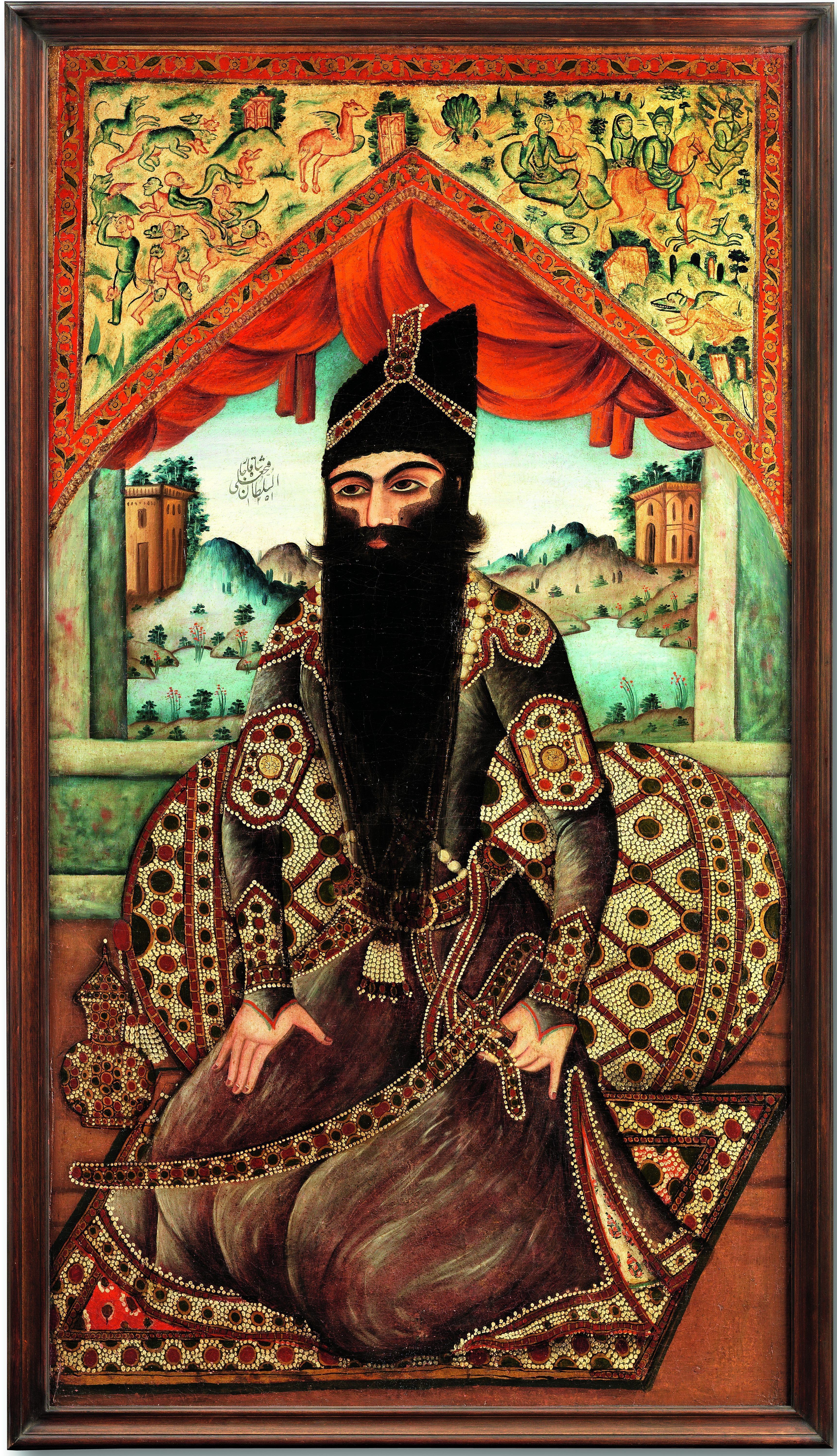 Commissioned by the Qajar court to adorn the royal pavilion, this portrait "is a unique record of a fascinating moment in Persian history," said Oliver White, who heads Bonhams's Islamic and Indian Art Department.  "Fath-Ali Shah's reign marked the resurgence of Persian arts and culture, and the large-scale paintings of his image have become some of the rarest and most valued objects in the Islamic art world."
Dr. Amir Farman Farma, chairman of the Qajar Family Association, said it was"wonderful to see Bonhams holding an auction devoted solely to Qajar art, which is finally getting the attention it deserves."
Portraits of Fath-Ali Shah were commissioned almost exclusively either as gifts for foreign monarchs or to adorn palace walls, and rank as some of the most iconic objects in the category of Islamic art.
The Bonhams sale consists of a total of more than 128 lots, including exceptional portraits of the Qajar monarchs (paintings and photographs) as well as other Qajar-era oil paintings; a fine gold-damascened watered steel sword bearing the name of Fath-Ali Shah; a Qajar carpet and metal-thread embroidered wool or velvet panels; illuminated Qurans; Qajar jewelry, enameled plaques and silver badges; Qajar engraved brass decorative objects; Qajar lacquer mirror cases and boxes; Qajar molded pottery tiles; as well as a series of important documents relating to the Russo-Persian Wars of 1804-13, and Franco-Persian relations, including several firmans (royal orders) of the Qajar monarchs.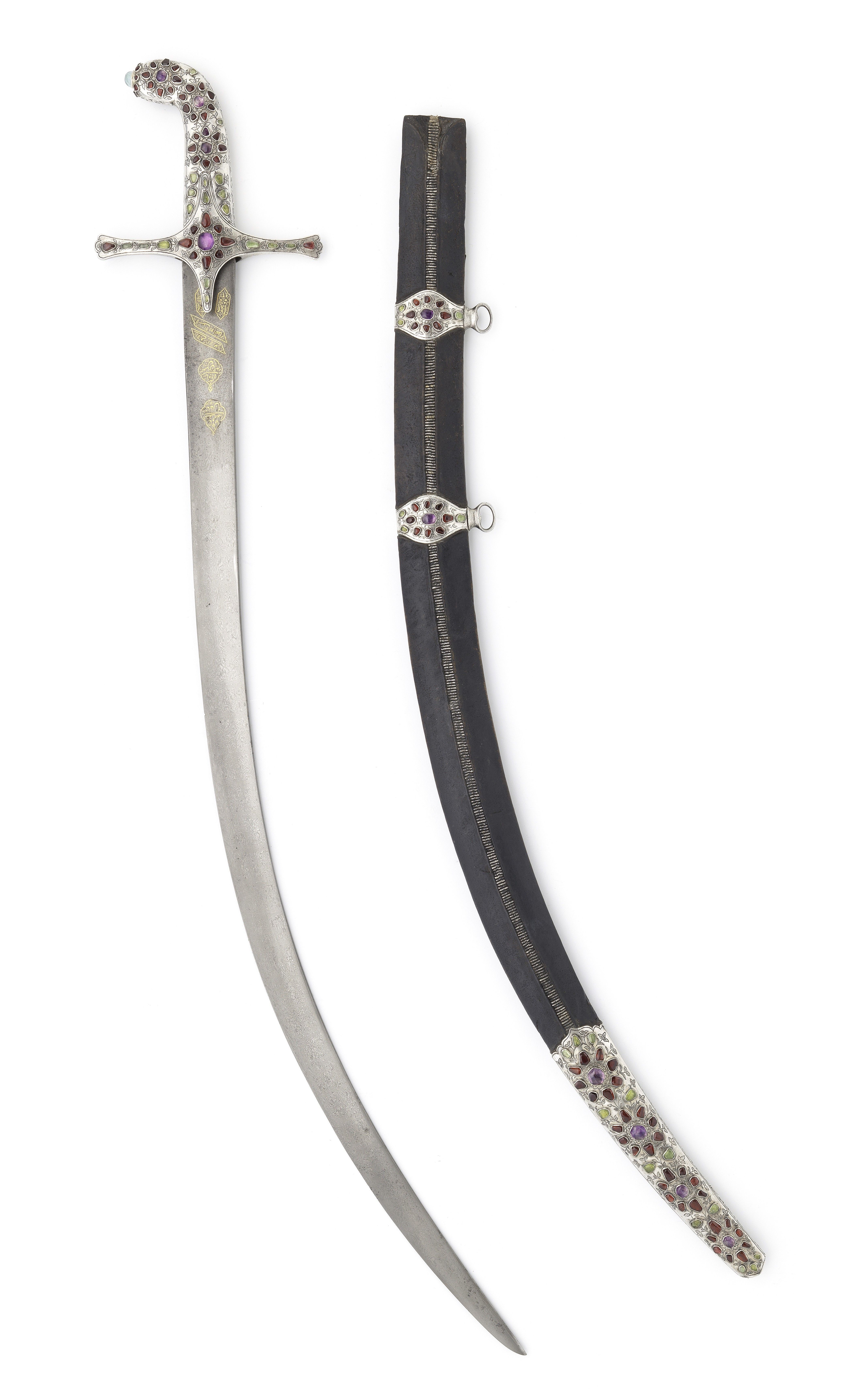 Fath-Ali Shah came to power at the age of 24, succeeding his much-feared uncle, Agha Mohammad Khan, the founder of the dynasty, who had been castrated by his enemies in his youth and spent much of his adult life taking revenge on those who took away his manhood.
Reigning for nearly 40 years, Fath-Ali Shah was determined to show the world that unlike his uncle, he was potent and fertile. He had 158 wives and concubines, and fathered at least 260 sons.  At his death in 1834, he had more than 1,000 descendants who went on to form the core of the Persian aristocracy.
Despite his establishment of a centralized bureaucracy and a standing army in Iran, Fath-Ali Shah's authority was compromised by the increasing vulnerability of Iran's borders. He fought two wars over territories in northwestern Iran and the Caucasus, which resulted in the defeat of the Persian forces and critical territorial losses to Russia.
The monarch's imperial ambitions found their expression in an active building program in Tehran and the provinces, and in a revival of the arts. A major catalyst of Persia's cultural revival, Fath-Ali Shah saw his destiny as Shah to bring back the ancient grandeur of Persian culture after a period of devastation of the country by tribal wars and invasions from the Afghans and Turkmens.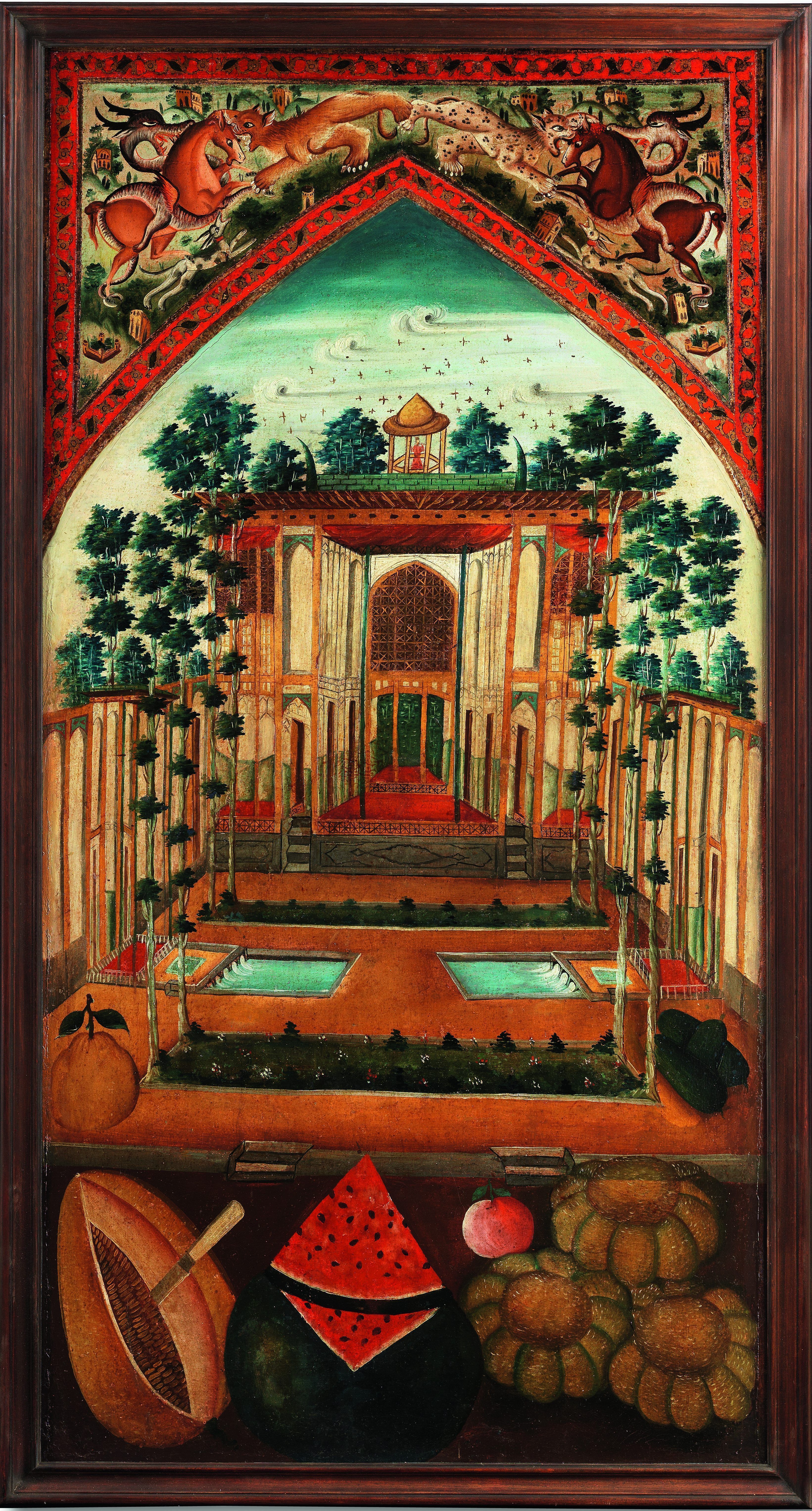 "As a refined and cultured ruler who loved fine objects and beautiful images," writes the historian William Dalrymple, "and who had few skills on the battlefield, he was aware how far art, and a carefully cultivated imperial image of stunning might and power, could compensate for lack of military prowess.  He therefore set about creating a bejeweled royal and dynastic image of fabulous gravity and splendor."
The monarch's taste for self-promotion led to a series of life-sized portraits commissioned by the Qajar court.  Still today, his luxuriant black beard, slim waist and youthful demeanor make him instantly recognizable among Iranians. His image is not just portrayed in oils, but in frescoes, ceramic tiles, and lacquer objects, and is sculpted in relief on rock faces.
Also in the April 30 sale is an equally magnificent painting produced by the court workshop, most likely in Isfahan, and estimated at 150,000-250,000 GBP. "Still Life Before a Palace Garden" depicts a view from a verandah onto an interior garden set behind a row of fruits, as a muezzin in a palace tower makes the call to evening prayer.  The architectural backdrop presents a formal garden with two-story pavilions, pools and tall verdant trees.
---
Images: ©Bonhams
---