---
By Nazanine Nouri
---
Ali Banisadr, an Iranian-born abstract artist whose works are rooted in his life and personal trajectory, is opening his first solo exhibition with the prominent London gallerist Victoria Miro on Oct. 11.
"Ali Banisadr: The Changing Past" (through Nov. 11) will feature works completed by the artist in the past two years.
Banisadr was born in Tehran in 1976, and grew up at a time of upheaval: the Islamic Revolution, followed by the eight-year Iran-Iraq War. He moved to California with his family in 1988.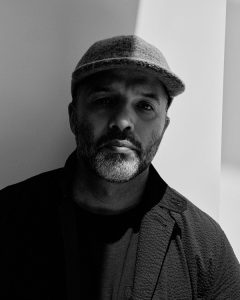 He views his paintings as an attempt to understand the permanent state of chaos that the world finds itself in. They are an expression of universal turmoil, rather than a reflection of any specific conflict. His art evokes displacement, memory, nostalgia and violence.
"Banisadr's works invite the viewer to move through time, encountering different art histories and different cultures while contemplating contemporary issues through the lens of the past," the Victoria Miro gallery said.
Referring to the work "The Changing Past" (2021), in the show, the gallery said it evoked "the ways in which, throughout history, monuments, buildings and often entire cultures are toppled or erased in order to accommodate new beliefs and ideas, which in turn are succeeded by further layers of thinking or sets of ideals."
Banisadr gave his own description of his work in a May interview with Grand Journal, published by One Grand Books, an independent bookstore in Narrowsburg, U.S.A.
"Sometimes I feel like I view society in the way an alien that landed on earth might see us, where I'm just looking at people and it's such a grotesque, pointless thing that's happening in front of me," he said in the interview.
"And I think that's how I could relate to an artist like [Hieronymus] Bosch or [Pieter] Bruegel [the Elder], because I feel they were social critics in their time, observing human behavior. Goya too. Thinking about human folly and what we're capable of doing to each other," he added.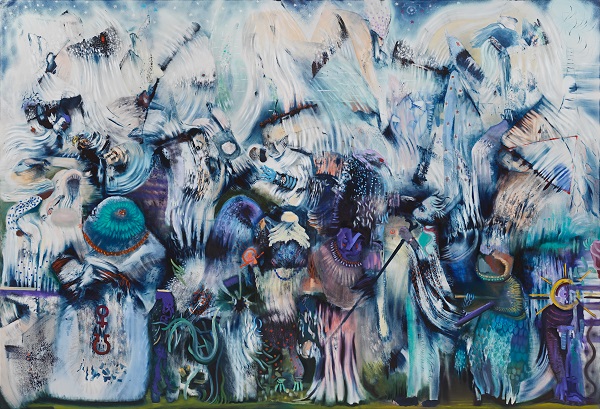 His early memories of drawing are of the period of the Iran-Iraq war, when he would run down to the basement for shelter, and sketch away during the air raids and bombings, trying to make sense of the sounds he was hearing and express them visually.
"I was three or four when the revolution happened, but of course, as a kid you don't know any better," he told Grand Journal. "Basically, all your childhood life is growing up in, first the revolution, then the war, which was eight years of bombing.  We moved to America when I was 12, to San Diego of all places. My idea of America was New York. And then we get to San Diego and it's all malls. It was just so weird to me."
"I didn't understand suburban life," he continued, "and I didn't speak the language too well, and I didn't really think about what happened in Iran. I buried it because everything was horrible — not only the revolution and the war, but people, too. Everybody was in a bad mood, except for your grandmothers who cooked for you and loved you."
Banisadr said he didn't think about his early experiences of life in wartime until much later in art school, when he visited the D-Day Landing sites in France which triggered memories of ruins and war scenes. That's when he decided to make charcoal drawings "based on memory, on sounds, because as a child much of the experience was the sound of war – the explosions or vibrations."
"Drawing was a way of trying to understand these things that our little minds couldn't even comprehend," he added. "It's never that I'm trying to paint a certain time or place. It could be anywhere; it could be anytime. It's a mixture of different figures from different times, sort of like coming together in the paintings really. But it definitely must have some kind of an impact."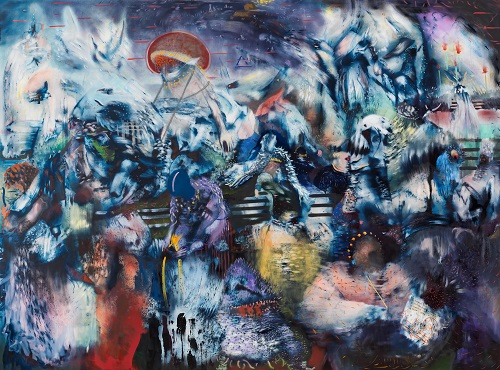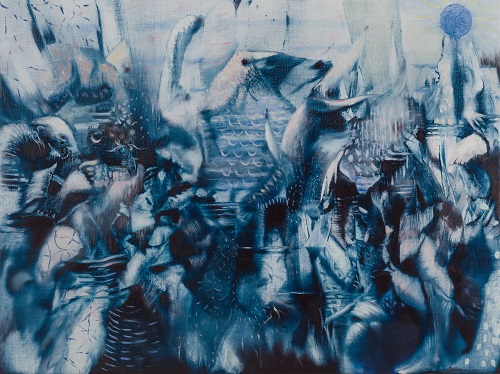 A graduate of the New York Academy of Art, Banisadr said his work sprang from vibrations embedded in his mind. "Sound has a huge influence on my work," the synesthetic artist explained. "For me, sound is the guiding force that helps me make the composition, and helps me understand the direction of the painting, the shapes, the colors, the texture. With synesthesia, you have this internal world."
Banisadr's work is held in numerous public and private collections, including: Metropolitan Museum of Art, New York; Museum of Contemporary Art and Los Angeles County Museum of Art, Los Angeles; Hirshhorn Museum and Sculpture Garden, Washington D.C.; Museum of Fine Arts, Houston; Philadelphia Museum of Art, Philadelphia; British Museum, London; K11 Art Foundation, Hong Kong; Miniature Museum, The Hague; Francois Pinault Foundation, Venice; Olbricht Collection, Berlin; Centre Pompidou, Paris; Museum der Moderne, Salzburg; and Akademie der Bildenden Künste, Vienna.
Similar Articles to This Post