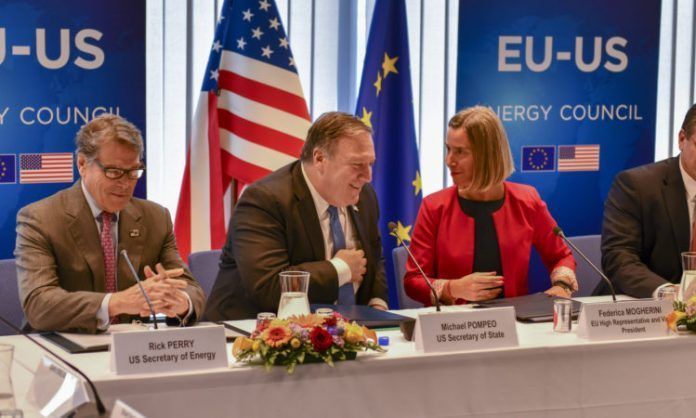 ---
By Guy Faulconbridge
---
LONDON, Nov 12 (Reuters) – The United States is not too concerned by Europe's idea for a special purpose vehicle (SPV) to get around U.S. sanctions with Iran as companies are already withdrawing from the country in droves, the senior official for financial intelligence said.
"I think the bigger news in Europe is that companies are withdrawing from Iran in droves," Under Secretary of the Treasury Sigal Mandelker told reporters in London when asked about the SPV idea.
"I am not concerned by the SPV actually at all," she said. "I do believe we are going to find additional mechanisms by which we can work together."
The restoration of sanctions is part of a wider effort by U.S. President Donald Trump to force Iran to curb its nuclear and missile programs as well as its support for proxy forces in Yemen, Syria, Lebanon and other parts of the Middle East.
In May, Trump exited Iran's 2015 nuclear deal with six powers and Washington reimposed a first round of sanctions on Iran in August.
Trump's moves target Iran's main source of revenue – its oil exports – as well as its financial sector, essentially making 50 Iranian banks and their subsidiaries off limits to foreign banks on pain of losing access to the U.S. financial system.
The Islamic Republic, OPEC's third-largest producer, called the U.S. moves economic warfare, said they would hit ordinary Iranians and vowed defy the sanctions to sell oil to the world.
Voicing opposition to U.S. policy on the day Washington announced a new raft of sanctions on Iran, the European Union earlier this month said it was setting up the so-called special purpose vehicle.
"I have do doubt that we will be able to find common ground because the threats are real and the threats are here in Europe," Mandelker said. She said she hoped the United States and the EU could take joint disruptive action against Iran.
The United States, Mandelker said, would strictly enforce its sanctions on Iran. When asked what was next on Iran, she said: "On Iran, you are going to see a lot more from us."
SWIFT, which facilitates the bulk of global cross-border payments, has already cut off the Iranian central bank and other financial institutions, Mandelker said.
"We believe SWIFT has made the right decision to disconnect those entities," Mandelker said. When asked if that included the Iranian central bank, she said: "Yes."
"We are going to strictly enforce our sanctions, and that's a message we are sending loud and clear all over Europe to the private sector," she said. "If there are those who decide not to abide by them then they are going to see action from us."
---
(Reporting by Guy Faulconbridge. Editing by Andrew MacAskill)
---