---
By Ahmed Rasheed and Ernest Scheyder
---
– First visit by top Saudi oil official to Iraq in 30 years
– Saudi, Russia pushing for nine-month extension to cuts
– Goldman says stocks should normalise if cuts prolonged (Updates with joint Saudi-Iraqi news conference)
---
BAGHDAD/VIENNA (Reuters) – OPEC heavyweights Saudi Arabia and Iraq agreed on Monday on the need to extend a global cut in oil supply by nine months in an effort to prop up crude prices, removing a potential stumbling block as producing countries prepare to meet this week.
Saudi Energy Minister Khalid al-Falih said he did not expect any opposition within the Organization of the Petroleum Exporting Countries to extending the curbs for a further nine months, speaking after he met his Iraqi counterpart in Baghdad.
OPEC meets in Vienna on Thursday to consider whether to prolong the original deal reached in December in which OPEC and 11 non-member countries, including Russia, agreed to cut output by about 1.8 million barrels per day in the first half of 2017.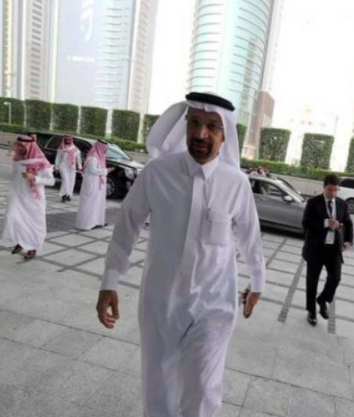 The Saudi minister told a joint news conference with his Iraqi counterpart Jabar Ali al-Luaibi that Iraq had given the "green light" to a proposal for a nine-month extension that would be presented to the meeting in the Austrian capital.
He said a new agreement would be similar to the previous pact, with minor changes. He said any decision would not be finalised until OPEC meets.
Falih was paying a rare visit to Iraq in the latest effort by the top oil producer to convince its fellow OPEC member to extend supply cuts to ease a global glut.
Iraqi Oil Minister Jabar Ali al-Luaibi said he agreed with Saudi Arabia on the need for a nine-month extension.
Saudi Arabia and non-OPEC Russia have been pushing to extend the cuts from the end of June until March 2018. Iraq, OPEC's second-largest and fastest-growing oil producer, had until Monday voiced support only for a six-month extension.
It is the first time in nearly three decades that a senior Saudi energy official has visited Baghdad.
OPEC wants to reduce global oil inventories to their five-year average but so far has struggled to do so. Stockpiles are hovering near record highs, partly because of rising production in the United States, which is not part of the existing deal.
"I believe we have a growing consensus (on the duration of cut extension)," OPEC's Secretary-General Mohammad Barkindo told reporters in Vienna.
Iraq and Iran were the main stumbling blocks for OPEC in reaching its last output-cutting decision in December.
OPEC'S CHALLENGE
Baghdad argued it had just started enjoying production growth after years of stagnation and Tehran said it needed to raise output after the lifting of Western sanctions.
Iraq ended up agreeing to cap output in the first half of 2017 while Iran was allowed a slight rise in production.
Nigeria and Libya were granted exemptions from cuts as their output suffered from unrest. Both have regained some volumes in recent months and are expected to add more soon, adding to OPEC's challenge in rebalancing the market.
Goldman Sachs, one of the most active banks in commodities trading, said on Monday a nine-month extension would help rebalance inventories in 2017 and keep Brent prices near $57 per barrel.
Brent futures were trading 0.6 percent higher at $53.92 a barrel on Monday at 1638 GMT.
Goldman said OPEC should put pressure on American shale oil producers by creating a market structure known as backwardation, when the future trading price of a commodity is below the current spot market value.
By extending cuts into 2018 and promising to boost output next year, OPEC could force the oil market into backwardation that would scare away private equity and other investors who have been funding the American shale producers.
"The binding force to sustainably slow shale growth lies on the funding side," Damien Courvalin, a Goldman analyst, wrote in the research note to clients.