---
GENEVA/LONDON, Nov 6 (Reuters) – Iran said on Tuesday it had so far been able to sell as much oil as it needs despite U.S. pressure, but it urged European countries opposed to U.S. sanctions to do more to shield Iran, as Russia and Turkey also voiced their objections.
The United States on Monday restored sanctions targeting Iran's oil, banking and transport sectors and threatened more action to stop what Washington called its "outlaw" policies – steps that Tehran called economic warfare and vowed to defy.
The measures are part of a wider effort by U.S. President Donald Trump to curb Tehran's missile and nuclear programmes and diminish the Islamic Republic's influence in the Middle East, notably its support for proxies in Syria, Yemen and Lebanon.
Trump is targeting Iran's main source of revenue – its oil exports – as well as its financial sector, essentially making 50 Iranian banks and their subsidiaries off-limits to foreign banks, on pain of losing access to the U.S. financial system.
"The Americans constantly said they would reduce the sale of Iran's oil to zero but I have to say that, so far, we have been able to sell our required amounts of oil," Tasnim news agency quoted Iranian Vice President Eshaq Jahangiri as saying.
"The Americans, with the help of propaganda, don't see the realities."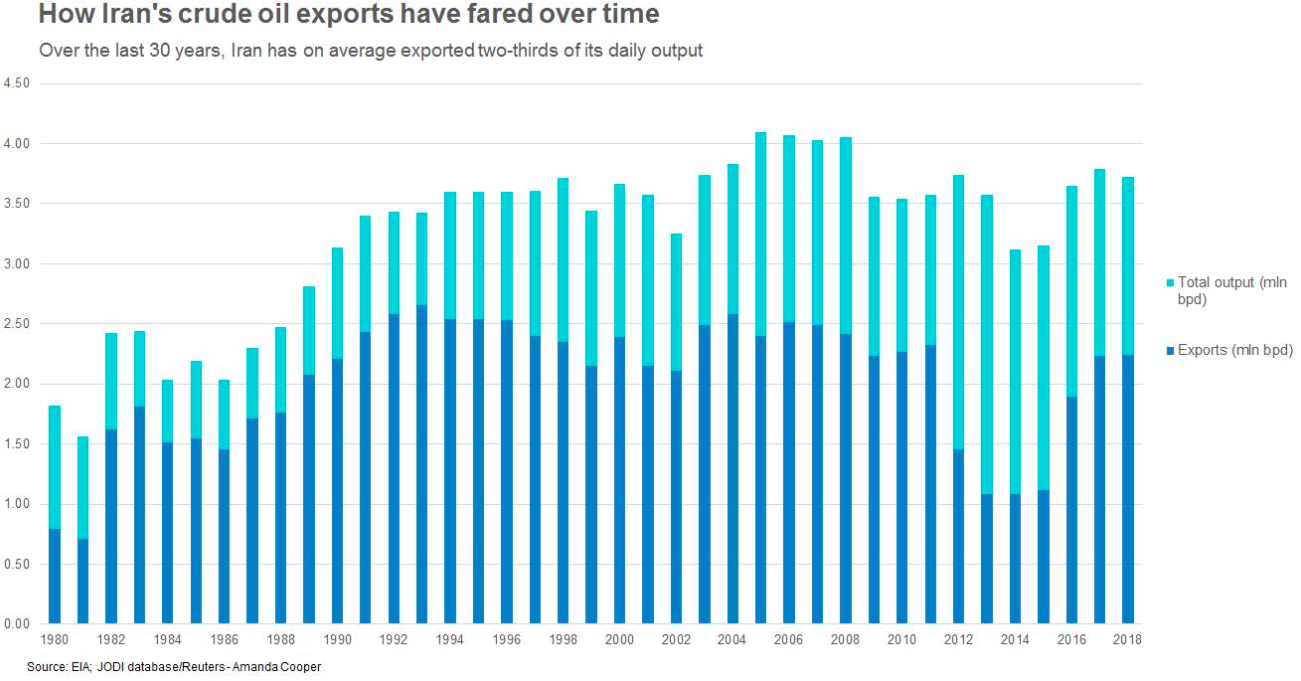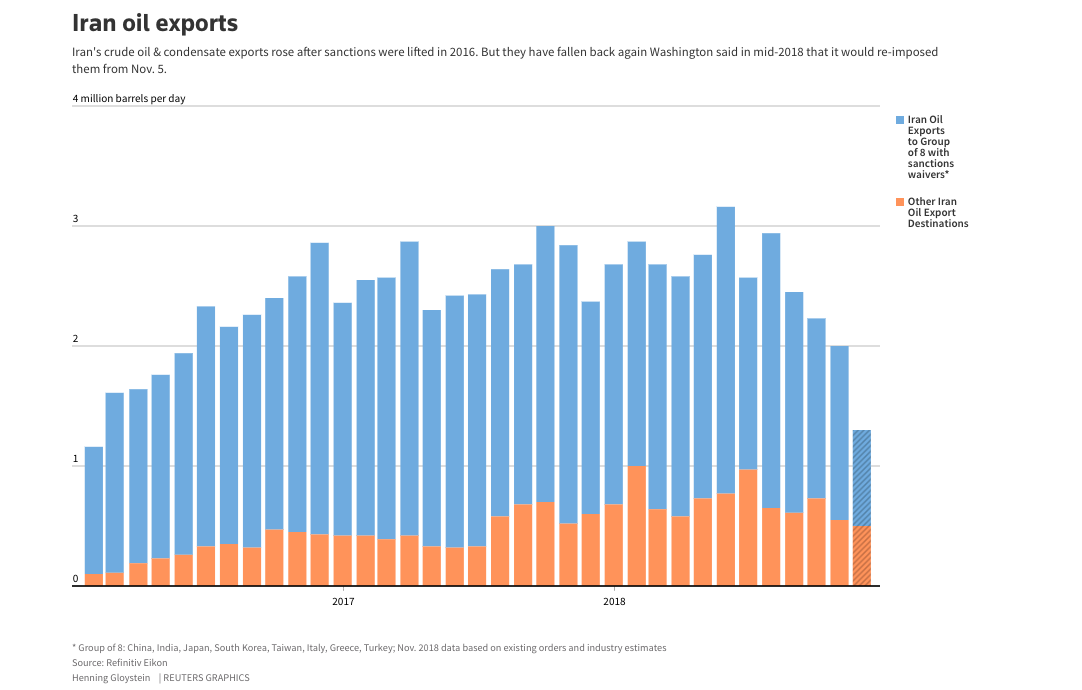 EXPORTS DOWN
Industry estimates suggest Iran's oil exports have in fact fallen by 40-60 percent since Trump said in May that he would reimpose sanctions, but 180-day exemptions for Iran's biggest oil clients could mean they rise again after November.
President Tayyip Erdogan said on Tuesday that Turkey, one of those countries, would not abide by the sanctions, which he said were "aimed at unbalancing the world".
Jahangiri said he had spoken to a handful of managers from companies on the U.S. sanctions list, and that some had already formulated plans on how to deal with the measures.
However, Iran's oil minister wrote to OPEC's secretary general calling for two committees that monitor an output deal with non-OPEC countries to be scrapped, accusing them of siding with the United States.
The head of Iran's central bank, Abdolnasser Hemmati, said Iranian banks should use their previous experience dealing with sanctions to support the foreign trade process and financial transfers", according to the state news agency, IRNA.
The European Union, France, Germany, Britain and Russia, participants with the United States in the 2015 deal that lifted sanctions on Iran in exchange for curbs on its nuclear programme, have all objected to the reimposition of sanctions.
SIDESTEPPING SANCTIONS
Russian Foreign Minister Sergei Lavrov said in Madrid that Washington had used "unacceptable methods" to force the SWIFT global financial network to cut off Iranian banks, and that there would be still ways to cooperate economically with Iran.
The EU is seeking to launch a "special purpose vehicle" (SPV) to sidestep the U.S. financial system by using an EU intermediary to handle trade with Iran.
Major European firms including France's Total, Germany's Allianz and Siemens, Denmark's shipping group A.P. Moller-Maersk and France's PSA Group have already halted or wound down their activities in Iran to avoid U.S. sanctions.
Iranian Deputy Foreign Minister Mohammad Kazem Sajjadpour said in a speech at the Chatham House think tank in London that the SPV was "an interesting procedure, but what is lacking is speed and efficiency".
He said European small and medium-sized businesses were still active in Iran "without making any noise", and that European governments were trying to help them to keep operating.
Foreign Minister Mohammad Javad Zarif tweeted that Trump would eventually come to respect Iran:
"President Trump's predecessors also began crafting their Iran policy with similar bravado; but came around to accepting and respecting the reality of Iran as they became more experienced in office."
President Trump's predecessors also began crafting their Iran policy with similar bravado; but came around to accepting and respecting the reality of Iran as they became more experienced in office.
Iran's Message: https://t.co/ptmSMbOzeC

— Javad Zarif (@JZarif) November 6, 2018
---
(Reporting by Babak Dehghanpisheh, Bozorgmehr Sharafedin and Polina Devitt; Editing by Dale Hudson and Kevin Liffey)
---