Kayhan Staff
Having played a decisive role in ridding Iraq of the Islamic State in the Levant (ISIL), the Iranian government is now turning its focus on reaping economic benefits of that military assistance. In recent days, both sides have emphasized their desire to multiply the level of Tehran's involvement in the Iraqi reconstruction efforts in the aftermath of clearing the Iraqi territory from ISIL, known in Arabic as Daesh.
The timing of the renewed Iranian efforts in Iraq is not coincidental. United Nations, European Union, and international donors gathering in Kuwait last month to assess Iraq's reconstruction needs pledged a whopping $30 billion for humanitarian assistance and physical reconstruction of Iraq. The European Union pledged an additional 400 million euros from its own budget, on top of EU Member States' support – for humanitarian aid, early recovery, stabilization, reconstruction and longer term sustainable development.
Such pledges mean not only political influence and capital for future use, they also mean financial opportunities for countries involved.
Iran, which amassed the Shiite Hashd-e-Shaabi, or Popular Mobilization Forces, in Iraq and sent military equipment and advisors through the Iranian Revolutionary Guards, does not want to be left out, both for political and economic reasons.
Iraqi officials, too, have been open to the need to thank Iran for its participation in the fight against ISIL. "Iran's support for Iraq in confronting terrorism have been clear," Iraqi minister of interior, Qasim al-Araji, told an audience in Algiers last week.
Iraqi Prime Minister Haidar Al-Abadi was no less direct during his meetings this week with a high-level Iranian delegation to Baghdad, headed by First Vice-President Eshaq Jahangiri.
Thanking Iran for "standing with Iraq against terrorism until the victory and the liberation of our land and our cities from Daesh," the prime minister said Iraq, "welcomed the contribution of Iran and its companies in the field of reconstruction, pointing out Iran's participation of two billion dollars for the reconstruction of Iraq," according to newscasts by Iranian and Iraqi news outlets.
Jahangiri was quoted as saying, "After the victory of Iraq over terrorist groups, grounds have been prepared for investment and economic activities in Iraq." He said Iran "is making efforts to reinforce all-out relations with Iraq." But in Tehran, the Iranian media made it clear the government wants formal and long-standing commitments from Baghdad, no ad-hoc contracts.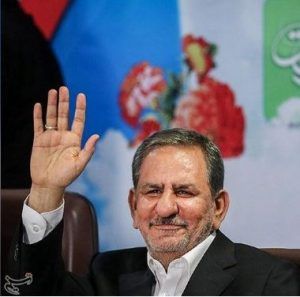 Iranian First Vice President Es'haq Jahangiri said on Wednesday that promoting Iran-Iraq economic ties requires both sides to sign constructive agreements.  In a meeting with Iraqi Prime Minister Heydar al-Abadi, Jahangiri noted that the two countries are in need of a comprehensive document for economic cooperation to serve as a foundation for mutual economic relations," according to a dispatch by the Iranian news agency, IRNA.
Not to be outdone by UN, EU, and international donors, the IRNA dispatch added: "Expressing Iran's serious resolve to engage in the country's reconstruction, Jahangiri said that Iran is ready to open a 3-billion-dollar credit line for Iraq so that Iranian companies will be able to have a serious engagement in its reconstruction." There was no immediate reconciliation for the Iraqi prime minister's mention of $2 billion and the Jahangiri's reference to $3 billion line of credit.
While desire and cold cash might be ready to flow, advancing the relations seems to be hampered for now by logistics.
Referring to Jahangiri, the IRNA dispatched said, "The senior Iranian official cited banking issues as the main obstacle in the way of bilateral economic relations, calling for suitable measures to be taken to resolve the problem." It did not explain further.
The Iraqi prime minister said his country is willing to look at "creative banking solutions," such as creating a private bank, through which Iran can invest in Iraq more easily.
According to a statement by the Iraqi ministry of trade, Senior Undersecretary Walid Habib al-Moussawi said his meeting with the Iranian counterparts dealt with "the establishment of a private bank for the two sides for commercial transactions as well as the establishment of joint companies in the transport sector, supporting the private sector in both countries, reactivating the chambers of commerce, standardizing border points and dealing with the official border ports and customs tariffs on Iranian goods entering Iraq accompanied by an official invoice and certificate of origin."
Iraq's ministry of commerce announced in February that bilateral trade between Iran and Iraq exceeded $6 billion in 2015-16. But in a March 3 dispatch, Mehr news agency quoted Naser Behzad, the Commercial Attaché at the Iranian Embassy in Baghdad says that the amount of Iran-Iraq trade volume in the previous 11 months was $12 billion.
"In the past 11 months of the current Iranian calendar year of 1396, Iran has exported 12 million tons of non-oil goods with the value of 5.5 billion dollars to Iraq," said Naser Behzad, the Commercial Attaché at the Iranian Embassy in Baghdad.
Accompanying Jahangiri were Foreign Minister Mohammad Javad Zarif, Minister of Industry, Mine and Trade Mohammad Shariatmadari, as well as Minister of Agricultural Jihad Mahmoud Hojjati.