---
By Robin Emmott and Alissa de Carbonne
---
BRUSSELS, July 18 (Reuters) – The European Investment Bank's global operations would be put at risk if it were to invest in Iran, its president said on Wednesday, casting doubt on the EU's ability to deliver on its pledge to save a nuclear deal with Tehran that Washington has abandoned.
An EU plan urging its lending arm to invest in Iran as part of efforts to help keep money flowing to Tehran is proving difficult to implement as businesses fear the reimposition of U.S. sanctions.
EIB President Werner Hoyer said that while he supported EU efforts to keep alive the 2015 deal which curbed Tehran's nuclear ambitions, Iran is a place "where we cannot play an active role."
The EU's not-for-profit lender fears any dealings with Iran would jeopardise its ability to raise money on U.S. markets and have far-reaching consequences for its operations. Hoyer said the EIB is indebted by 500 billion euros ($581 billion) in bond issues.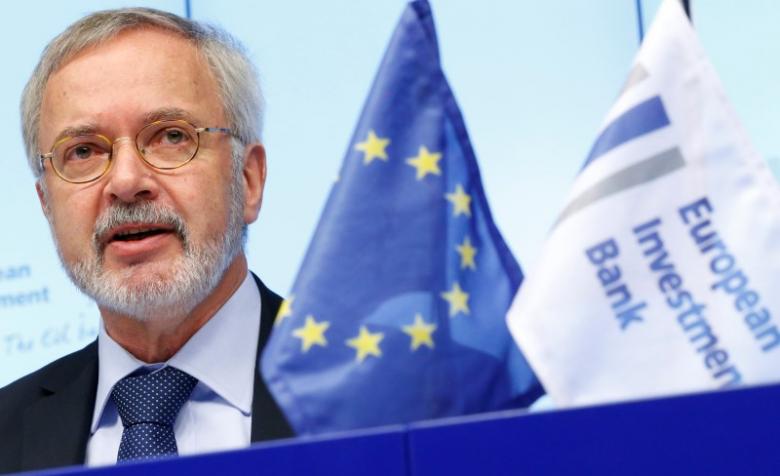 After U.S. President Donald Trump pulled out of the Iran deal with world powers on May 8, Iran has threatened to stop complying with curbs on its nuclear programme if it fails to see the economic benefits of relief from sanctions under the deal.
Upping the stakes on that threat, the head of Iran's atomic agency said on Wednesday that the country has built a factory that can produce rotors for up to 60 centrifuges a day.
The other signatories to the deal – the European Union, China and Russia – want to salvage the accord to prevent Tehran from developing a nuclear weapon.
EU measures to try to compensate for the impact of U.S. sanctions and guarantee Iranian oil revenue include EIB lending, a measure to shield EU companies from U.S. secondary sanctions, state-backed export guarantees and a plan that EU governments make direct money transfers to Iran's central bank.
It has also sought U.S. waivers from sanctions for big European businesses.
While the European Union has agreed to add Iran to the list of countries with which the Luxembourg-based EIB does business from August , a spokesman for the EU executive said the change "does not force the EIB to begin lending."
The EIB will only do business there if it receives approval from its board of governors, which are the finance ministers of the EU's 28 member states, and on the basis of finding suitable projects to invest in.
Central bank transfers to Iran to pay for oil imports and avoid U.S. sanctions, a measure proposed by the European Commission in May, are still under discussion, diplomats said.
Meanwhile, few businesses have taken advantage of euro-denominated financing set up by European countries to trade with Iran.
Italy's new state-owned entity to guarantee credits to companies in Iran, Invitalia, has a scheme in place but no firms have made use of it.
In Britain, the situation is similar. Accounts show that no sterling or euro credits have been provided to British companies exporting to Iran in the 2017-2018 financial year.
EU officials hope their so-called blocking statute to take effect in early August will shield small and medium-sized businesses working in Iran. The statute bans any EU company from complying with U.S. sanctions and does not recognise any court rulings that enforce American penalties.
But they admit that the risk for global firms would be too high to remain without waivers. Major companies such as French carmaker PSA Group have already announced that they are winding down operations in Iran.
"PSA made its decision with regard to the new U.S. sanctions, in order to be in conformity with American regulations," a company spokesman said on Wednesday.
"NO EXEMPTIONS"
In the biggest blow yet to EU efforts, U.S. Secretary of State Mike Pompeo wrote to EU foreign policy chief Federica Mogherini this month rejecting a request for carve-outs for European companies, although she played down its importance on Monday and said that EU work would continue.
"The set of measures we have been putting in place … allow us to guarantee that Iran continues to benefit from the economic benefits coming from the implementation of the agreement," Mogherini said.
Europe shares many of Washington's concerns over Iran's financing of armed groups in the Middle East and its ballistic missiles arsenal. But it says there is nothing to be gained from pulling out of a deal that placed limits on its nuclear fuel production and with which Tehran is complying.
Hoyer's comments are another blow to the EU's plans, while Washington remains unmoved, telling its allies they must halt all imports of Iranian oil from Nov. 4 or face U.S. financial measures, with no exemptions.
"There is no European bank which is presently able to do business in and with Iran," Hoyer told reporters.
"We have to take note of the fact that we would risk the business model of the bank if we were active in Iran."
The EIB currently steers clear of engaging in jurisdictions listed as high-risk under the FATF, a global group of government anti-money-laundering agencies. That includes Iran. ($1 = 0.8609 euros)
---
(Reporting by Robin Emmott and Alissa de Carbonnel; Additional reporting from Giselda Vagnoni in Rome, Laurence Frost in Paris and David Milliken in London; Editing by Raissa Kasolowsky)
---