BERLIN, June 6 (Reuters) – Ministers from Germany, France and Britain have written to senior U.S. officials urging them to protect European companies working in Iran from getting caught up in Washington's new sanctions on the Islamic Republic.
In the June 4 letter, the foreign and finance ministers singled out key areas where they expected exemptions for EU firms, including pharmaceuticals, healthcare, energy, automotive, civil aviation, infrastructure and banking.
Washington said last month it would impose new economic penalties after pulling out of a 2015 pact that world powers signed with Iran, under which Tehran agreed to curb its nuclear activities in return for sanctions relief.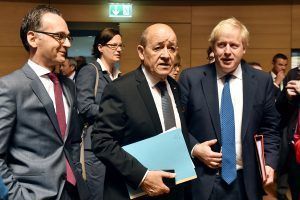 Germany, France and Britain were all signatories to that deal and said in the letter they were still committed to keeping it going.
"An Iranian withdrawal from the (nuclear agreement) would further unsettle a region where additional conflicts would be disastrous," said the ministers and the EU's top diplomat in the letter to the U.S. Treasury Secretary and U.S. Secretary of State seen by Reuters on Wednesday.
The European ministers said they shared most of Washington's concerns about the status of Iran's nuclear programme after 2025, its development of ballistic missiles and "destabilising actions" in the Middle East.
But they said preserving the 2015 nuclear deal was "the best basis on which to engage Iran and address those concerns".
The ministers said they expected the United States as an ally to refrain from taking actions that would harm Europe's security interests, including secondary sanctions that could prevent the European Union from continuing to uphold the nuclear accord.
"As close allies, we expect that the extraterritorial effects of U.S. secondary sanctions will not be enforced on EU entities and individuals, and the United States will thus respect our political decisions," they wrote.
The ministers also urged Washington to grant exemptions to maintain banking and financial channels with the Central Bank of Iran and other Iranian banks that are not sanctioned by the EU.
---
(Reporting by Tom Koerkemeier Writing by Madeline Chambers and Andrea Shalal Editing by Paul Carrel and Andrew Heavens)
---