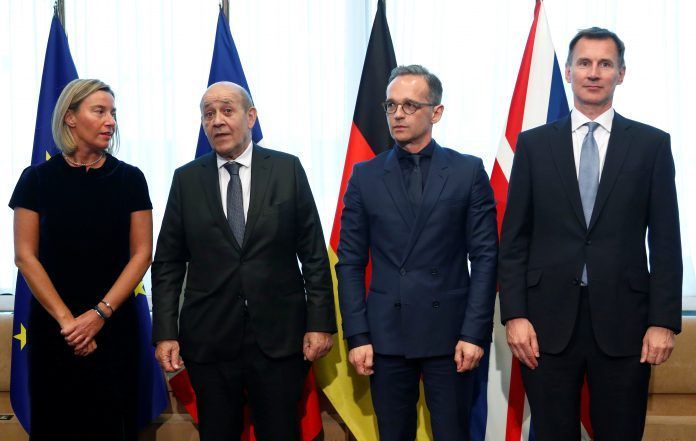 ---
May 21, 2019 – European governments have found themselves in the awkward position of having to side with the U.S. in its dispute with the Islamic Republic while trying to keep Tehran in the Joint Comprehensive Plan of Action (JCPOA), better known as the Iran nuclear deal. They have used diplomatic channels to defuse tensions between Tehran and Washington, fearing that even a limited armed conflict between the two countries would have wide-ranging and dire consequences for the region and continental Europe.
France's Ambassador to Lebanon Bruno Foucher warned Hezbollah on May 21 not to get involved in the current conflict between Iran and the US.
"Hezbollah is in contact with Iran and knows the serious nature of the situation," Ambassador Foucher said. "Therefore, we urge Hezbollah not to do anything that would endanger Lebanon's safety and security. France also calls on Iran to remain committed to the JCPOA."
A day later, the Iranian and French ambassadors to Iraq, Iraj Masjedi and Bruno Aubert, met and held talks at the Islamic Republic Embassy in Baghdad. It is unclear what the two top diplomats discussed during the meeting. Mr. Masjedi had also met his British counterpart Johnathan Wilks at the Iranian Embassy a week earlier, the Iranian Student News Agency (ISNA) reported.
The possibility of a full-scale war between Iran and the U.S. has also prompted some European forces to stop military training in Iraq.
"Germany's Bundeswehr [armed forces] has halted its military training exercises in Iraq amid heightened tensions in the region. The U.S. has put troops on high alert and removed nonemergency diplomatic staff from Baghdad and Erbil," Germany's public international broadcaster Deutsche Welle (DW) reported on May 15.
On the same day, the Netherlands halted its training of mostly Kurdish fighters, the Dutch public broadcaster NOS reported, citing a defense ministry spokesperson.
The British tabloid newspaper Sunday Express said on May 19: "Two teams of elite Special Boat Service (SBS) are said to have joined the UK-registered oil tankers transiting in the Persian Gulf through the Strait of Hormoz, where they will be tasked with monitoring Iranian activity around the island of Qeshm – home to Iranian naval gunboats."
Experience has shown that despite their political and economic differences and disagreements, the U.S. and EU member states hold the same views on military defense and security. They had hoped that the JCPOA would curb Iran's regional ambitions, halts its nuclear program and ballistic missile tests. However, despite complying with the terms of the nuclear agreement, Iran has not abandoned its regional activities and missile program and instead has trained and armed militia groups in Iraq and Syria.
"Iran has 200,000 young and armed troops in Syria, Iraq, Afghanistan, Pakistan, and Yemen," the former commander of the Islamic Revolutionary Guards Corps (IRGC), Major General Mohammad Ali Jafari, said in December 2015.
It is also highly unlikely that Tehran would meet the preconditions set by the EU before implementing Instrument to Support Trade Exchanges (INSTEX), a special-purpose vehicle (SPV) established in January 2019 by France, Germany, and UK (E3) to facilitate non-dollar trade with Iran.
Besides halting its missile tests and curbing its regional ambitions, the EU has also demanded that Iran sign onto the Financial Action Task Force (on Money Laundering) (FATF), and the United Nations Convention against Transnational Organized Crime (UNTOC), better known as the Palermo bill. However, the Guardian Council has so far refused to pass the bill on joining the UN Convention Against Financing Terrorism (CFT).
Meanwhile, Arab states in the Persian Gulf have remained conspicuously cautious in their response to threats posed by Iranian-backed militias in the region. Most if not all, prefer to seek the UN's help instead of confronting Iran head on. They do not even use diplomacy to appease Iran.
Iran's regional rival, Saudi Arabia, is the only country that openly opposes Tehran. Saudi King Salman bin Abdulaziz Al Saud has invited members of the Gulf Cooperation Council (GCC) and the Arab League to an emergency summit on May 30 in Mecca to discuss regional security. Kuwait, Yemen, and Lebanon have reportedly welcomed King Salman's initiative.
It is, however, clear that Arab states in the Gulf will not start any political actions against Iran without Washington's approval.
---
[
Translated from Persian
by Fardine Hamidi]
---