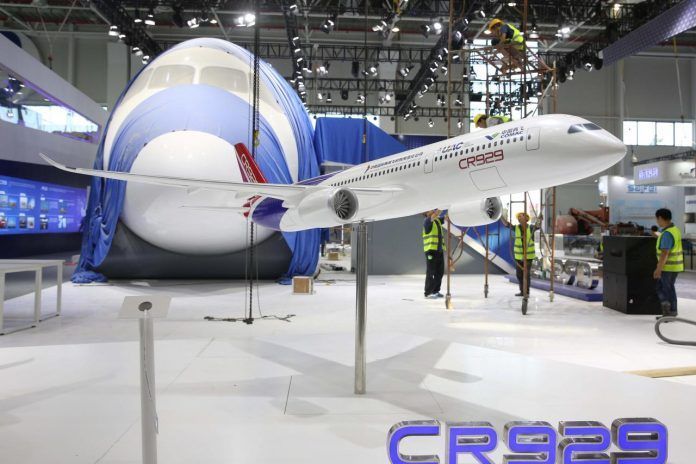 ---
By Stella Qiu and Brenda Goh
---
ZHUHAI, China, Nov 7 (Reuters) – A Chinese state firm on Wednesday ruled out selling passenger planes to Iran to help the Islamic Republic revive fleet renewal plans, while a Russian executive suggested Moscow would be wary of putting its own programmes at risk of U.S. retaliation.
The comments in separate interviews at China's largest air show underscore the challenges Iran faces in rekindling plans to import planes after the U.S. reimposed sanctions, though IranAir reiterated on Wednesday it would welcome offers from suppliers not subject to restrictions on the export of U.S. plane parts.
Deals to buy 200 aircraft from Airbus, Boeing and European turboprop maker ATR have virtually all stalled after the United States withdrew from a 2015 nuclear agreement between Tehran and world powers and reimposed sanctions on firms including IranAir.
Iran's search for other suppliers was a talking point on the sidelines of Airshow China this week, where China promoted its growing aircraft industry as it looks to break into foreign markets for planes such as its long-delayed ARJ21 regional jet.
But asked whether Iran had shown interest in buying Chinese airplanes, Zhao Yuerang, general manager of manufacturer Commercial Aircraft Corporation of China (Comac), told Reuters: "No, we cannot sell to Iran. Iran is off the table."
Pressed on China's ability to sell the ARJ21 to Iran, he added: "We need to abide by regulations of both countries."
In May, the U.S. Treasury's Office of Foreign Assets Control (OFAC) revoked licences to sell passenger jets to Iran that are required for any plane with more than 10 percent U.S. parts, regardless of where it is made.
IranAir has said it is looking to buy planes from any company not requiring the U.S. permits and may consider Russia's Sukhoi Superjet 100.
Asked at Airshow China in Zhuhai whether Moscow was in talks to sell the Superjet to IranAir, a senior official with state holding company Rostec declined to comment in detail.
"This is a sensitive issue," Viktor Kladov, Rostec's director for international cooperation and regional policy, told Reuters.
"You understand why, because we cannot endanger the whole Superjet programme," he added.
Besides controlling exports for aircraft containing over 10 percent U.S. parts, analysts say the United States sets the tone for global aviation through its benchmark system of safety regulation and the widespread use of the dollar in plane deals.
Kladov said Russia's industry would continue to follow international standards on regulation and aircraft safety, but would strive to be independent commercially.
Rostec is already doing some deals in Russian and other currencies, he added.
---
(Writing by Tim Hepher; Editing by Mark Potter)
---