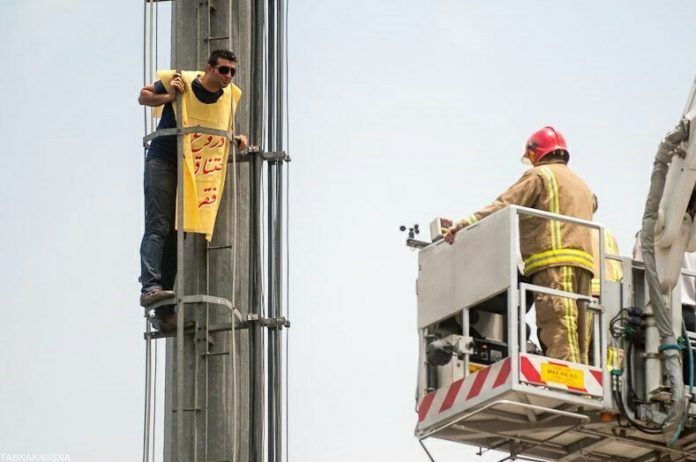 ---
[The views expressed in this blog post are the author's own.]
---
By Sayeh Hassan
---
Sajad Golmohammadi was 29 years old when he climbed on top of a crane in Hafte Tir Square wearing a yell sign that said "lies, oppression, poverty," with the number 36, referring to the 36 years of Islamic dictatorship in Iran.  After spending 45 minutes on top of the crane, and gathering the attention of a large crowd of over 2,000 people, he was detained by Islamic Regime security forces and eventually sent to the notorious Evin Prion.
He was charged with acting against national security, propaganda against the regime and mischief.  Sajad spent 18 days in solitary confinement, after which he was transferred to section 7 room 6 of the Evin Prison, which is known as the financial crime unit.
After a 10-15 minute trial behind closed doors and without access to a defence lawyer he was sentenced to two years imprisonment, 74 lashes and execution.  He appealed his sentence and after two months the death sentence was overturned, but the sentence of imprisonment and lashing was upheld.  It should be noted that he was tried before Judge Salavati, notorious for imposing harsh sentences on political prisoners.
He was released after serving one year of his sentence and being lashed 34 times, and ordered not to get involved with politics, not to participate in any rallies and not to write anything against the Regime.
I caught up with Sajad five years later and asked him what had caused him to climb that crane five years ago, and what if anything had changed in the past five years.
Sajad explained that climbing the crane wasn't a decision that he had made over night, his decision was the result of years of being subjected to oppression personally, and seeing so many other Iranians suffer the same fate.  He had lost his government post of working at the Boushehr Customs department after being accused of insulting Khomeini's family, and brainwashing his co-workers.  After having worked for seven years he was fired unceremoniously and had a very hard time finding employment, as every back ground check would show that he had been fired for political reasons. He eventually moved to Tehran where the situation did not improve, and he also saw many other young people in similar situations unable to find employment and make ends meet.
When Rouhani was (s)elected as President, he asked the people of Iran for 100 days to improve the economic and social situation in the country.  Sajad gave Rouhani 10 months, but once he realized nothing had changed and nothing would change, he decided to make a public protest against the lies and oppression of the government, and poverty in society hence climbing on top of the crane with his slogan of "Lies, Oppression, Poverty."
After his release from prison Sajad has mostly stayed away from politics, however a few months ago he was summoned to court on charges that he does not understand and are not clear to him, and has been sentenced to 7 years in prison.
He is currently out on bail, but expects to be summoned to serve his sentence at any moment. He believes the regime is holding this jail sentence over him in order to prevent him from becoming politically involved and speaking out against the regime.
Fortunately threats of jail have not stopped Sajad from speaking to me and other media outlets.
I asked him if he saw any difference in society and among the people from five years ago to today.  Sajad tells me the poverty level is much greater today then it was five years ago, but that people are also more aware and no longer afraid to make demands openly and in large numbers. He tells me one of the reasons he climbed the crane five years ago was to show people that they shouldn't be afraid and that they should openly demonstrate.  He is happy to see that people are no longer afraid and are protesting in masses, he says "the Regime has never been this vulnerable and close to toppling."
We also discussed President Trump and sanctions against Iran.  He told me that many people he speaks to every day support the sanctions, despite the difficulties that it has caused for the people.  He believes people are willing to ride out the poverty in the hope and belief that the regime will topple as a result.
Lastly I wanted to know how he saw the future of Iran and this is what he had to say: "I am very hopeful, and see a very bright future for Iran, I have never been so sure of the fact that this regime will topple in the very near future."
Sajad told me he has no intention of leaving Iran despite the pressures on him and the pending jail sentence.  He believes it's the regime that has to go and not the people that oppose the dictatorship.  His message for the opposition outside of Iran is to put aside their differences and help and support the people inside Iran in their fight for a free Iran.
---