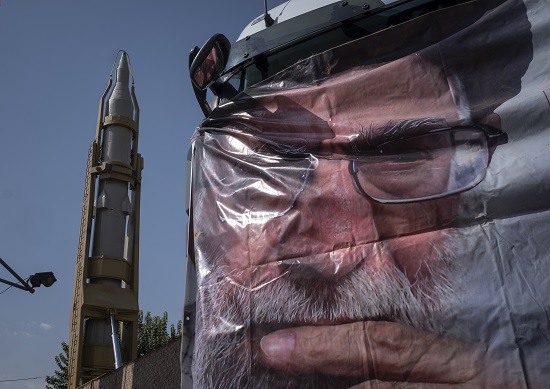 ---
By KayhanLife Staff
---
US Special Envoy for Middle East Humanitarian Issues David Satterfield has warned the Supreme Leader of the Islamic Republic, the regime in Tehran, and Hezbollah against expanding the conflict in the Middle East.
Speaking to journalists during a digital press conference on Nov. 9, Satterfield said: "We have every belief that all parties concerned understand — and by all parties, I refer to Hezbollah and the Supreme Leader and the regime in Tehran – understand the President's [Joe Biden's] very blunt message, which was for those in the region contemplating a potential spread of this conflict. Don't, don't, don't!"
Earlier this week, Supreme Leader Ali Khamenei said the United States was "truly an accomplice to the Zionist crimes in Gaza" and was "directly leading the war."
He told visiting Iraqi Prime Minister Mohammed Shia al-Sudani that the two countries should liaise and coordinate to pressure the US to end Israel's attacks against Hamas. "By working together, the Islamic Republic of Iran and Iraq can play a role and be influential in this field," he said.
During the digital press conference, Satterfield stressed: "It is essential that Iran or Hezbollah undertake no provocative actions. The character of exchanges that Hezbollah has launched across Israel's northern border always raised the potential for miscalculation. They need to stop."
Since the start of Israel's offensive against Hamas, Hezbollah has conducted daily assaults on Israel's northern border with Lebanon.  On Nov. 7, 20 rockets were fired from Lebanon toward Israel, setting off sirens in Galilee and the Golan Heights.
Hezbollah second-in-command Sheikh Naim Qassem told the BBC that "very serious and very dangerous developments could occur in the region, and no one would be able to stop the repercussions."
Last week, Hezbollah leader Hassan Nasrallah warned that the group was "ready for all possibilities." He said, "Your fleets in the Mediterranean… will not scare us."
Hezbollah has acquired powerful Russian anti-ship missiles, including the Russian-made Yakhont missile, with a range of 300 km (186 miles), according to the Reuters news agency.
Satterfield has more than four decades of diplomatic experience in some of the world's most challenging conflict zones and has had assignments in Syria, Tunisia, and Saudi Arabia, as well as two tours in Lebanon. He has served as Acting Assistant Secretary for Near Eastern Affairs, as Director of Arab and Arab-Israeli Affairs in the Department of State, and as Director for Near Eastern Affairs on the National Security Council Staff from 1993 to 1996, where he worked primarily on the Arab-Israeli peace process. He was appointed US Special Envoy for the Middle East for Humanitarian Issues on October 15.
Similar Articles to This Post