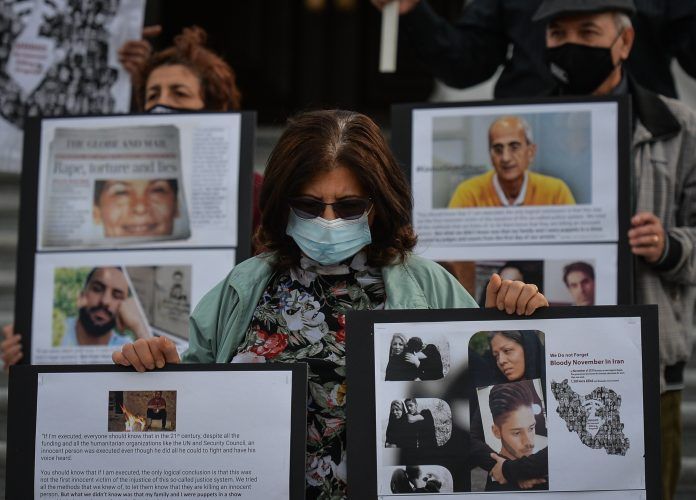 ---
---
A letter by the London-based NGO Campaign to Free Political Prisoners in Iran (CFPPI) asked the United Nations Human Rights Council (UNHRC) to investigate Iran's President Ebrahim Raisi for alleged human rights violations committed in the 1980s while he worked as a deputy prosecutor in Tehran.
The letter — published on Sept. 6 and sent to lawmakers in more than 40 Western countries — was written by CFPPI's spokesperson Shiva Mahbobi, an Iranian human rights advocate and former political prisoner. Ms. Mahbobi was arrested in Iran when she was 16 years old for promoting women's and students' rights. She was then sentenced to three years in prison, where she was tortured.
The letter (coinciding with UNHRC's 48th session, which began on Sept. 13)  urges the UN body to investigate allegations that Raisi was involved in the 1988 mass executions of political prisoners. Analysts and research groups have estimated that at least 30,000 men and women were killed over a five-month period.
New Database Tracks Iran's Human Rights Violations Since 1979
EXCLUSIVE – U.N. Expert Backs Probe into Iran's 1988 Killings, Raisi's Role
In the letter, the CFPPI accuses Raisi of being involved with courts and committees in 1988 overseeing the executions. It adds: "Under his power as the head of the Judiciary, the Islamic regime carried out the crackdown on the protesters in November 2019, when 1,500 people were shot by the security forces, and more than 8,000 were arrested, tortured and given lengthy jail sentences."
SPECIAL REPORT- Iran's Leader Ordered Crackdown on Unrest: "Do Whatever It Takes to End It"
Speaking to Kayhan Life, Mahbobi said the trial in Sweden of Hamid Noury —  an Iranian man accused of working as a deputy prosecutor overseeing executions of political prisoners in Iran's Gohardasht prison in 1988 — reinforced the case against Raisi.
"Raisi has also been implicated in these executions," she said, "and was much higher up the chain of command than Noury at the time, which I think places huge pressure on the UNHRC to look into these allegations."
Asked how a trial or verdict could be enforced if Raisi was not extradited to a foreign country, Mahbobi said: If Raisi doesn't leave Iran at all, that would be an issue. However while he has some diplomatic protection now that he is a president, should the UN Security Council (UNSC) decide to prosecute him and find him guilty, he can then be arrested if he is out of the country. And as president he will be required to leave Iran from time to time to carry out his duties."
"This case is also about the process itself for us," she said."We want to see the process of collecting information, investigating the claims, and finding legal grounds based on international law to arrest him. If the UNHRC start collecting information relating to these allegations against Raisi, in some way they are acknowledging that there is the possibility of putting him on trial."
Man Accused over Iran Prison Executions Goes on Trial in Sweden
The UN has faced multiple calls to investigate Iran's president in recent months.
A Sept. 8 letter to UN Secretary-General Antonio Guterres on Sept. 8 by 25 Nobel laureates urged the UN to establish an international commission to probe Raisi's involvement in the 1988 massacres. The letter said: "In the absence of international accountability, genocide and crimes against humanity persist in Iran. Among these are the continuation of political executions and the murder of at least 1,500 young protesters in November 2019."
A separate letter signed by the families of more than 700 political prisoners and human rights campaigners was sent on Aug. 24 to the UNHRC. It asked the UN body to set up an independent commission to gather evidence on international crimes committed by the Islamic Republic.
The letter said: "You have lowered the lives of the majority of Iranians below the poverty line and therefore we do not recognize this by-election and call for the formation of a commission to investigate more serious crimes and criminal investigations in connection with Mr. Raisi as President-elect."
The United Nations special rapporteur on human rights in Iran, Javaid Rehman, has backed a probe into the 1988 murders and into Raisi's alleged role in the killings. On June 29, Rehman called for an independent inquiry into the mass executions. He said his office had gathered a large volume of evidence which he would be willing to share with an international judicial body.
On June 19, Amnesty International and Human Rights Watch also condemned Raisi's appointment as president of Iran, and called for him to be investigated over the mass executions.
Mahbobi said campaigners and the families of those executed in 1988 remained frustrated by the international community's failure to address the calls.
"The diplomacy involved in this process is what is so frustrating because we don't see any action from international governments taking place," she said. "The European Union  is clearly working around the 2015 nuclear deal, and they are ignoring cases like this one which seeks to put Raisi on trial."
"This is not something that only affects Iran. People in different countries like the UK can really do a lot, like asking the British government to use their influence at the UNHRC and the UNSC, or sending a letter to [British Prime Minister] Boris Johnson or a petition. We need to stand up for humanity because these issues affect us all," she said.
A July 16  report by the UN special rapporteur raised concerns about the Iranian government's prolific use of the death penalty. Rehman said he "continued to be disturbed by the high number of death sentences and executions in the Islamic Republic of Iran," as well as by "fair trial issues, including the use of torture-induced confessions [which rendered] most if not all executions in the state an arbitrary deprivation of life."
---