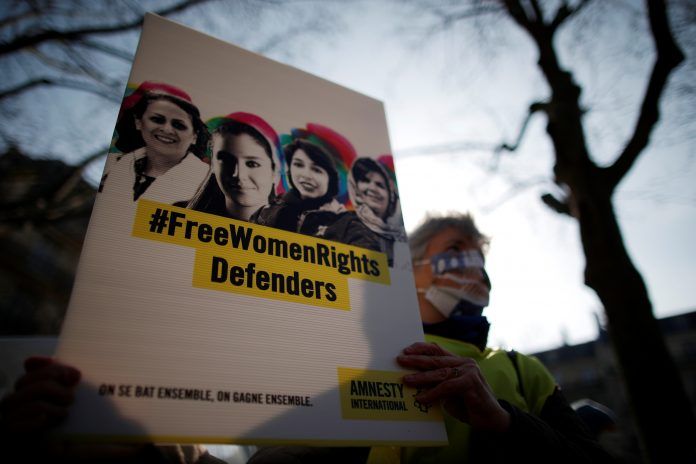 ---
---
The United Nations Entity for Gender Equality and the Empowerment of Women (UN Women) — an international body established to promote gender equality — declined to comment on Iran's election to its Commission on the Status of Women (CSW), after the move sparked a global outcry by human rights campaigners.
A spokesperson for the UN body — which calls itself a "global champion for gender equality" — told Kayhan Life: "UN Women does not comment on elections actions of member states. As the UN, we don't comment on member states' [human rights] records." A spokesperson for UN Secretary-General António Guterres added, "The Secretary-General does not comment on voting by member states."
Iran was elected to the commission — which works to empower women around the world — in a secret ballot on April 20, held by the UN's Economic and Social Council (ECOSOC). The council is made up of 54 member states, 15 of which are Western democracies and include the US and the UK. Of the 54 member states on ECOSOC, 43 voted for Iran, meaning at least four of the 15 Western states on the council.
The election sparked a furious backlash by Iranian human rights activists and gender equality experts, who said Iran's ongoing discrimination of women in the country should have barred the state from being able to sit on the commission.
Iranian Women's Fight for Their Rights: Interview with Author Manda Zand Ervin
UN Watch, a Geneva-based NGO which monitors the UN, also criticized the election. In an online conference held by UN Watch on May 3, the organization's executive director, Hillel Neuer, accused member states who voted for Iran of engaging in vote trading, and said previous remarks by UN member states whereby Iran was included in order to help it improve its gender equality policies were baseless.
"At the Human Rights Council, China has been a member of the council for the past decade," Hillel said. "Did China learn and improve? No, they arrested more dissidents and herded more Uyghurs into camps than ever."
Shaparak Shajarizadeh, an Iranian human rights activist at the conference who was imprisoned in Iran for removing her headscarf in protest against the mandatory hijab law, said Iran's election to the women's body was "an insult not only to Iranian women, but to all women around the world, and destroys our trust in the United Nations." Shajarizadeh said Iranian women's rights activists had begun launching a campaign against the decision.
Mariam Memarsadeghi, a senior fellow at Canada-based think tank the Macdonald-Laurier Institute who spoke at the conference, said women in Iran were "subject to some of the world's most sexist laws. One would hope the UN would work to punish such gender apartheid states as Iran, and lend a helping hand to women's rights activists there."
In a US State Department press briefing on April 29, spokesman Ned Price would not comment on whether the US had voted for Iran, but said the election was "troubling," and that the US had called for a private vote so that countries could register their concerns.
The UK also refused to confirm whether it had endorsed Iran for the position. However, in response to a question from Kayhan Life about how Britain had voted, the UK Foreign Office said, "Iran's human rights record continues to be of serious concern to the UK, including discriminatory restrictions on women. We will continue to hold Iran to account."
Iran's Government Bans Women From Playing Music and Singing in Public
So far only Canada has indicated how it voted in the ballot. In a tweet posted on April 26, Robert Keith Rae, Canada's permanent representative to the United Nations, said the country had not voted for Iran.
Women in the Islamic Republic face significant social and legal barriers which prevent them from accessing equal opportunities in the workplace, travelling abroad without their husbands' permission, singing in public and choosing whether or not to wear a hijab.
Iran's government, which still has not ratified the UN Convention on the Elimination of all Forms of Discrimination Against Women, has been heavily criticized by human rights organizations for its oppression of women and girls in the country.
Amnesty International's April 21 report on the use of the death penalty around the world noted that Iran's government had executed more women in 2020 than any other country implementing the penalty. The report held that of the 16 women known to have been executed in 2020, Iran had executed 9, followed by Egypt (4), Saudi Arabia (2), and Oman (1).
Official statistics from Iran published in December by the New York-based Center for Human Rights in Iran (CHRI) found that registered child marriages in 2020 had risen fourfold in the country. The law in Iran allows for men to marry girls as young as 13, while girls as young as 11 can be married off with the permission of their father or male guardian, and a judge.
The UN has consistently raised concerns over the years about the Iranian government's human rights violations and about gender discrimination in the country. In a report issued in March, Javaid Rehman, the UN Special Rapporteur on the situation of human rights in Iran, said, "Women and girls continue to be treated as second class citizens in Iran," and added that he remained "deeply concerned at the persistent discrimination against women and girls in public and private life, enshrined in the Constitution of the Islamic Republic of Iran and within law and practice."
---
Similar Articles to This Post