---
By Natasha Phillips
---
The leader of Britain's opposition Labour party Kier Starmer has promised to look into the unjust detentions in Iran of dual nationals Nazanin Zaghari-Ratcliffe and Anoosheh Ashoori after discussions with their relatives on Nov. 9 outside the UK Prime Minister's office on Downing Street, according to the relatives.
"I told Kier Starmer that I thought the greatest problem was the UK government's complacency and they need to be challenged on that," Richard Ratcliffe told Kayhan Life in an interview. "Starmer said he would take that thought away and offered to do whatever he could. It felt very supportive."
Ratcliffe said he hoped the British government would meet with Iran's Deputy Foreign Minister and Tehran's lead nuclear negotiator Ali Bagheri Kani when he arrived in London on Nov.11, to discuss his wife's case.
"If Kani doesn't get to meet a UK minister, I would fear that the government is still keeping on with its strategy of linking Nazanin to the Joint Comprehensive Plan of Action [the Iran nuclear deal] and we have to wait for many more months and the risk of prison is very real. I hope that this has caused [British Prime Minister] Boris Johnson to rethink."
Ratcliffe is currently on the 18th day of a hunger strike outside the UK Foreign Office to protest the British government's delay in securing his wife's release. The mother of one has been repeatedly detained by Iran's regime for more than 5 years on charges including "plotting to topple the Iranian government," which the US and the UK have called "baseless." She was charged again on April 26 for spreading propaganda against the regime and sentenced to a year in prison, which she has yet to serve.
Zaghari-Ratcliffe's detention has been linked to an estimated $557 million debt owed by the UK to Iran for tanks ordered by the Shah of Iran shortly before the 1979 Iranian revolution which were never delivered.
The Iranian government has previously implied that Zaghari-Ratcliffe could be freed if the UK discharged the debt. However British lawmakers have suggested that the government is withholding payment to encourage Tehran back to negotiations aimed at reviving the nuclear deal.
Ashoori's daughter Elika Ashoori joined Ratcliffe outside Downing Street on Nov. 9 to raise awareness about her father's case and stayed overnight at the temporary camp site. Anoosheh Ashoori was sentenced to 12 years in Iran in 2017 for espionage, a charge he has always denied. A final appeal submitted by Ashoori's lawyers for his conditional release and to set aside his sentence was rejected on Oct.16 by Iran's judiciary, the same day Zaghari-Ratcliffe was notified that she had lost her appeal against her one-year sentence.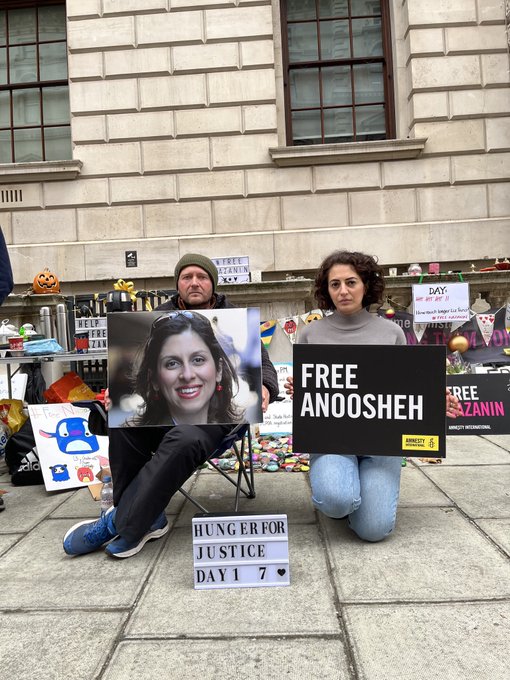 Speaking to Kayhan Life, Ms. Ashoori said: "I asked Starmer if my family could meet with him and talk in detail about what can be done and his view on things. He said that was a very good idea and he would let his office know so he could set up a meeting with me and my family."
Ms. Ashoori and her family also secured their first meeting with UK Foreign Secretary Liz Truss after Ashoori's wife, Ms. Sherry Izadi confronted the UK Home Office over its previous refusals to arrange a meeting with the foreign secretary. In the meeting, which will take place on Nov. 18, Ms. Ashoori said her family would be asking Truss several questions.
"Securing a deal that released Nazanin, my father and other detained dual nationals would be a momentous success for her as foreign secretary," Ms. Ashoori said. "We want to ask her why the government won't change its strategy because this current strategy obviously is't working. Why not change tactics to something that could result in a solid outcome?"
An open letter published on Nov.10 by eight families of dual nationals unjustly detained in Iran — and sent to their countries' heads of state as they attended the COP26 climate conference in Glasgow — asked the leaders to recognize their family members as hostages. It also called on the delegates to secure their release independently of negotiations related to the 2015 Iran nuclear deal. Signatories included Izadi and Ratcliffe.
Ratcliffe said he had recently nudged the UK Foreign Office to get a response to the four demands underpinning his hunger strike which included settling the debt and sanctioning officials in Iran responsible for his wife's detention.
"The Foreign Office hasn't come back which suggests they may be waiting to see when I finish the strike to then outline their plan," Ratcliffe said. "Some of the things we're asking for are actually very easy to do. I'm still astonished that they won't acknowledge Nazanin is a hostage."
Ratcliffe, who met with Truss on Oct. 28, said another meeting with the foreign secretary would probably take place in four to six weeks' time.