---
By Kayhan Life Staff
---
The President of Tehran University, Seyyed Mohammad Moghimi, has welcomed a proposal to admit members of an Iraqi militia group, the Popular Mobilization Forces (PMF), to study at the university, the Tehran-based Tasnim news agency reported on July 8.
Popular Mobilization Forces (PMF) is an Iraqi state-sponsored umbrella organization comprising some 40 militias that are mostly Shia Muslim groups but also include Sunni Muslim, Christian, and Yazidi groups.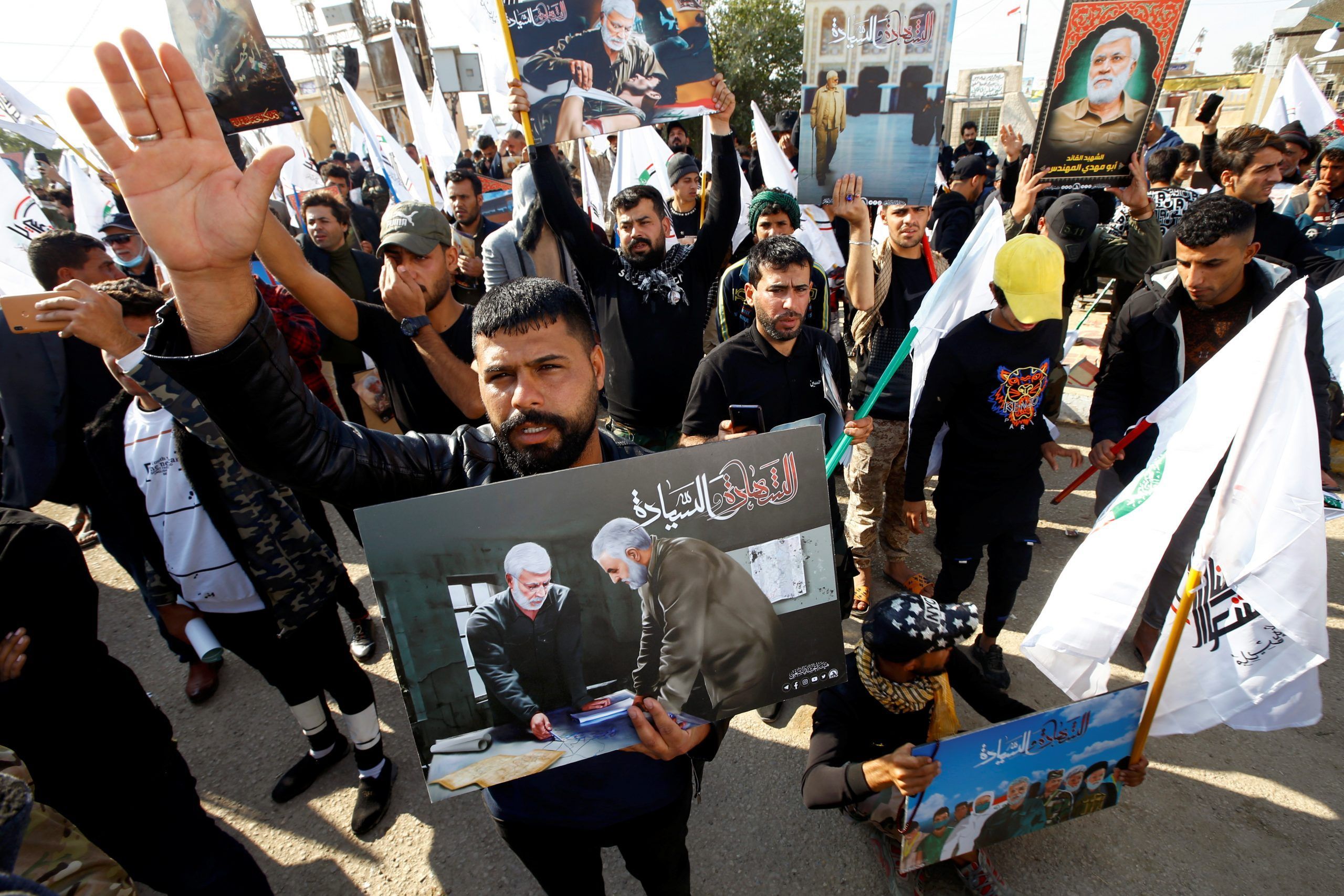 "We will hold our friends in PMF to a higher educational standard than other foreign students, because our aim is not to generate revenue or issue diplomas, but to raise Islamic combatants' knowledge and specialized capabilities," Mr. Moghimi said.
Admitting members of the IRGC-backed PMF militia to Tehran University could be a step towards strengthening the military and security forces' presence in educational institutions.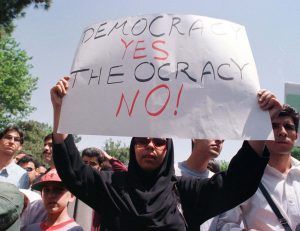 Since last September, when the anti-government protests morphed into a nationwide movement against the entire regime, Iranian authorities have continually warned against the "enemy's plots" and are preparing to crack down on the next wave of protests.
In contrast to the Iranian authorities' efforts to turn educational institutions into centers for promoting Islamic ideology, many university students wish for a secular and creative environment to learn, grow, and express themselves freely.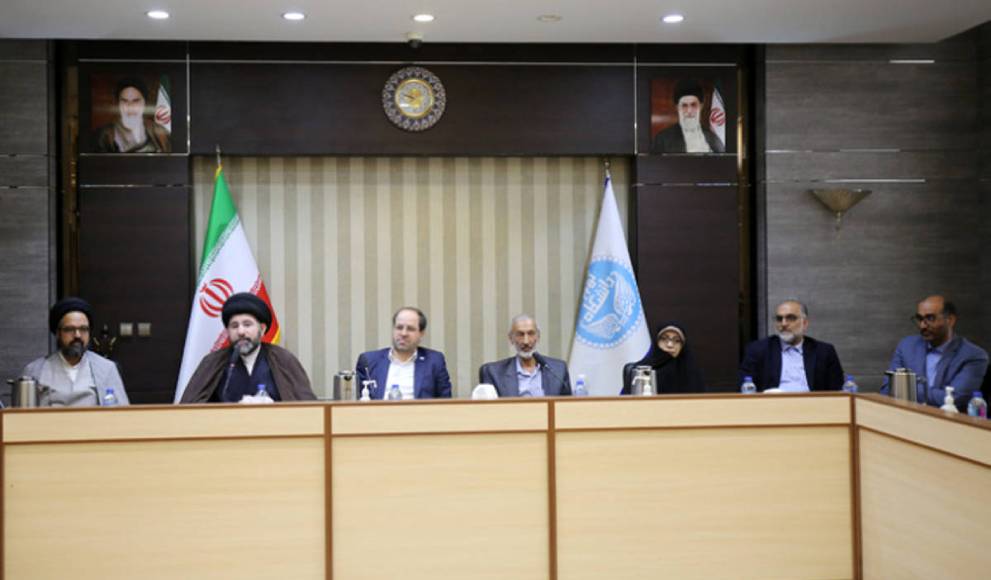 Moghimi made the comments at a meeting with visiting PMF members, headed by the group's deputy director for education, Hojatoleslam Sayyed Hussain Mousavi Bakhtaei, several leaders of Tehran University Basij, Elham Aminzadeh, Tehran University's deputy president for international affairs, and Hojatoleslam Mostafa Rostami, the representative of Iran's Supreme Leader Ayatollah Ali Khamenei to universities.
The main Shia faction of PMF maintains a pledge of allegiance to Mr. Khamenei and has reportedly operated under the Islamic Revolutionary Guards Corps Qods Force (IRGC-QF) auspices in Iraq for years.
"Our goal is to create a new Islamic civilization and lay the groundwork for the advent of his holiness Valiye Asr [Shia twelfth Imam, Muhammad al-Mahdi]," Moghimi declared. "To realize this significant goal, we will dutifully follow the examples of Haj Ghasem ."
Lieutenant-General Ghasem Soleimani, the former commander of the IRGC-QF, and Abu Mahdi al-Muhandis, the former commander of Kata'ib Hezbollah (Hezbollah Brigades, a group within PMF), were assassinated in a U.S. drone attack on Baghdad International Airport on Jan. 3, 2020.
Speaking of his study of General Soleimani's life and management style, Moghimi explained: "As our dear leader has noted, the essence of martyr Soleimani's school of thought was his sincerity."
At another point in his opening remarks, Moghimi said: "With great pride, we recognize Tehran University as a great institution for promoting science and technology in the Islamic world and offer its educational resources to our Iraqi brothers and sisters."
"Focusing on our friends in PMF, we have taken the first step in line with Ghasem Soleimani's spirit of cooperation in creating a new Islamic civilization," Moghimi declared. "We will be as steadfast in our attempts to lay the groundwork for admitting students from the 'Axis of Resistance' countries to the university."
Moghimi promised PMF members they would learn Farsi in Iraq and at Tehran University's Dehkhoda Lexicon Institute and International Center for Persian Studies.
"We will open a branch of Dehkhoda Institute next to the Islamic Republic embassy in Iraq soon," Moghimi explained. "We will also open another branch in Abadan [in the southwestern province of Khuzestan], near the Iran-Iraq border, to ensure that the standard of learning will align with that of Tehran University."
Hojatoleslam Mostafa Rostami, the representative of Iran's Supreme Leader Ayatollah Ali Khamenei at universities, said: "We welcome educational exchanges with our friend Iraq and combatant PMF brothers. We are ready for any cooperation and collaboration."
In her remarks, Elham Aminzadeh, Tehran University's deputy president for international affairs, who also served as the vice president for legal affairs in former President Hassan Rouhani's cabinet, praised Ghasem Soleimani and Abu Mahdi al-Muhandis and criticized those who "accuse the Axis of Resistance."
"It is vital to explain to the world the scholarly and peaceful foundation and stance of the holy Koran, Nahj al-balagha [collection of sermons, letters, and sayings attributed to the first Shia Imam Ali ibn Abi Talib,] and Al-Sahifa al-Sajjadiyya [a book of supplications attributed to Ali ibn Husayn Zayn al-Abidin, the fourth Shia Imam and the great-grandson of prophet Muhammad,]" Ms. Aminzadeh said.
Similar Articles to This Post