---
By Kayhan Life Staff
---
The Wall Street Journal reported on March 27 that Russia had provided Iran with cyberattack weapons and digital-surveillance devices in return for military drones used in its war against Ukraine.
"Russia is helping Iran gain advanced digital-surveillance capabilities as Tehran seeks deeper cooperation on cyberwarfare, people familiar with the matter said, adding another layer to a burgeoning military alliance that the U.S. sees as a threat," the paper reported. "The potential for cyberwarfare collaboration comes after Iran has, according to U.S. and Iranian officials, sold Russia drones to use in Ukraine."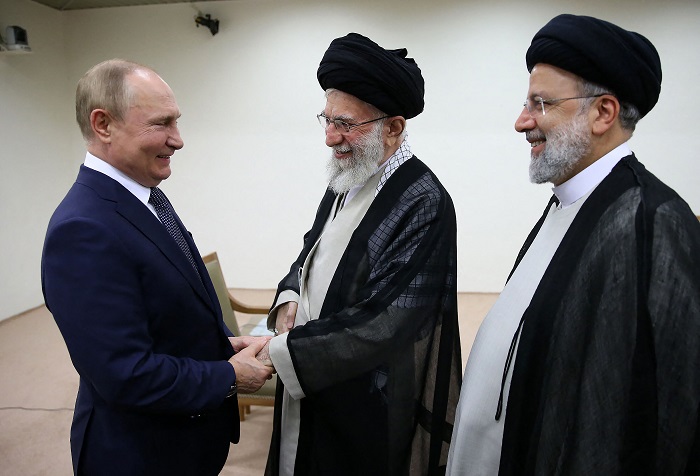 "Since the start of the war in Ukraine, Russia has provided Iran with communication-surveillance capabilities as well as eavesdropping devices, advanced photography devices, and lie detectors, people familiar with the matter said," the report noted.
"Moscow has likely already shared with Iran more advanced software that would allow it to hack the phones and systems of dissidents and adversaries; the people said," the report added.
"The Iranian government used the internet to blunt the impact of a national protest movement last year, slowing down web traffic in target areas to stop the spread of videos and communications among protesters. It also used digital surveillance tools to track and arrest protesters," it said.
The Wall Street Journal's report came as the European Union postponed a decision to add the Islamic Revolutionary Guards Corps (IRGC) to its list of terrorist organizations.
Besides selling Russia military-grade drones, Iran reportedly plans to send Moscow tank ammunition, explosives, and other equipment, a sign of growing cooperation between the two countries.
Iran To Buy Su-35 Fighter Jets From Russia – Iranian Broadcaster
In return, Tehran has asked Moscow for fighter jets and assault helicopters and help to develop its ballistic missile program.
According to a report released on Jan.16 by the Toronto University's Citizen Lab research center, Russia provided Iran with the software to block the internet.
The report warns that the software would "enable Iranian authorities to monitor, intercept, redirect, degrade or deny all Iranians' mobile communications, including those presently challenging the regime."
Experts believe that PROTEI (an international telecommunications systems vendor founded in Russia) manufactures the software. The company is allegedly part of the Russian Defense Ministry.
Kayhan London reported on Nov. 3 that Iran had eavesdropped on phone conversations of several employees at foreign embassies in Tehran.
In its March 15, 2021 newsletter, the U.S.-based think tank, Council on Foreign Relations, published a report on Iran-Russia digital cooperation by Omree Wechsler, a senior researcher at the Yuval Ne'eman Workshop for Science, Technology, and Security at Tel Aviv University.
"Russian Foreign Minister Sergey Lavrov and his Iranian counterpart Javad Zarif signed a cooperation agreement on cybersecurity and information and communications technology (ICT) this January. The agreement includes cybersecurity cooperation, technology transfer, combined training, and coordination at multilateral forums, like the United Nations.," the report said.
Members of the IRGC, security units, and Iranian armed forces receive training on the use of cyberattack weapons and digital-surveillance devices in Russia.
On March 27, John Kirby, Coordinator for Strategic Communications at the National Security Council in the White House, said: "If the reports of the cooperation between Iran and Russia are accurate, they are worrying, but what the international media have reported is only part of the case and not all of it. Some analysts believe that the Islamic Republic inflates its relations with Russia to show its 'power' and 'legitimacy' of the system."
A source in the Iranian military told Kayhan Life: "Telecommunication technology that Russia provides Iran boosts the ability of the state to spy and eavesdrop on the opposition. It enables the state to force a confession from its opponents or eliminate them. However, reports about Russia giving Iran heavy military hardware and digital warfare equipment are only media propaganda."
"For instance, it is inconceivable that Russia would provide Iran with [multi-role] Sukhoi SU-35 fighter aircraft when it refuses to give the country spare parts for Sukhoi SU-22 fighter bombers, used by the IRGC, or spare parts for Sukhoi [Mikoyan] MiG-29 fighter jets, used by the Air Force. Iran sometimes buys these parts at inflated prices from [arms] dealers," the source explained.
"The worrying issue is that Russia and China are providing Iran with jamming devices," the source noted. "The equipment is used to jam GPS [Global Positioning System], altering the paths of naval vessels and commercial ships and the flight paths of airplanes."
"The military and the IRGC have previously used these devices, claiming that foreign vessels had entered Iranian territorial waters," the source added. "Sailors in the southern Iranian waters have taken measures to counter attempts to jam their [GPS] and [Global System for Mobile Communications, GSM] as they get close to the northern coastlines."
Similar Articles to This Post