---
---
Earlier this month, a multilateral memorandum of understanding aimed at investigating conflict of interest and its impact on social welfare was signed by the government with the aim of tackling corruption and poverty in the country, the Iranian Students News Agency (ISNA) reported. The signatories were Minister for Cooperatives, Labor, and Social Welfare Mohammad Shariatmadari, the director of the Majlis' Research Center Mohammad Ghasemi, and the president of the non-government Academic Center for Education, Culture and Research (ACECR) Hamid Reza Tayebi.
The working group will have 10 days to outline the plan and methods for achieving its goals. The group must submit its findings for review within six months. The final document will be valid for two years, renewable.
"All of our slogans that led to the victory of the Islamic Revolution revolved around eradicating injustice, discrimination, and corruption," Minister Shariatmadari said, "Discrimination was a major cause of poverty before the revolution. It disenfranchised and marginalized a large segment of the population."
"There is a direct link between corruption and the decline of a society's well-being," Mr. Shariatmadari said. "Abject poverty will persist if we cannot break this cycle and uproot corruption."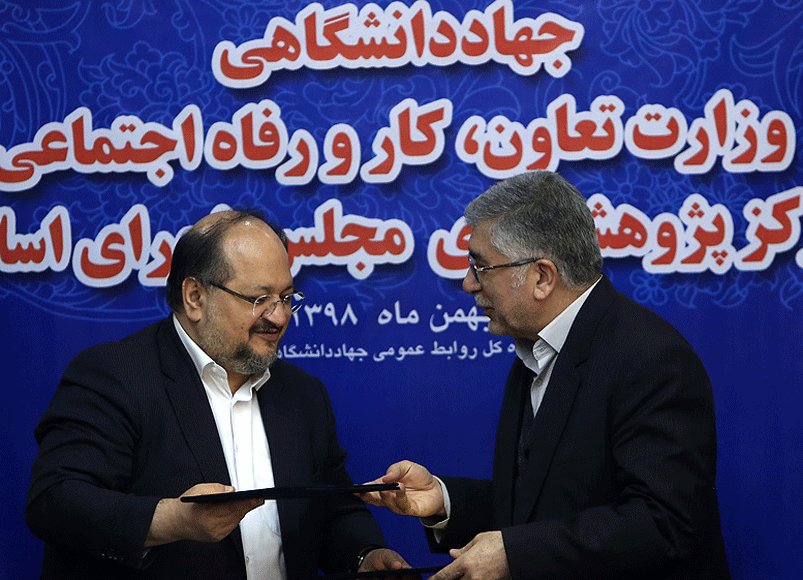 The multilateral agreement comes only a few weeks away from the Majlis elections. Analysts said it may be a political ploy to influence and control public opinion.
"Speaking about poverty has become a pastime for our society," Shariatmadari added. "Anytime there is talk of the disadvantaged class, we set up focus groups to discuss corruption and poverty. Our communities are tired of empty talk. We must find workable solutions to these problems."
"The head of the State Welfare Organization of Iran must enforce the law and prevent corruption. The organization's flawed regulations, loopholes in the law, and those in charge are the main source of corruption," Shariatmadari argued. "For instance, officials running charities monitor themselves. That is a conflict of interest."
"Another good example is the Technical and Vocational Training Organization (TVTO), which issues operating licenses to people who plan to open a training workshop," Shariatmadari explained. "Some officials at TVTO issue business licenses to themselves, their families and friends, which is a conflict of interest. Unfortunately, the conflict of interest has become the norm in our country."
"Some people may ask why of all the problems that our country faces; we have given priority to tackling conflict of interest?" Mohammad Ghasemi, the director of the Majlis' Research Center, asked. "It is a legitimate question. The consequences of economic and social planning, such as growth, poverty, and distribution of wealth, rely on public policies and management in any country. Our research has shown that reforming the public sector is the top priority of the government and the Majlis. Failure to do this will maintain the status quo regardless of future governments or parliaments."
"Prevention should be the first line of defense against corruption. The current division of responsibilities among the three branches of the government, namely the executive, legislative, and the Judiciary, has created a condition ripe for corruption and gives rise to a conflict of interest," Mr. Ghasemi explained. "Politicizing corruption is the worst thing that could happen. Experience has shown that nothing can be achieved once we politicize the fight against corruption. It becomes a tool that is used in factional disputes."
"Conflict of interest is a major issue, and I am pleased that the Majlis and the government are trying to tackle the problem," the president of the Academic Center for Education, Culture, and Research (ACECR) Hamid Reza Tayebi said. "We signed a memorandum of understanding today. As a research institute for science, education, and technology, ACECR will play its crucial role in this agreement. We are very grateful for this opportunity."
---
[Translated from Persian by Fardine Hamidi]
---