---
---
The Iranian businessman Rasoul Danialzadeh, dubbed by the domestic media as the "Sultan of Steel," who allegedly fled the country in 2016 after being charged with financial crimes, is back in police custody in Iran, according to the Judiciary Spokesman Gholamhossein Esmaili.
"He [Rasoul Danialzadeh] was a defendant in a corruption case, and did not intend to return to Iran," Mr. Esmaili was quoted by the Iranian Students News Agency (ISNA) as saying earlier this month. "However, a successful joint interagency operation led by the Islamic Revolutionary Guards Corps' (IRGC) Unknown Soldier Brigade, facilitated his return to Iran."
Several media outlets have reported that IRGC agents lured Danialzadeh, who was living in Germany at the time, to the United Arab Emirates (UAE), where he was arrested.
Iranian authorities have, however, denied the reports.
"The person was not arrested in a foreign country but was rather persuaded to return to Iran," Esmaili noted. "Authorities have been interrogating him since his return to the country. He has been cooperating with the investigators. The courts will take into account any positive steps taken by the defendants, including fugitives from justice living abroad who return to Iran voluntarily."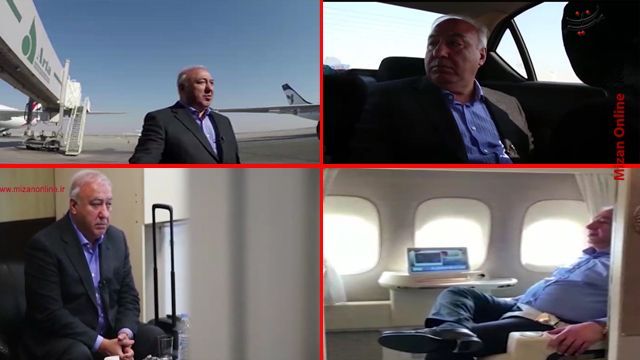 Footage posted on the Qods Telegram Channel, with close links to the IRGC, reportedly showed Danialzadeh under IRGC surveillance as he was traveling on a commercial flight, walking through an airport in the UAE, eating at a restaurant, sitting in a car and being escorted by unidentified persons.
Danialzadeh is accused of creating several shell corporations that he reportedly used as collateral to get hefty bank loans. He allegedly bribed bank managers to ensure his loan applications would be approved. He is accused of defaulting on nearly $1 billion in bank loans. Danialzadeh reportedly borrowed half of that amount from Bank Melli in 2016.
He was tried and convicted on bribery charges before fleeing Iran in 2016.
Danialzadeh is the managing director of the Ferro Gilan Complex, the Kaavian Steel Company, and the Semnan Pipe Rolling Mill, and the owner of the luxury Roma Residence Residential Tower in Tehran.
He reportedly has close ties to President Hassan Rouhani's brother Hossein Fereydoun, who is serving a five-year jail sentence in a corruption case that the president's supporters allege was politically motivated.
Mr. Fereydoun was initially convicted on bribery charges and sentenced to seven years in prison. In October, an appeal court, however, reduced his jail term to five years and fined him $9 million.
Some 40 members of the Majlis (Iranian Parliament) wrote a letter to President Rouhani in January 2017 urging him to launch an investigation into Fereydoun's financial ties with the two so-called mega-debtors, namely Danialzadeh and Shabdoust Malamiri.
Iranian media have reported that Fereydoun allegedly helped Danialzadeh and Mr. Malamiri to receive a loan of $109 million in 2016 from Bank Mellat's Dubai branch with zero service charge, which they subsequently deposited in a saving account at one of Bank Mellat's branches in Tehran that paid 22 percent interest.
Around the same time, a conservative member of the Majlis Alireza Zakani (2004-2016) accused Fereydoun and Danialzadeh of being co-conspirators in illegal loan schemes. Subsequently, the government and Danialzadeh sued Zakani but withdrew their complaint soon after.
"Corrupt elements have joined forces and created a criminal enterprise," Zakani was quoted by the semi-official Fars news agency as saying on October 2. "The scale of corruption is startling. We are speaking of billions of dollars."
According to the Qods Telegram Channel, in the 1990s, Danialzadeh received most of his loans from Bank Melli's Ferdowsi Avenue branch in Tehran, using his cement company as collateral.
Danialzadeh is a staunch supporter of Rouhani and helped his presidential campaigns in 2013 and 2017. Through Fereydoun, he could allegedly get big loans from Bank Melli, Bank Mellat, Bank Refah, and Saderat Bank.
With the arrest of Danialzadeh, many people hoped that the authorities would expose the extent of his business dealings with Fereydoun. According to Fereydoun's lawyer, Hossein Sartipi, however, the Judiciary has closed the file on his client.
The corruption case has so far revealed a tangled web of shady business dealings involving a massive amount of money and a network of high-power and well-placed individuals around President Rouhani, which included his brother Fereydoun, Danialzadeh and others.
It is not entirely clear why, shortly after his arrest on corruption charges in 2016, the Judiciary released Danialzadeh on bail and lifted his travel ban, which ultimately enabled him to flee to Germany.
"Which Judiciary official helped him [Danialzadeh], who had defaulted on $1 billion in bank loan, and had been accused of corruption and influence-peddling to leave the country?" the Tehran-based Asr Iran news website asked on November 14. "Who facilitated his release from prison and lifted the travel ban on him? Could Akbar Tabari, who worked for the former head of Judiciary, be this person?"
Shortly after taking office in March, the head of the Judiciary Ebrahim Raisi fired Mr. Tabari, a deputy to the former Judiciary chief Sadegh Amoli Larijani after allegations of financial wrongdoing had surfaced against him.
On July 16, the Judiciary Spokesman Gholamhossein Esmaili confirmed that authorities had arrested Tabari.
"Tabari has been accused of exerting influence and trying to impact the outcome of several legal cases," Esmaili was quoted by ISNA as saying. "He also had unlawful and unethical ties to several lawsuits."
Addressing a large crowd during a visit to the central province of Yazd on November 10, President Rouhani criticized the Judiciary for being "selective" and "lacking transparency" in its investigation of financial corruption cases in the country.
"Why no one is prosecuting the real kingpins in the corruption scandals?" Rouhani asked in a thinly veiled criticism of the Judiciary for prosecuting and imprisoning his brother. "Why no one investigates major financial crimes? Our esteemed prosecutors and judges must be fearless, non-partisan, steadfast, and honest."
Many people on social media have described Rouhani's comments as "angry" and "divisive," aimed at polarizing the public and fuel factional rivalries.
The supporters of Iran's Supreme Leader Ayatollah Khamenei argue that Rouhani has attacked the Judiciary because of his brother's incarceration.
Others believe that Rouhani lashing out at the Judiciary stems from the fact that several people around him have been prosecuted and imprisoned on financial corruption charges.
---
[
Translated from Persian
by Fardine Hamidi]
---