---
By Reza Hamidi
---
The Novel COVID-19 Coronavirus epidemic has conjured up visions of the end of time in the public's mind, guiding them towards God and Islam, according to Ayatollah Seyyed Ahmad Alamolhoda the Friday Prayers Leader of Mashhad, capital of the northwestern province of Khorasan Razavi.
Ayatollah Alamolhoda made the comments in a printed version of his weekly Friday Prayers Sermons, published on his official website earlier this month.
"Iranian people of all walks of life including doctors and healthcare professionals have worked tirelessly during this period," Ayatollah Alamolhoda was quoted by the Young Journalists Club (YJC) news agency as saying on his website. "There have unprecedented efforts by everyone to fight this disease."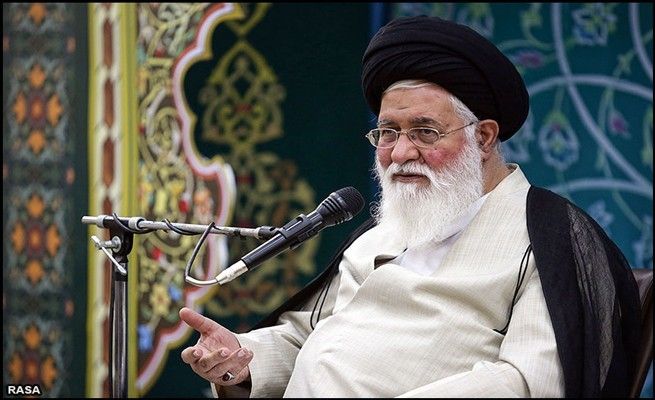 "If we were to examine the entire event as a sign of zohur [advent of the Shia 12th Imam Hujjat Allah ibn al-Hasan al-Mahdi], we arrive at the undeniable truth that apocalyptic visions focus people's mind on God and Islam and its blessings," Mr. Alamolhoda said. "Many idolaters have lost faith in their false deities during this period and thrown their stone and wooden idols into the sea. These events signal the return of Imam-e Zaman (Imam of the time)."
Shia Muslims believe that the 12th Imam Hujjat Allah ibn al-Hasan al-Mahdi, also known as Imam-e Zaman, went into occultation at 14 in 869 AD and will return one day to restore peace and justice to the world.
"We hope our dear and faithful [officials] in the National Headquarters for Fighting Coronavirus reopen Imam Reza's Shrine under certain health and hygiene guidelines, enabling the devotees and worshipers to express their love for their Imam at the site," Mr. Alamolhoda noted. "Astan-e Qods Razavi and its governing body are a group of consummate professionals who will enforce the National Headquarters for Fighting Coronavirus's directives. They will gladly implement social distancing and all other health and hygiene measures."
Astan-e Qods Razavi is the endowment that manages the shrine of Imam Reza in Mashhad.
"By the grace of Imam Mahdi, the number of people affected by the disease is dropping across the country. There are also fewer cases and deaths in the city of Mashhad and the province," Alamolhoda added. "We hope he never withdraws his blessings from us."
This article was translated and adapted from Persian by Fardine Hamidi.