---
---
Saeed Ghaemmaghami, a familiar voice to generations of Iranians worldwide, many of whom grew up listening to his radio broadcasts, died in Los Angeles on July 17, age 77.
In an interview published in Kayhan London a few years ago, Siavash Azeri, a fellow Iranian journalist, asked Mr. Ghaemmaghami about his health, to which he replied: "Do not ask me that question, because I have every illness, ache, and pain under the sun. I have high blood pressure and have undergone several operations on various parts of my body, from my throat to my belly button. That is life."
The news of Ghaemmaghami's deteriorating health spread quickly on social media in early July. According to some reports, he was in a coma at a hospital.
Ali Hamedani, a fellow journalist, tweeted on July 9: "Saeed Ghaemmaghami, the former director of Tehran Radio, and the most distinct voice in radio — before and after the revolution — is in a coma in a foreign land. His biggest wish is to utter the signature opening lines of his program 'This Is Tehran, the Voice of Iran' one more time."
Ghaemmaghami was born in Tehran on July 28, 1943. He began his broadcast career at Radio Iran. Ghaemmaghami's unique and warm voice and his sincerity made his morning broadcast the most popular radio program.
Like so many other creative people whose first love is art and literature, yet whose life pushes them into politics, Ghaemmaghami began writing stories and plays at a young age. He later formed the Kaveh Theater Company and staged many plays.
Ghaemmaghami also wrote memorable songs, including "Mard-e Tanhay-e Shab" (Lonely Man of Night), and "Bebar Ey Barf" (Let It Snow), which were performed by the celebrated Iranian pop singer, the late Habib Mohebian (1947-2016).
Ghaemmaghami started working in radio after graduating from high school in 1962. He was one of the founders of the National Television and Radio Network, and later became the most recognizable news reporter, anchor, and presenter on television.
While working in radio and television full-time, he pursued his studies in journalism at the University of Communication Sciences in Tehran.
Ghaemmaghami spent many years working as the managing director of the National Television and Radio Network in the provinces of Hormozgan (north), Kerman (southeast), West Azerbaijan (northwest), and East Azerbaijan (northwest). He was also the head of news for Radio Iran until the Islamic Revolution in 1979. Ghaemmaghami also hosted several popular radio programs, including "Good Morning Iran," which had millions of listeners.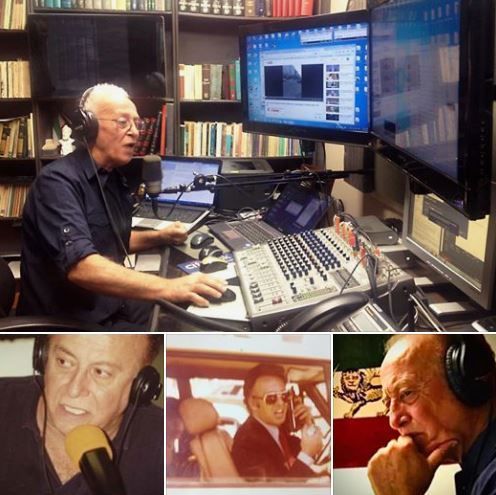 Ghaemmaghami and many other creative people lost their jobs after the Islamic Revolution. He remained in Iran for many years but was forced to leave the country in 1989. After staying in Europe and Canada for two years, he ultimately settled in California in 1993.
Ghaemmaghami continued to work as a broadcast journalist while in exile. He was a contributor to Radio Voice of Iran until 2006. He founded Persian Radio in 2008 and later managed Radio Voice of People in 2011.
Ghaemmaghami dreamed of a free and prosperous Iran, and his biggest wish was to return to his homeland one day.
"This is the voice of Persian Radio, which has become a lump in my throat," Ghaemmaghami wrote on his Facebook page after he stopped working at the radio station in 2012. "Once again, I have lost an outlet for my voice. Once again, the seed that I planted with my blood, watered with my entire being, and nurtured with all I had, has been cut down by this or that ax (call it fate if you like)."
"I worked day and night, hiring a technical team, creating programs, training producers, and never taking a day off unless I was sick," Ghaemmaghami said. "I struggled with financial and personal challenges. I lived in a room which was like a prison cell. There were times I could not afford my medical bills or even transportation costs. Those were some of the darkest times in my life. Through it all, the listeners of the program on Persian Radio heard a roaring lion that never stopped fighting."
"Alas, a grave sense of duty is more precious than life itself. My destiny is to battle the Islamic Republic," Ghaemmaghami added. "By taking everything from me, fate has allowed me to go on fighting. I will not squander this opportunity or peddle it to anyone or trade it for all the treasures in the world. My last word is that I cannot abandon this fight. Standing with Iranian people in their struggle gives my life meaning. I am trying to launch another radio station. I will gather my strength to reignite the fight. I have stood with you for 50 years and will continue to do so."
Upon hearing of Ghaemmaghami's death, former Iranian Crown Prince Reza Pahlavi tweeted: "It saddens me to hear that Saeed Ghaemmaghami, the distinguished broadcast journalist and the director of the National Television and Radio Network, has passed away. Ghaemmaghami was the voice of freedom and love for Iran in exile for more than three decades. I offer my condolences to Ghaemmaghami's family on their loss. We will cherish his memory."
Although Ghaemmaghami did not get the chance to utter his signature phrase "This Is Tehran, the Voice of Iran," one last time, the voice of those who share his "grave sense of duty" will prevail, traveling beyond Iran and echoing around the world.
This article was translated and adapted from Persian by Fardine Hamidi.