---
By Rawaa Talass
---
For the first time ever, Iran was represented this year at Paris's top art fair, FIAC. Tehran's Dastan Gallery had a stand beneath the dazzling, historic glass dome of the Grand Palais.
A total of 199 galleries participated in this year's fair (which stands for Foire Internationale d'Art Contemporain). Works shown included a selection by Iranian-born modern and contemporary artists.
The Dastan Gallery was founded in 2012 by the Iranian engineer-turned-gallerist Hormuz Hematian, and currently represents over 30 emerging and established artists. For FIAC, Hematian decided to put on a solo presentation of the influential Iranian cartoonist and satirist Ardeshir Mohassess (1938-2008).
Curated by Fereydoun Ave, the curiously arranged display showed 71 simple drawings that were created during the 1970s.
Mr. Hematian was unavailable for interview in Paris. In a recent interview with FIAC, he noted that the French capital "had a major role in the life of Ardeshir Mohasses, as he spent many years in Paris and the city changed his practice."
Born in Rasht, Mohassess was artistically inclined from a very early age, taking up drawing when he was only three years old. He would later study political science at the University of Tehran in the 1960s.
Professionally, Mohassess was fully dedicated to illustrating — his work appeared in notable Iranian and foreign newspapers, such as Kayhan and The New York Times. In addition, his illustrations were displayed at New York's American Institute of Graphic Arts, and at the Louvre Museum in Paris, where he briefly lived before moving to New York in 1976.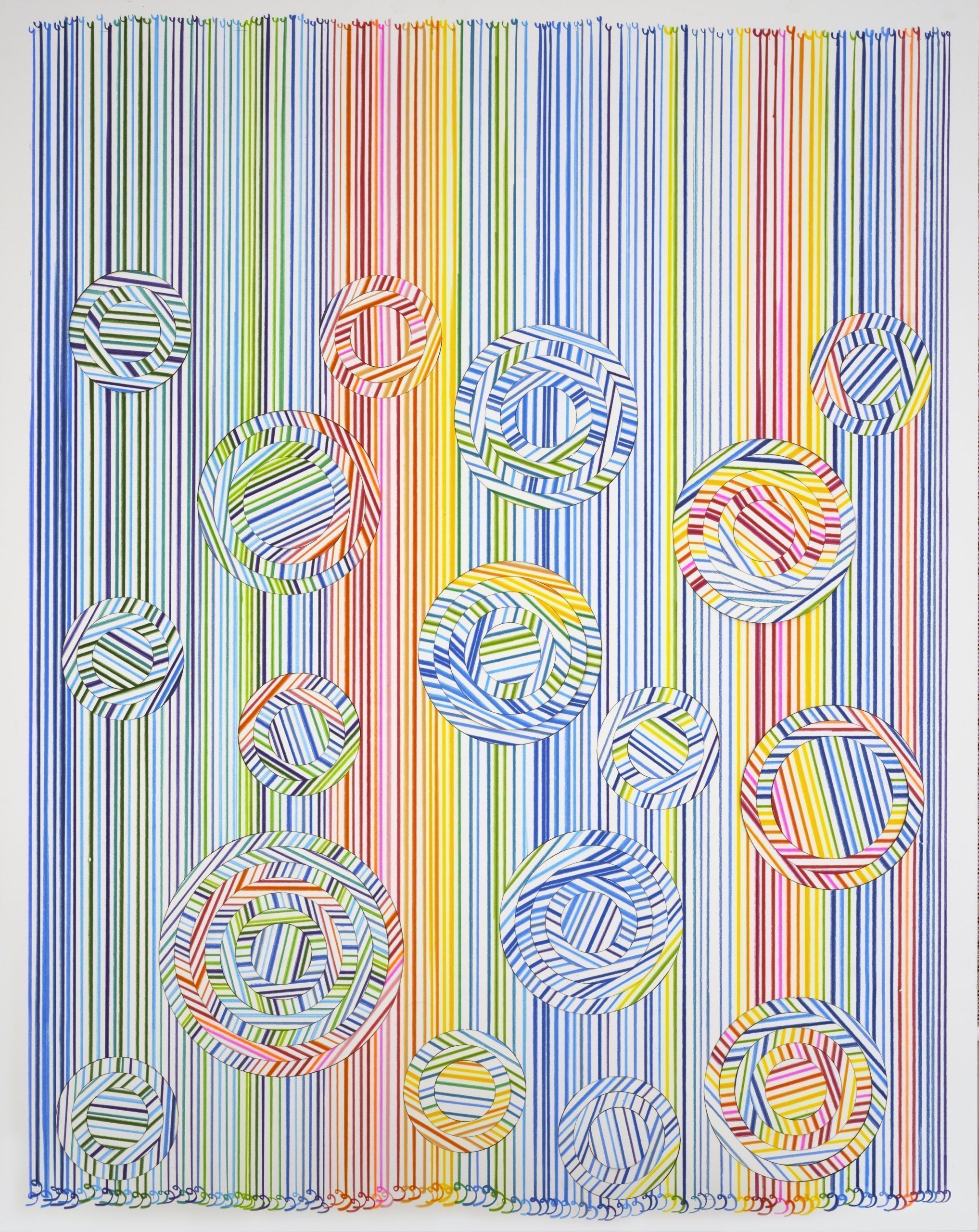 Whether stylistically cartoonish or surreal –headless bodies, curvy female dancers, or pompous rulers from the past  – his mysterious imagery is dense with social commentary.
Elsewhere at FIAC, the Tunisian Selma Feriani Gallery showcased two colorful drawings by the Iranian-born, New York-based contemporary artist Hadieh Shafie, who was also featured for the first time at the fair. She presented works from her latest series "Draw: Cut: Rotate" where language meets movement.
"The work is text-based, and I have a real keen interest in finding new expressive ways of abstracting language through cutting and rotating the material after it's been written on. Language has always been a core of my practice," Shafie told KayhanLife.
The artist repeatedly writes the word 'eshgh' (Persian for 'love'), elongating it vertically and stretching the middle letter across the surface of the drawing. She then cuts circles and releases those circles in a swirly yet contained movement.
"It makes me think about sound," she noted. "If you've ever thrown stone on water, you see the ripple effect. They feel like sound waves to me. So it was an interesting way for me to visually bring out sound and point to the sound in language.
Shafie is known for producing kaleidoscopic works – most notably her 'paper sculptures' – where she combines rolled, colorful paper strips that contain meaningful writing, revealing an overall kinetic composition that instantly attracts the eye.
"My biggest influence is music, and not just Iranian music… and then after that comes text and poetry – the idea of book and printed material as a subject," she said. "The work that you see here is drawing out of the last 10 to 15 years of me focusing on work that reimagines what a book is in kind of a format of a painting or a drawing."
Exhibited by Amsterdam's Galerie Martin van Zomeren were works by the Dutch-Iranian multidisciplinary artist Navid Nuur. One painting hints at the notion of transforming nothing into something, which is actually explored in his oeuvre.
For a long time, Nuur collected little notes with random lines and scribbles made by people trying or tuning out pens. He would later transfer these doodles by hand onto a canvas – as part of his ongoing series, aptly entitled "The Tuners," which he first started back in 2005.
"It transfers the energies of all of these people who don't know that they're involved in modern art or contemporary painting," said gallerist Martin van Zomeren. "Good artists show you new things and take you in new directions. Nuur had that quality, and I've represented him now for more than 10 years."
The 46th edition of FIAC was held October 17-20 in Paris. www.fiac.com
---