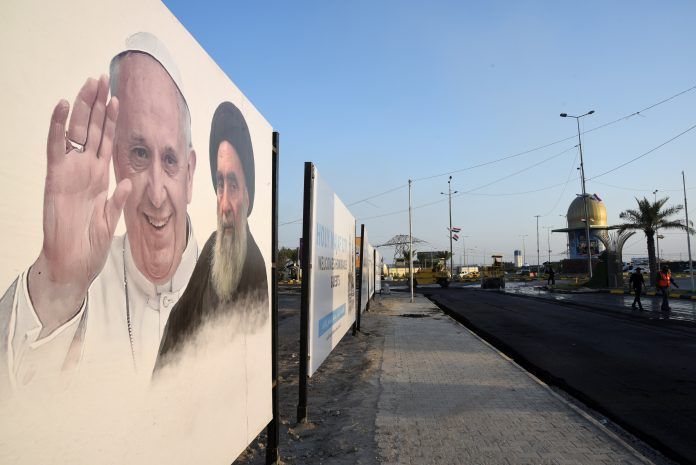 ---
By Ahmad Rafat
---
Pope Francis arrived in Iraq on March 5 on his first-ever visit to the country. During his four-day visit to the birthplace of Abraham — the patriarch of Judaism, Christianity, and Islam — Pope Francis will promote inter-religious dialogue, and meet Ayatollah Ali Sistani, the most influential Shia spiritual leader in Iraq.
The trip to Iraq is not Pope's first visit to a Muslim-majority country. He visited Turkey in 2014, Azerbaijan in 2016, Egypt in 2017, Morocco in 2017, and the United Arab Emirates (UAE) in 2019.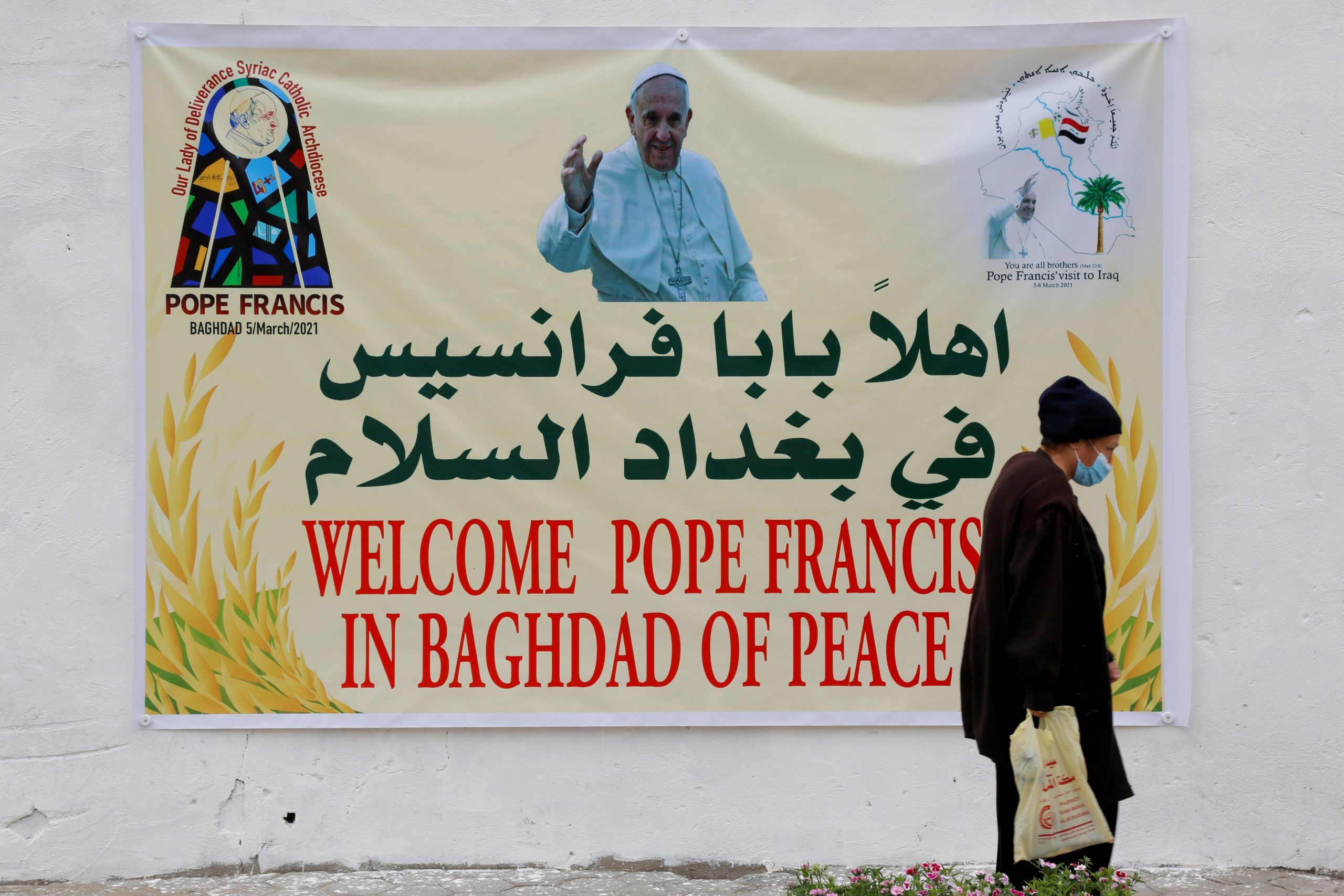 Some 1.5 million Christians were living in Iraq when former President Saddam Hussain and his government were ousted from power in 2003. According to some reports, that number has dropped to 300,000.
The Pope will visit Christian communities in Nineveh Plain and Kurdistan Region in northern Iraq. According to a report by the U.S. State Department, some 250,000 Christians live in those regions.
While in Iraq, Pope Francis will travel to Najaf (100 miles south of Baghdad) to meet Ayatollah Sistani — formally known in Iraq as Grand Ayatollah Sayyid Ali al-Husayni al-Sistani.
Ayatollah Sistani was born in 1930 in Mashhad, the northeastern province of Khorasan Razavi in Iran. He is a hugely respected religious figure to the Shia community in Iraq and beyond.
The papal trip is the first since the start of the pandemic. Iraq recently launched its countrywide COVID-19 vaccination program. The disease continues to claim hundreds of lives every day. Health concerns have forced Iraqi and Vatican officials to limit the Pope's public engagements and meetings with political and religious figures.
Close to 70 percent of the Christians in Iraq are Chaldean Catholics, whose Eastern-rite Church keeps its liturgy and traditions but recognizes the Pope's authority in Rome. Some 20 percent are members of the Assyrian Church of the East, believed to be the oldest in Iraq. The rest are Syriac Orthodox, Syriac Catholic, Armenian Catholic, Armenian Apostolic, Anglican, Evangelical, and other Protestants.
The number of Syriac Christians in many countries in the region dropped significantly when it was under ISIS control.
William Warda is an Iraqi Assyrian journalist and a human rights campaigner. He is one of Iraq's Assyrian Democratic Movement's former leaders, a political party within the Iraqi Parliament.
In 2019, the U.S. State Department awarded William and his wife Pascale Warda, the former minister of Immigration and Refugees in the Iraqi Interim Government, its inaugural International Religious Freedom Awards.
William and Pascale Warda founded the Hammurabi Human Rights Organization (HHRO) in 2005. HHRO is a non-profit organization advocating the rights of minority groups in Iraq, including but not limited to Yezidis, Sabian, Mandaen, Turkoman, Assyrians, and Armenians.
The couple played a crucial role in facilitating Pope Francis's visit to Iraq.
In a recent interview with Kayhan Life, William Warda said: "Pope Francis's trip to Iraq is significant and sends several messages which are not meant only for Iraqis and Christian communities but also for people in other countries in the region, including Iran."
"The primary message is not just for Christians but all Iraqi people, who are the heirs to a rich and ancient civilization. Humanity owes much to this culture," Mr. Warda noted. "The visit sends a message to all the extremist groups who threaten our security with their violent and terrorist actions."
"That the Pope did not postpone its trip to Iraq in the wake of recent rocket attacks on Erbil's Airport, the U.S. compound in Baghdad's Green Zone, and Al-Assad Airbase sent a clear message to the extremists and terrorists that they cannot turn Iraq to their enclave, and prevent the peaceful coexistence of various ethnic and religious groups," Warda argued.
Although William Warda did not implicate Iran in any recent rocket attacks and bombings, authorities in the Kurdistan Regional Government (KRG) arrested two people allegedly involved in the attacks on Erbil Airport a few days before the scheduled visit by the Pope. The two individuals are reportedly from the northern Iraqi city of Mosul.
In a video confession, one of the alleged suspects, Heidar Hamza Abbas Mustafa Bayati, claimed that the rockets fired at Erbil Airport were made in the Islamic Republic. He added that the Iran-backed Kata'ib Hezbollah had supplied the rockets to his group.
Kata'ib Hezbollah and Kata'ib Sayyid al-Shuhada are part of the Popular Mobilization Forces (PMF), an Iraqi state-sponsored umbrella organization comprising some 40 militias that are mostly Shia Muslim groups but also include Sunni Muslim, Christian, and Yazidi groups.
Citing a Western security source, Agence France-Presse (AFP), reported that the projectiles launched at the Al-Assad Airbase were Iranian-made 122mm Arash artillery rockets.
Meanwhile, Iraqi Prime Minister Mustafa Al-Kadhimi has warned that his government will allow no one to send a "terrorist and missile" message on Iraqi soil.
"During his visit, Pope Francis will highlight unity among all religious minorities including but not limited to Bahais, Yazidis, and Christians," William Warda noted. "He is expected to condemn all violence against human beings including kidnapping and torture of religious and ethnic minorities in Iraq and its neighboring countries including Iran where people of other faiths including Christians are under immense pressure, or Bahais who are deprived of their civil rights."
"Our security forces will do their utmost to protect the Pope, his staff and journalists covering his visit and people who meet him," Warda explained. "Ensuring Pope's safety will also send a message to the international community that Iraqi central government does not tolerate the actions of adventurist extremists and terrorist groups. Mustafa Al-Kadhimi wants to let the international community and foreign investors know they are welcomed in Iraq and that his government will guarantee their safety and security."
During his visit to the UAE in 2019, the Pope met Ahmed Mohamad Ahmed El-Tayeb, the Grand Imam of al-Azhar, considered by some Muslims to be the highest authority in Sunni Islamic thought Islamic Jurisprudence.
Ahmad Khatib, a journalist based in Iraq's principal port Basra, told Kayhan Life: "Pope and Shia Marja (source of emulation) are expected to release a joint statement. In the past few weeks, Iran has been trying to dissuade Ayatollah Sistani from signing such a document."
"Tehran considers the meeting [between the Pope and Ayatollah Sistani] an insult to [Iran's Supreme Leader] Ayatollah Ali Khamenei," Mr. Khatib said. "As far as they are concerned, Mr. Khamenei is not just the leader of Shias but all Muslims worldwide. They call him Valiye Amr e Moslemin [the supreme jurisconsult]."
"That was the reason for denying a request by the head of Iran's Judiciary, Ebrahim Raisi, to meet Ayatollah Sistani during his trip to Iraq in February," Khatib, a Shia Muslim, explained. "Some Iranian media outlets will most likely attack Iraqi Shia leaders because in their view Ayatollah Khamenei is the true leader of Shias."
Khatib said that Iran's religious circles have been uneasy about several fatwas (religious decrees) issued by Ayatollah Sistani. Some senior clerics in the holy city of Qom have been pressuring Sistani to reverse some of his rulings. One of Mr. Sistani's decrees opposed the deployment of the PMF forces to Syria, which ultimately resulted in four militia groups leaving the PMF and joining Iraqi military and security units.
Previously, Sistani and three other grand ayatollahs in Najaf, namely Mohammad Saeed al-Hakim, Sheikh Basheer Hussain Najafi, and Muhammad Ishaq al-Fayadh, had declared "traveling to Syria to wage jihad would violate religious decrees."
The Pope's visit to Najaf will establish Ayatollah Sistani as the leader of Shias worldwide. The Catholic Church hierarchy holds private meetings and signs documents only with leaders of other religions.
"Ayatollah Sistani is respected by all Iraqi people, including Shia and Sunni Muslims and those belonging to other faiths. They believe he plays a critical role in promoting peace and unity in Iraq," William Warda said. "Iraqis do not care what the Islamic Republic thinks of Ali Sistani."
"We believe that the Pope's visit and signing of an agreement will benefit Iraq and the entire region," Warda added.
This article was translated and adapted from Persian by Fardine Hamidi
Similar Articles to This Post