---
By Nazanine Nouri
---
The unsolved murder of the Iranian pop superstar Fereydoun Farrokhzad is the focus of a new play by the British-Iranian playwright, director and actor Javaad Alipoor which was just presented at the prestigious Edinburgh Fringe Festival in Scotland.
"Things Hidden Since the Foundation of the World" (which ended its run at Edinburgh's Traverse Theatre last week) was written and directed by Alipoor, who was also in the cast. The other actors were Raam Emami (who also composed the music), Asha Reid and Me-Lee-Hay.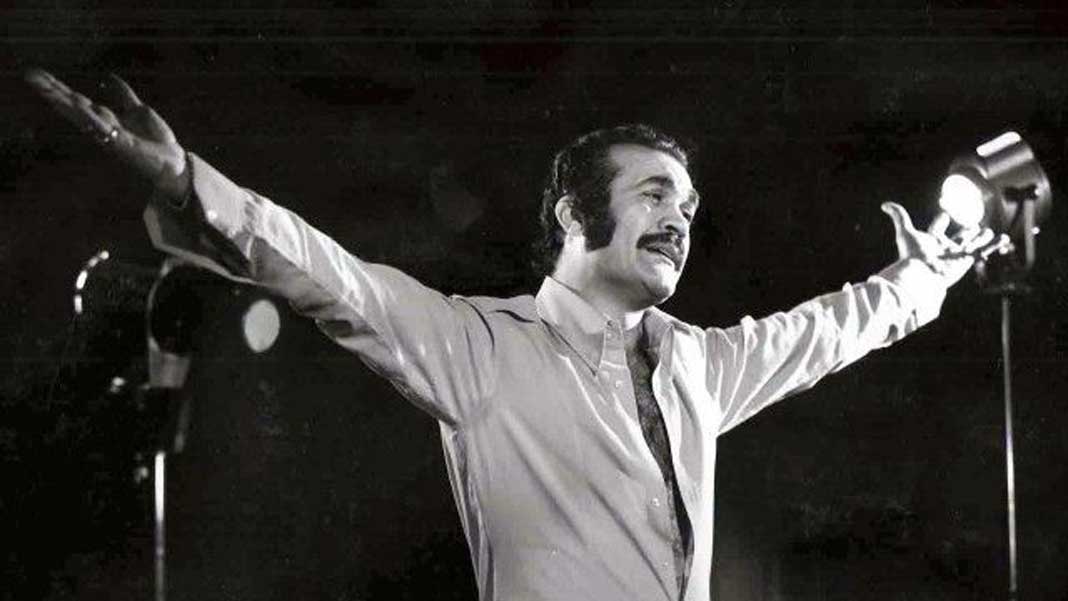 The play "is a show about Fereydoun Farrokhzad, one of the biggest pop stars who ever existed in the Middle East.  He was kind of like Iran's Tom Jones," Alipoor said in a video interview when the play opened at HOME Manchester last October. "He was murdered incredibly brutally as a refugee in Germany in the early 1990s. That case was never solved by the German police."
"This show is kind of about that story and that guy and what he means," Alipoor added. "But it's also about what it means to try and think about why he was killed. As a result of that, it's about internet culture, it's about murder mystery podcasts, it's about how online research and Wikipedia works and even more fundamentally than that, it's about post-colonial theory and the relationship between the parts of the world that feel like the center and the parts of the world that feel like the periphery."
Speaking to the Sunday Times last month, Alipoor said Farrokhzad was "everything you want from a cultural Iranian icon from the 1970s: moustache, medallions."
"The smart money says it was the Iranian regime, but why target Tom Jones? That tells you why the world works as it does, and how most of the world is more like Iran than England," he said. "If you're a dissident and come to London, there's a version of that city where you're British and the rules apply to you and a version where your regime may turn up at your door."
"Things Hidden Since the Foundation of the World" is the third in a trilogy of plays written by Alipoor about how technology, resentment and splintered identities are changing the world. The first play – "The Believers are But Brothers" (2017) – won a Scotsman Fringe First Award before being commissioned for television by the BBC and The Space. The sequel – "Rich Kids: A History of Shopping Malls in Tehran" (2019) – also won a Scotsman Fringe First award. After the play's national tour was postponed by COVID-19, a digital version was created and went on to be presented across the US and Australia.
Alipoor's previous projects include: "What is a Muslim," a collaboration with graphic artist and calligrapher Razwan Ul-Haq, exploring contemporary Muslim identity; "The Color of our Politics," a podcast series created with actor and broadcaster Tanya Vital about how the UK has been shaped by a rich history of anti-racist activism and resistance; and "Made of Mannheim," a trilingual theater production inspired by Schiller's "Jungfrau von Orleans" exploring identity, religion and linguistic diversity, which premiered at Germany's National Theater Mannheim and Theaterhaus G7 in 2021.
Alipoor was born and raised in a housing project in Bradford, Yorkshire. His father was  a vocal critic of the Shah, fled Iran before the 1979 revolution, and met his wife – who was white working-class, English, and Catholic — in a disco in the northern city of Leeds. She converted to Islam after they met, and often joked that she "went from being a lapsed Catholic to being a lapsed Muslim," he recalled in a 2018 interview published on Medium.
Alipoor said he spoke Persian "as well as I can" and was "not religious in any practical way, but I do participate in the Shia processions we have in Bradford. I joke that in England I feel really Iranian, and in Iran I feel really English."
Similar Articles to This Post