---
By Nazanine Nouri
---
An exhibition of new works by the New York-based artist Ali Banisadr has opened at Galerie Thaddaeus Ropac in Paris, the artist's sixth show with the gallery.  "Ordered Disorders" reflects on the increasing unrest in the world, and alludes to the representation of conflicts in art history.
Ali Banisadr is an abstract artist who creates autobiographical and memory-based narratives in his works.  He sees his paintings as an attempt to understand the innate chaos of the world: They are an expression of universal turmoil rather than a reflection of any specific conflict.  He evokes displacement, memory, nostalgia and violence.  Banisadr's first museum retrospective in Europe was held earlier this year at Het Noordbrabants Museum in Holland.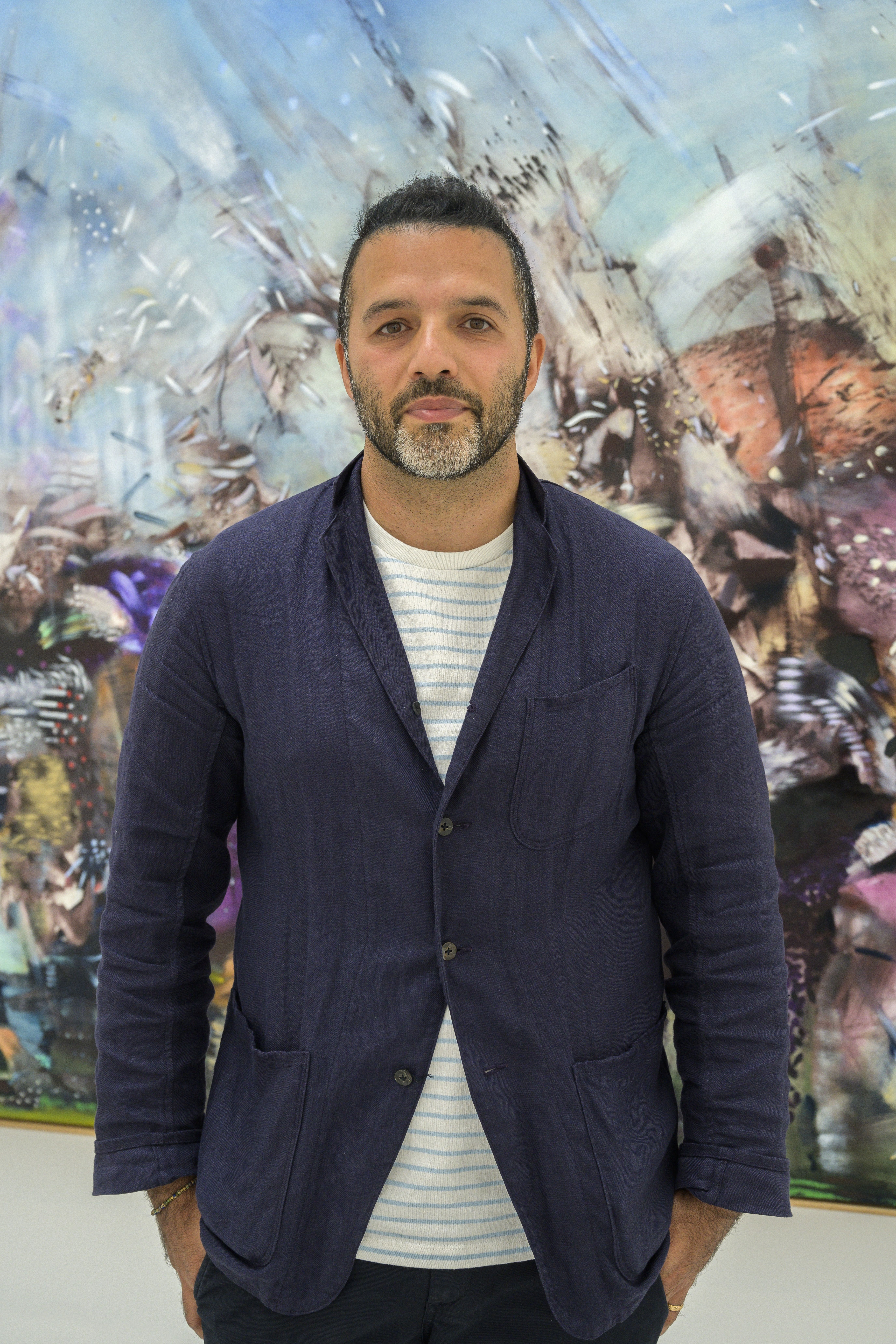 "The more time spent in front of a Banisadr painting, the more the work unveils itself to the viewer," notes the Galerie Ropac.   "What at first glance appear to be abstract lines and lyrical forms begin to morph into characters involved in enigmatic narratives.  Hidden creatures appear in the depths of the composition, wide brushstrokes attain new significance and pure abstraction becomes deliberate form."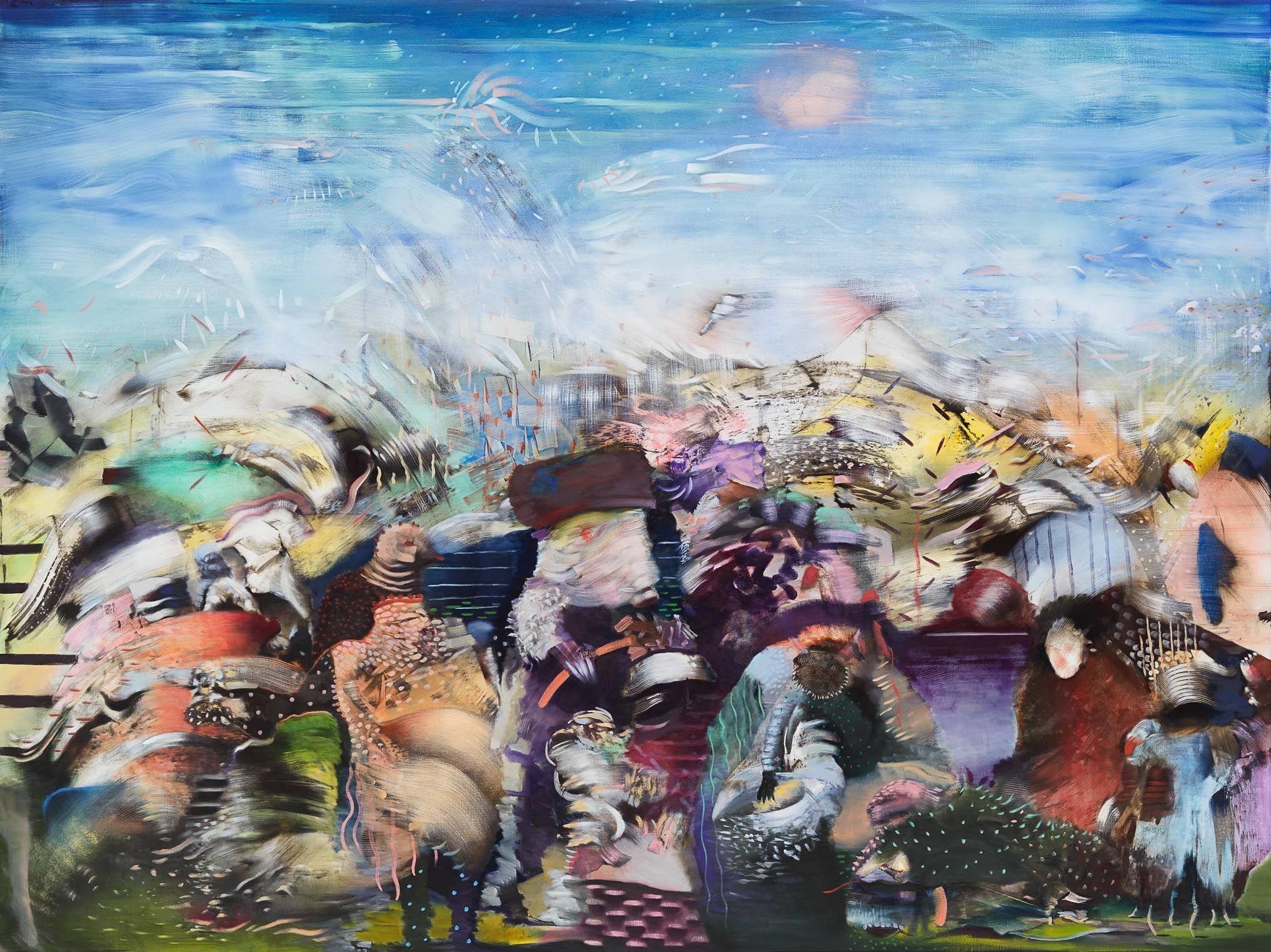 Born in Tehran in 1976, Banisadr grew up during the Islamic Revolution and the eight-year Iran-Iraq War, before moving to California with his family in 1988. His early memories of drawing go back to the period of the war, when he would run down to the basement for shelter, and draw during air raids and bombings, trying to make sense of the sounds he was hearing and express them visually.
A graduate of the New York Academy of Art, Banisadr explains his work as coming from vibrations that are embedded in his mind. "Sound has a huge influence on my work," explains the synesthetic artist.  "For me, sound is the guiding force that helps me make the composition, and helps me understand the direction of the painting, the shapes, the colors, the texture.  With synesthesia, you have this internal world."
"I guess it began when I was quite young living in Iran during the time of the Revolution and the eight-year war," he adds in a Frieze video interview published on his website.  "You would feel the vibrations and air raids. The way I could make sense out of all of these things that were happening as a child was to just make drawings."
The explosions during the war had a profound effect on him, and stayed with him long afterward. "An intense experience that didn't present itself until later was a bomb that was dropped into the playground of my school and had left this giant crater," he adds. "I started to kind of remember it and take notice of it when I started to see those craters appearing in some of my paintings."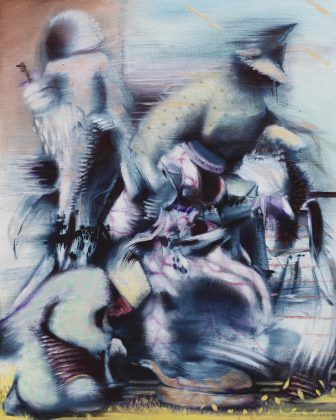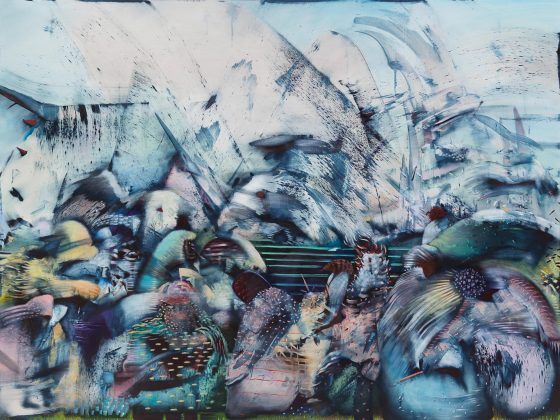 "The earlier paintings were more like a bird's-eye view, where you were looking down and had your distance from them so you could make a general judgment. But then, slowly throughout the years, I became interested in zooming in more on those figures.  I see the new works more like a stage – like a theatrical stage.  You yourself could see yourself as part of it. The figures always have a role in the painting, representing something like an authority figure or a gesture.  The challenge for me is always to be able to have the figure be multiple things at one time. It is sort of like a time machine – historical, futuristic and current events stuff could kind of clash together and those figures could represent all those things all at once."
His work is held in numerous public and private collections, including: Metropolitan Museum of Art, New York; Museum of Contemporary Art and Los Angeles County Museum of Art, Los Angeles; British Museum and Saatchi Gallery, London; Miniature Museum, The Hague; Francois Pinault Foundation, Venice; Olbricht Collection, Berlin; Centre Pompidou, Paris; and Museum der Moderne, Salzburg.
"Ordered Disorders" runs through November 16 at Galerie Thaddaeus Ropac in Le Marais, Paris.
---
© Ali Banisadr
Courtesy Galerie Thaddaeus Ropac, London · Paris · Salzburg
---