---
By Nazanine Nouri
---
Two years after the unveiling of her movie "Looking for Oum Kulthum" at the 2017 Venice Film Festival, Shirin Neshat is exhibiting related artworks in France at the Association Azzedine Alaïa in Paris. The exhibition opened at the same time as Paris Photo, the prestigious annual photography fair.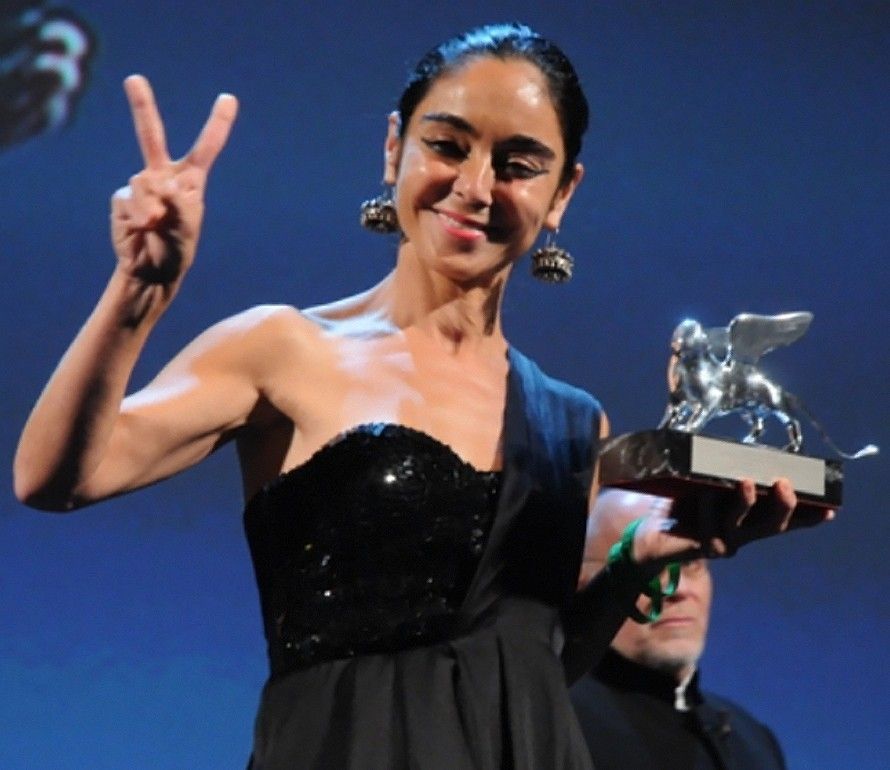 A film within a film, "Looking for Oum Kulthum" relates the story of Mitra, an Iranian director living in exile who dreams of making a film about the legendary Egyptian singer and diva Oum Kulthum. The artworks that were created by Neshat consist of eight photographs and two videos — "Remembrance" and "In Trance" — which are emotional evocations of the diva's intimate nature and her mystical power on people.
Inspired by classic 1950s Egyptian movie posters, the photographs picture the actresses of the film in portraits of Oum Kulthum at different periods of her life and career and attempt to capture the mythical nature of the Egyptian diva.   Each large-sized portrait bears the title of one of Oum Kulthum's songs, written with ink on the print in Persian or Arabic calligraphy.
"I always thought Oum Kulthum was an extraordinary phenomenon in the Middle East," Neshat said in an interview with Kayhan Life in 2017. "She not only achieved success, but also overcame gender stereotypes.  She was well liked and respected by men, women, poor people, the affluent class, religious people, non-believers, Arabs and Israelis.  Nearly four million people attended her funeral in 1975 in Cairo.  I was very curious about her life.  I wanted to find out how she reached the heights of success and fame and became a legend in her own time.  There are not many people in the world who have accomplished so much in a lifetime."
Neshat often examines examined the trajectory of iconic women artists whom she admires to find out how they balanced their personal lives with their careers, and how they faced the challenges of being female artists living and working in male-dominated societies.  "By studying and incorporating their work into mine," she notes in an interview with art advisor Marta Gnyp, "I not only pay tribute to such great female artists, I confront my own personal issues and dilemmas as another female artist from the Middle East."
"Looking back at my career, I find that I have had a long obsession with strong Middle Eastern female artists," adds Neshat.  "Perhaps unconsciously, I have been drawn to women who are not only brilliant artists, but also have lived difficult yet interesting lives.  In the case of Oum Kulthum, I was first and foremost drawn to the power of her music.  She was an amazing singer and without a doubt the most important and powerful artist of the 20th century in the Middle East.  Her music moved millions of people.  It is unprecedented that a woman reached that level of popularity as an artist, especially in that part of the world."
Shirin Neshat was born in the Iranian city of Qazvin in 1957.  She left Iran at the age of 17 to study at the University of California in Berkeley and was away from her homeland for nearly 20 years.  She moved to New York in 1983, where she began working at the Storefront for Art and Architecture, an alternative interdisciplinary space in Manhattan.
Neshat sees many similarities between herself and Oum Kulthum. Like the diva, she has devoted her life to her work.
"Oum Kulthum lived a truly untraditional life as a woman," says Neshat, "never had children, and her marriage was a marriage of convenience. In my case, I also lived an unusual life, leaving home at 17 and later, after a short marriage, raising my son alone as a single mother."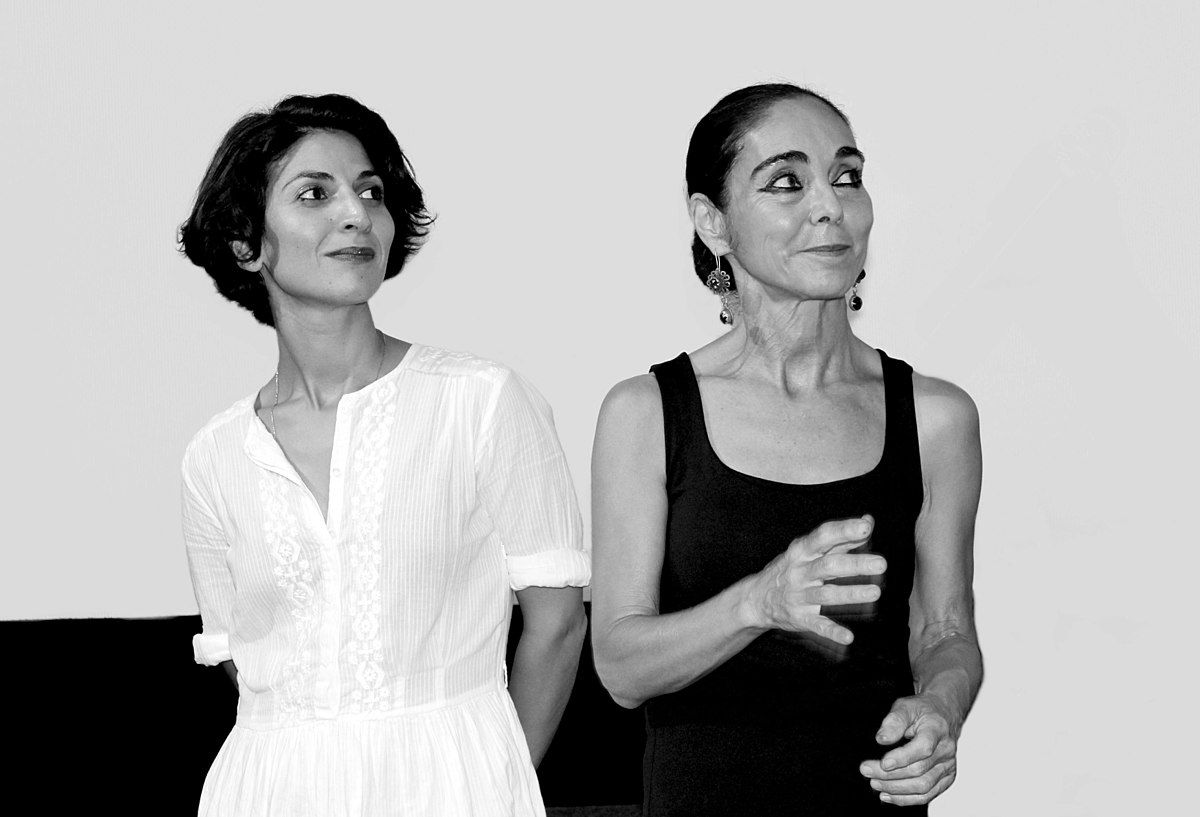 Like Oum Kulthum who was always surrounded by male musicians and composers, Neshat works mostly with a team of men.
Oum Kulthum (1904-1975) was an Egyptian singer who, for more than 50 years,  mesmerized Arab audiences from the Persian Gulf all the way to Morocco. .  Born into a poor family in the Nile Delta, she learned to sing from her father, a village imam who sang traditional religious songs at weddings and holidays to make ends meet.  When he noticed the strength of her voice, he began taking her with him, and had her dressed as a boy:  At the time, Egyptian society viewed singing as a disreputable occupation, especially for a woman.
Oum Kulthum made a name for herself singing in the towns and villages of the Nile Delta,  and became the family star by the time she was a teenager. After moving to Cairo with her family around 1923, she began studying music and poetry with accomplished performers and intellectuals, and soon achieved a more polished and sophisticated musical and personal style, making a name in the homes and salons of the wealthy as well as in theaters and cabarets.
By the late 1920s, she became a sought-after performer and one of the best-paid musicians in Cairo.  Beginning in 1937, she gave regular performances on the first Thursday of every month, which was broadcast on radio across the Arab world. By that time, she had moved from singing religious songs to performing popular tunes – often in the colloquial dialect and accompanied by a small traditional orchestra.
Known as the "Star of the East," Oum Kulthum had an immense repertoire, which included religious, sentimental and nationalistic songs.  She became known for her emotive, passionate renditions of arrangements by the best composers, poets and songwriters of the day.  The diva cultivated a public persona as a patriotic Egyptian and a devout Muslim, and one of her songs was adopted as the Egyptian national anthem from 1960 to 1979.  In 1975, the news of her death provoked a spontaneous outpouring of hysterical grief and millions lined the streets for her funeral procession. She still remains one of the Arab world's best-selling singers today, 44 years after her death.
Oum Kulthum was one of Azzedine Alaïa's great passions. Her voice was a constant presence in his atelier during his late nights at work or dinners with friends in the kitchen.  As a child in Tunisia, Alaïa remembered how every first Thursday of the month, they had to eat early and be quiet while his grandfather listened to the diva broadcast on Egyptian radio.  It was the first great voice he listened to as a child.
Azzedine Alaïa (1940-2017), one of the most respected fashion designers of his time, lived a life filled with fashion, art, design, architecture, music and theater.  He founded the Association Azzedine Alaïa in 2007 in Paris to preserve his own work and his large holdings.
Shirin Neshat's first major West Coast retrospective recently opened at The Broad in Los Angeles, and runs through February 16. "Shirin Neshat: I Will Greet the Sun Again" surveys 25 years of Neshat's video works and photography, and looks at the ways in which she has tackled themes such as Iran's distant and recent past, her experience of exile, and the Revolution.
"Looking for Oum Kulthum" runs at the Association Azzedine Alaïa, at 18 rue de la Verrerie in Le Marais, Paris through January 5.
---