---
By Nazanine Nouri
---
"My Shadow is My Skin: Voices from the Iranian Diaspora" is a recently published collection of nonfiction stories spanning the period from the 1979 Iranian revolution to the present, written by 32 established and emerging authors based in the United States.
Addressing themes of identity, duality and alienation, the authors reflect on the Iranian-American experience over the past 40 years, presenting personal narratives of immigration, sexuality, marginalization, marriage and religion. They include the New York Times bestselling author Jasmin Darznik, Iraj Isaac Rahmim, Cyrus M. Copeland, Poupeh Missaghi, Saïd Sayrafiezadeh, Amy Malek, Persis Karim, Raha Namy, Salar Abdoh, Roger Sedarat, Roxanne Varzi, Farnaz Fatemi, Darius Atefat-Peckham, and Siamak Vossoughi.
"My Shadow is My Skin" was prompted by a writing workshop led by the novelist Anita Amirrezvani and Persis Karim in Berkeley, California in the spring of 2015 titled "Exploring Iranian Identity." The participants all had some connection to Iran, and were given an opportunity to write texts that had not been shared or previously explored on themes such as religion, sexuality, family secrets, war, racism, pain and oppression.
"The Iranian revolution of 1979 launched a vast, global diaspora, with many Iranians establishing new lives in the United States," said the book's publishers, the University of Texas Press.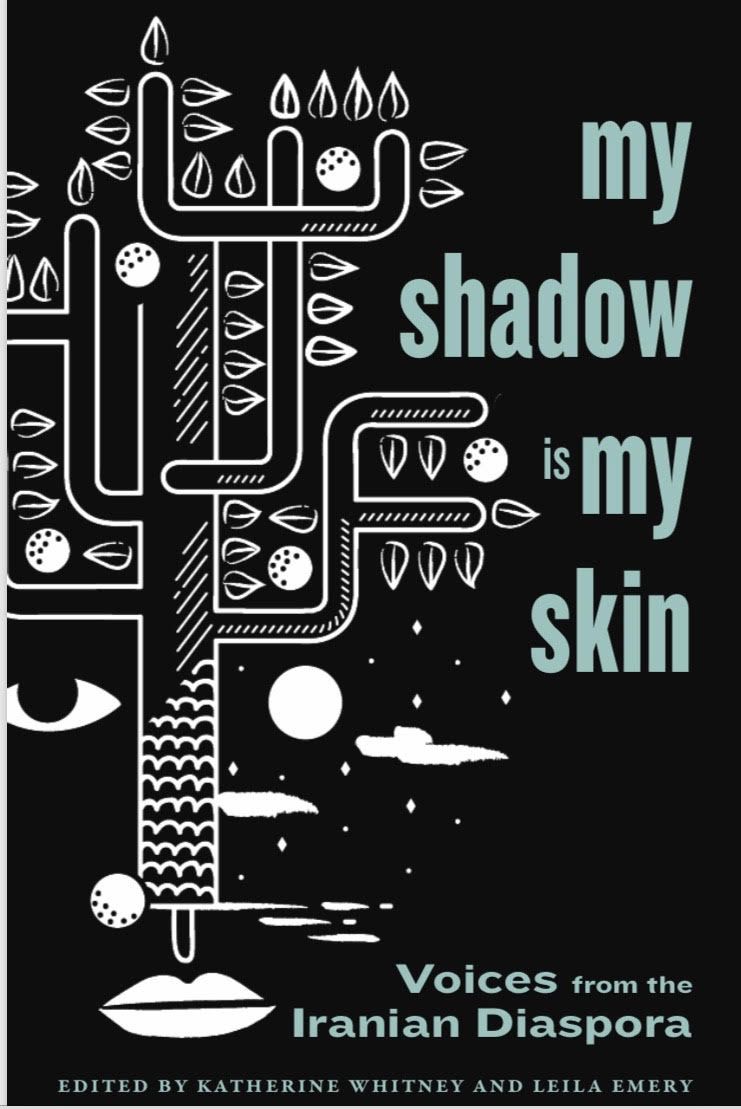 "In the four decades since, the diaspora has expanded to include not only those who emigrated immediately after the revolution, but also their American-born children, more recent immigrants, and people who married into Iranian families, all of whom carry their own stories of trauma, triumph, adversity, and belonging that reflect varied and nuanced perspectives on what it means to be Iranian or Iranian American," the publishers added.
"The essays in 'My Shadow is My Skin' are these stories," they said.
Some of the authors recount very private experiences in the book.
Darznik recalls how her mother reads her diary and discovers that she has lost her virginity. The anger and shame are so overwhelming that the mother feels unable to face the Iranian community any longer, and moves herself and her daughter to a completely different city.
Rahmim remembers moving to the U.S. as a university student and living with a young American woman in the early 1980s, at the height of the Iran hostage crisis. When he is invited to dinner at her mother's house, his mother's boyfriend is so incensed to encounter an Iranian that he pulls out a knife and threatens him with it.
The book's editors, Katherine Whitney and Leila Emery — who both took part in the writing workshop — said they were "struck by the poignancy and immediacy of the narratives," and realized that "even more personal and familial stories lay hidden, unexplored and in need of excavation."
They decided to publish the stories as a book, combining previously released works with original essays to present a broad and inclusive view of the diaspora in the 21st century. They including their own writings in the book.
Roughly half of the authors were born in Iran and emigrated to the US. The other half were born in the U.S. to Iranian or Iranian and American parents, or married into Iranian families. About a third are bi-cultural, with one Iranian parent and another from a different culture.
"Many of these writers don't see themselves as exclusively Iranian or American,  but more so as living and writing in the 'in-between,'" writes Persis Karim in the book, "a liminal space that one could argue has not left Iranians since they arrived here, and one that overshadows even those born in the United States."
"Narratives by writers of the Iranian diaspora articulate so much more than one culture and one history," she adds.  "They are composites – versions of Iranian diaspora experience reflected in the dramatic stories that have shaped 20th and 21st century Iran. They are stories that speak to immigration, hyphenation, displacement, alienation, and longing, and to revisiting and revising lives made and informed by history and its ruptures."
The collection takes its name from a phrase in Cyrus Copeland's essay "Shadow Nation," reflecting the idea that many of the authors exist in the shadow of their past. Some stay in that shadow and refuse to own up to their Iranian heritage. Others emerge from it and embrace their Persian roots. Either way, "the shadow is fully integrated into who they are – it is part of their physical body.  They wear the shadow of Iranianness like a skin," write the book's editors.
Katherine Whitney is the wife of an Iranian immigrant and the mother of two half-Iranian children. She first wrote on the Iranian diaspora in the anthology "Because I Said So: 33 Mothers Write About Children, Sex, Men, Aging, Faith, Race & Themselves." Whitney is a graduate of Duke University and has received an MA in Museum Studies from John F. Kennedy University.
Leila  Emery, the daughter of an Iranian mother and an American father, is a writer and editor whose work has appeared in the Michigan Quarterly Review, Parentheses Journal, Matter and Lines+Stars.  A graduate of Smith College, Emery also holds an MA in creative writing from Johns Hopkins University.
To order: Access a digital copy of the book here.