---
By Nazanine Nouri
---
An exhibition in memory of the late Iranian avant-garde artist, architect and artistic director Bijan Saffari — who passed away on April 29, 2019 — was held earlier this month at the Galerie Nicolas Flamel in Paris's Le Marais district.  Saffari was a founding member of the Shiraz Arts Festival, and its artistic director in the discipline of theater.
The exhibition, titled "The Atlas of my Dreams," was organized by Hessam Khalatbari and Yassi Metghalchi. It featured works by 13 prominent Iranian artists including Bijan Saffari, Parviz Tanavoli, Reza Derakhshani, Parviz Tanavoli, and Leyly Matine-Daftary.
Bijan Saffari was born in Tehran in 1933. He graduated with a degree in architecture from the Ecole Spéciale d'Architecture in Paris in 1958 and returned to Tehran in 1959, initially working as an artist and architect. After co-founding the Faculty of Decorative Arts, where he taught interior design and architecture, he became a founding member in 1967 of the Shiraz Arts Festival and served as its artistic director in the field of theater with the goal of revitalizing Persian art and propelling Iranian theater to international standards.
The playwriting competitions held during the festival in 1967 and 1969 led Saffari to establish the Kargah-e Namayesh (Theater Workshop) on NIRT (National Iranian Radio and Television), the first Iranian experimental theater company to help writers, actors, directors and designers work independently of standard professional restrictions. (Saffari also served as advisor to NIRT between 1966 and 1978.)
Under Saffari's artistic direction, the Shiraz Arts Festival distinguished itself with the variety of avant-garde theatrical performances it commissioned, including Peter Brook's experimental play, "Orghast" performed in 1971 in two parts at Persepolis around dusk and at Naqsh-e Rostam at dawn and Bob Wilson's "KA Mountain" in 1972 which ran non-stop for seven days and nights.
The festival was interrupted with the advent of the Iranian Revolution, which led to Saffari's departure from Iran in 1980.  He settled in Paris, the city of his youth, where he lived and pursued his interior architecture projects for nearly 40 years until his passing last year.
Months before his passing, Tehran's Dastan +2 gallery paid tribute to the avant-garde artist with a major solo exhibition in late 2018, curated by Fereydoun Ave, an influential figure on the contemporary Iranian art scene.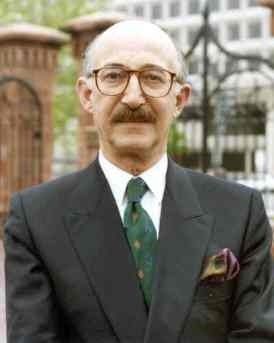 Bijan Saffari had an "obsessive ecstasy became addictive and permanent in everything he touched," Ave said at the time. "An obsessive researcher, traveler and observer and lover of histories and the need to make notes to support memory."
"He never worked to have exhibitions: he just found an almost carnal pleasure in working and discovering the mysteries of different media and their nature and habits," Ave added, describing him as "a renaissance man."
Dastan gallery went on to showcase more than 50 portraits by the artist in Dastan's Basement at the Frieze New York art fair in April 2019, literally days after his passing.
"These are drawings of the gay cultural world of Tehran, right before the advent of the revolution," wrote Laura Hoptman, director of New York's Drawing Center.  "These are his friends and cohorts, the actors, the film directors, the artists, in the community that made him who he was, at the minute before the apocalypse. He captured this moment that disappeared forever, in a way. It's very touching."
Referring to the artist and his portraits in its report on the art fair, the New York Times recalled that Saffari was "also gay, which made his position doubly precarious.  The portraits are rather simple and conservative, drawn in graphite and colored pencil.  And yet they are sensitive and closely observed, and they gain by their group presentation, appearing like a narrative of his circle of friends in the '70s and '80s."
The artist died days before his show opened at the Frieze Art Fair.
---